Hidden object is indeed one of the most popular genres in the world of casual games. Hidden object games are not only easy to learn, but they also offer a fun and relaxing experience for casual gamers. Premium hidden object games, that many of you are already familiar with, often include an adventure component and an intriguing storyline to create a more immersive gaming experience.
While hidden object games are significantly cheaper than console games, the bills do add up if you're not careful. Luckily, in 2020, there are plenty of legal ways to find and play free hidden object games on desktop as well as mobile.
Free Hidden Object Games on PC, Mac, iOS and Android
Free-to-Play Hidden Object Games on Mobile and Tablet
Perhaps the most obvious outlet for free hidden object games is on the Apple App Store and Google Play Store. There are thousands upon thousands of choices to choose from, whether you are into fantasy settings or darker themes. These hidden object games are completely free to play and are endless unless you choose to pay for extras or bonuses. Popular titles such as Hidden City, June's Journey, and Hidden Hotel also regularly introduce exciting new updates and fun seasonal events to keep the game fresh at all times.
Don't know where to start? Click here to check out our guide to the best free hidden object games on iOS and Android.
Free-to-Play Hidden Object Games on Desktop
Similar to free-to-play hidden object games on mobile, games of this format can also be discovered and played on desktop. This is perfect if you prefer gaming on a bigger screen or simply prefer the desktop experience. Big Fish Games offers quite a few free-to-play hidden object games for desktop, such as the incredibly popular Midnight Castle and the gorgeous Found: A Hidden Object Adventure. The beloved Lost Lands series also has a freemium spinoff with Lost Lands: A Hidden Object Adventure.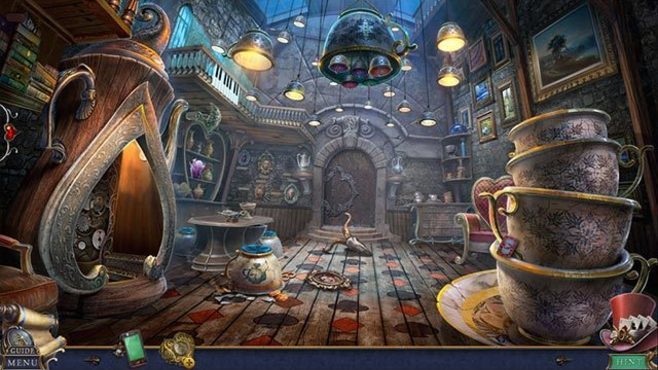 Free Downloadable Hidden Object Games
If you are looking for free downloadable hidden object games, they are not easy to come by. Fortunately, in an effort to encourage gamers to stay safe and indoor, Big Fish Games is currently offering a selection of best-reviewed hidden object games for free. The games in this selection are of premium quality and acclaimed by both fans and critics, check out the selection here!
Discounted Hidden Object Games
Who doesn't love games on sale? While complete free downloadable hidden object games might be a rare deal, discounts are extremely abundant. Hidden object games are usually offered for up to 70% off their original price tag on stores like Big Fish Games and Microsoft Store. Look out for deals during the weekend to get your hands of high-quality games at a bargain!
Free Online Hidden Object Games
Last but not least, many hidden object games can also be played online for absolutely free! Websites such as Hidden4Fun and Hidden247 offer a wide selection of hidden object games that you can enjoy from the comfort of your home. They are excellent if you are looking to relax or for a little pastime activity.
The esports analytics company Shadow Esports has created an esports coverage widget, to assist on sports media companies in connecting with esports viewers. The Esports Live Ticker, powered by the analytics firm Bayes Esports, enables participating platforms to incorporate an "esports scoreboard" that informs viewers of the most recent matches across pertinent games. Even though […]
Numerous games have been adapted from and based on the World Wars over the years. This epic period of human history has been examined so frequently in interactive ways, whether they take the form of shooters or strategy games, that it is scarcely surprising to encounter a newcomer. We were able to play The Great […]
The largest independent game convention in Latin America is called "Best International Games Festival," and Challengermode was present there amid the commotion of eager and budding developers. The esports competition platform Challengermode's attendance at the event unveils a new aspect of its business plan and highlights the prospects in the LATAM market. A unique challengeChallengermode […]