INFO
Item Reviewed
Mystery Tales: Dangerous Desires Collector's Edition
November 3, 2017
RELEASE DATE
October 15, 2017
FEATURES
Widescreen Support
Interactive Jump-Map
Voice Overs
3 Difficulties + Custom Mode
Diary
Hidden Objects Vs. Match-3
COLLECTORS EDITION
Exclusive Bonus Chapter
Integrated Strategy Guide
Wallpapers & Concept Art
Soundtracks & Morphing Objects
Achievements & Collectibles
Replayable HOs & Puzzles
Centuries ago, the Black Plague swept across Europe, killing millions of innocent people. Out of desperation, Moro resorted to dark magic to find the cure to this deadly plague. However, he was caught and burned at stake for practicing this forbidden form of magic. Now, in the 21st century, he has returned for his long-awaited revenge. Can you stop him before it's too late?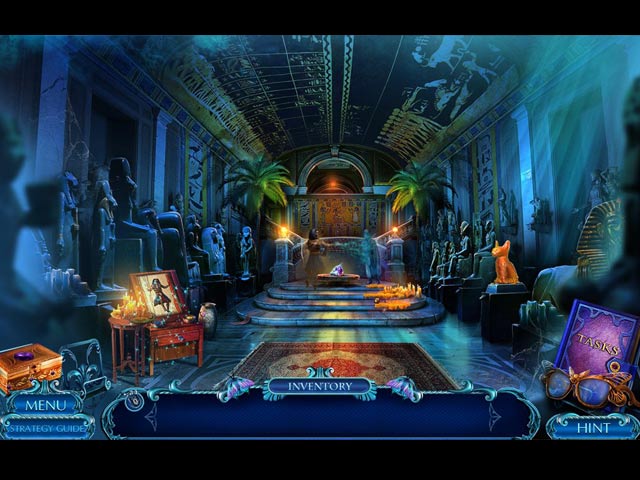 Mystery Tales: Dangerous Desires is the eight game in this dark fantasy series from Domini Games and it seems like the series has ran out of steam. The storyline is full of HOPA clichés and the story development is far from engaging. The characters fail to establish emotional connection with the player; thus, the game turns stale after only two chapters in.
Everything about Mystery Tales: Dangerous Desires screams "same old". The gameplay could not have been more predictable; original interactions are nowhere to be found, the special glasses does not generate any excitement, and the challenge factor is missing. Similarly, the hidden object scenes do not break any new grounds and the puzzles are easily doable even on the Hard mode.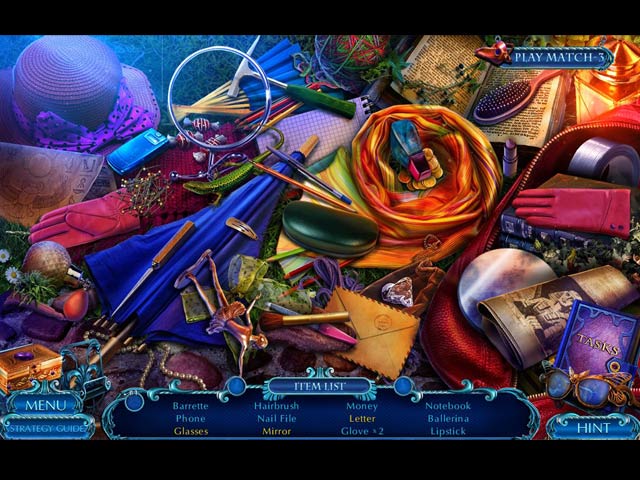 Domini Games is known for using a fluorescent color palette in their games and we usually find it pleasant. However, the bright colors in Mystery Tales: Dangerous Desires are somehow borderline grating. The overwhelming use of neon blue is extremely jarring and the wishy washy special effects do not make for better visuals. As for the music, they come and go at appropriate times. We have no issues with them, same goes for the voice-overs.
As if to make up for all the other mediocre aspects of the game, Mystery Tales: Dangerous Desires delivers a hefty playtime. The main game took us roughly five hours to complete and the bonus chapter added a full hour. The Collector's Edition is also stuffed with extra features; a strategy guide, wallpapers, concept art, soundtracks, replayable hidden object scenes, replayable puzzles, achievements, different sets of collectibles, and morphing objects.
Mystery Tales: Dangerous Desires is a run-of-the-mill attempt from Domini Games. It is definitely well put together, but disappoints in all other aspects.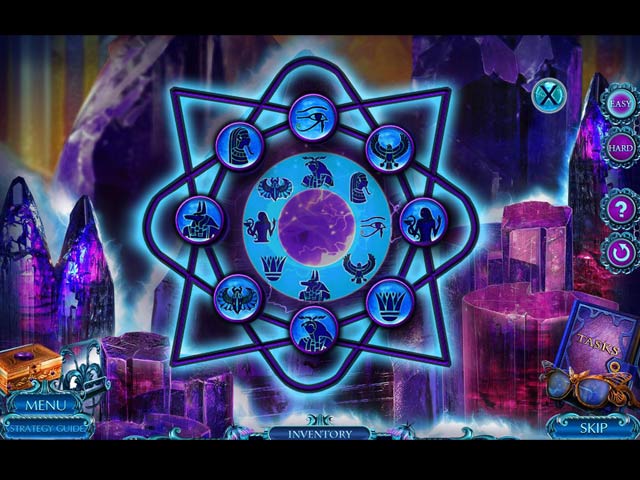 Enchanted Kingdom has beautiful wallpapers, soothing music, attractive concept art, and engaging movies abound in this mystery quest game, so rush to play to fully immerse yourself in the wonderful environment. Do you have any idea how to restore the Kingdom's magical power? You must solve riddles, mental teasers, and mini-games in the exciting adventure […]
Throughout this object-finding game, you'll get a sense of total immersion. Because every area of this game's universe is loaded with hidden objects, you can play as a true explorer.Domini Games has published "The Game," a brand new terrific game in the "Labyrinths of World" series, which was released on September 9, 2021. Simon and […]
Explore your favorite free hidden object games, logic puzzles, and brain teasers, again and again, loing for the items you need to get achievements. Are you up to the task? In these amusing locating object games, your goal is to seek out and uncover concealed objects to solve the case.Domini Games published another excellent game […]