INFO
Item Reviewed
PuppetShow: Poetic Justice Collector's Edition
October 25, 2017
RELEASE DATE
October 6, 2017
DEVELOPER
AMAX Interactive
FEATURES
Widescreen Support
Interactive Jump-Map
Voice Overs
3 Difficulties + Custom Mode
Puppet Helper
COLLECTORS EDITION
Exclusive Bonus Chapter
Integrated Strategy Guide
Wallpapers & Screensavers
Concept Art
Soundtracks & Cutscenes
Achievements & Collectibles
Replayable HOs & Puzzles
Another sequel, another mayor, another town invaded by evil puppets. With twelve games in, the PuppetShow series seems to have run out of ideas. PuppetShow: Poetic Justice tells a story of a chaotic town that has recently been conquered by mechanical puppets and masked men. To add to the madness, the mayor's wife has also gone missing! It is up to you to dive right into this mystery and save the town from the verge of collapse.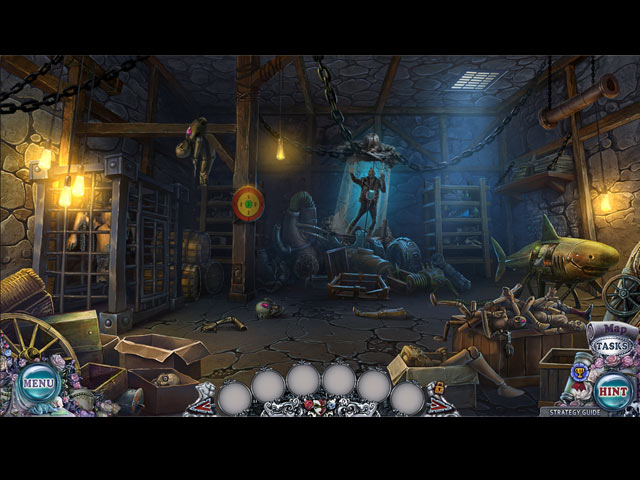 Despite the recycled plot, we personally found the storyline in PuppetShow: Poetic Justice to be quite intriguing. The game is packed with exciting events and over-the-top actions. While it might not be as creepy as some of the previous PuppetShow games, Poetic Justice is perhaps, one of the most entertaining sequels.
AMAX Interactive's expertise obviously lies in creating HOPA games. All the game mechanics in PuppetShow: Poetic Justice are basically flawless and the balance between hidden objects and puzzles is spot-on. However, PuppetShow: Poetic Justice is also one of the easiest HOPAs we have played as of late. The adventure part is predictable to the point that it is almost laughable. The hidden object scenes could not have been more standard and the puzzles are not anything particularly creative either. From beginning to end, we raced through the game without the need to use the Hint or the Skip feature.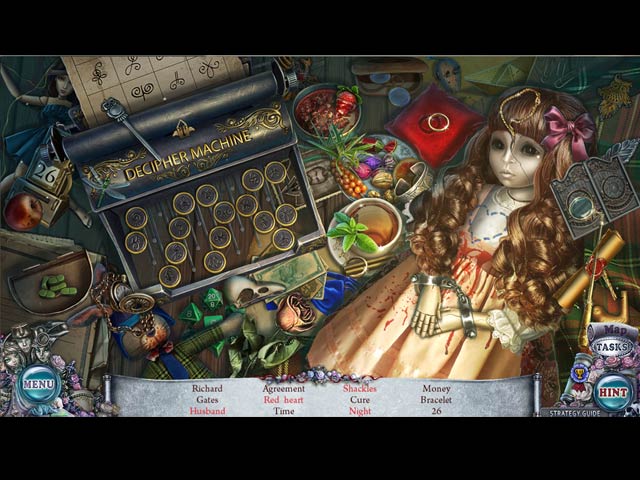 If there is one thing that AMAX Interactive continues to do right, it must be the production. The quality of the graphics is no doubt impressive and the level of details in the artwork is astounding. Audio wise, the background music works to set the suspenseful mood of the game and the voice-overs are decent, although they feel a little forced at times.
Most likely due to the lack of challenge, we completed PuppetShow: Poetic Justice in under three hours. The bonus chapter is not closely related to the main game and took us only 30 minutes to complete. The Collector's Edition features are also not enough to make up for the game's short length. The bonus section includes a strategy guide, wallpapers, screensavers, videos, soundtracks, achievements, collectibles, replayable mini-games, and replayable hidden object scenes.
PuppetShow: Poetic Justice's challenge factor is non-existent. Luckily, we can resort to the superb production and the thrilling story development for some quality entertainment.
Can you believe that the Dark Tales series has already come to its eighteenth installment? In The Devil in the Belfry, you arrive in a town where evil lurks in every corner. Each night, someone is murdered at the 13th chime of the bell tower., but no one has ever seen the bell itself. Can […]
AMAX Interactive returned with their second crossover adventure – Worlds Align: Deadly Dream. After the Puppet Master, the Cardinal, and Detective Dupin worked together in Worlds Align: Beginning, their paths crossed yet again and this time the threat is even greater than before. Can you join forces with Watchers of the Game Worlds and stop […]
When you received an urgent message from your university professor, you knew that something bad had happened! Travel back to your university and join forces with the professor's assistant, Natasha to rescue the professor from his mechanical kidnappers. As his star student, can you live up to your potential in PuppetShow: Fatal Mistake? The PuppetShow […]