INFO
Item Reviewed
Whispered Secrets: Forgotten Sins Collector's Edition
September 22, 2017
RELEASE DATE
September 3, 2017
FEATURES
Widescreen Support
Interactive Jump-Map
Voice Overs
3 Difficulties + Custom Mode
Cube of Sins
COLLECTORS EDITION
Two Exclusive Bonus Chapters
Integrated Strategy Guide
Wallpapers & Soundtracks
Concept Art & Cutscenes
Achievements & Collectibles
Replayable HOs & Puzzles
Professor Lomonosov has called you to an archaeological excavation site in Agora after he has made a groundbreaking discovery! An educational trip suddenly turned into a nightmare when a monster was unleashed from the Cube of Sins and kidnapped your friends. Can you save them, while learning more about this cursed artifact?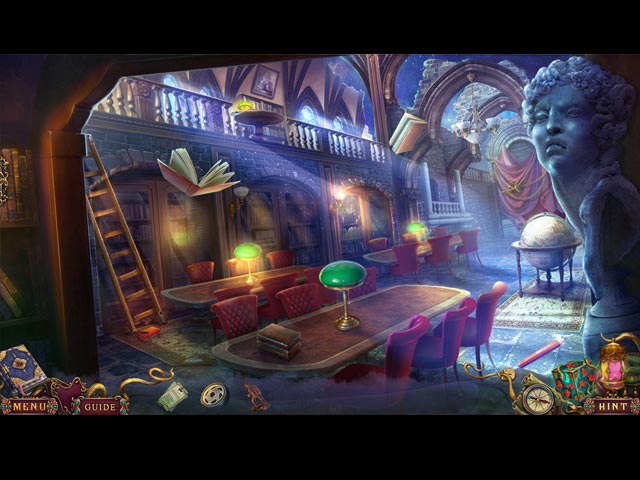 Here we go again, another evil spirit unleashed from an age-old artifact. From start to finish, Whispered Secrets: Forgotten Sins sticks to a formulaic plotline, one that is filled with forgettable characters and uninteresting side-stories. That being said, we appreciate the refreshing locale of the game. The Arabian theme is interesting and certainly has not been overused in the HOPA world.
Production wise, Whispered Secrets: Forgotten Sins is pretty much spot-on. The colorful visuals complement sophisticated artwork extremely well and there is just enough special effects to enhance the experience. However, we do feel that the visual style in this sequel is somewhat more juvenile that in the previous Whispered Secrets games. It is not to the point that takes away from the entertainment, but it surely made the environment slightly less immersive.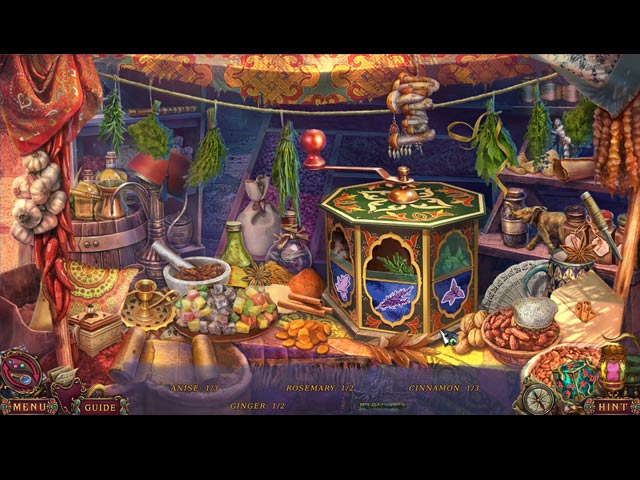 The gameplay in Whispered Secrets: Forgotten Sins is disappointingly standard. Neither the adventure part of the game nor the puzzles offer much challenge. Fortunately, the hidden object scenes do showcase some creativity, particularly the ones with the interactive progressive format. Further, the game includes one extra feature to go along with the gameplay; the Cube of Sins. This cube can be used to counter sand magic by prompting mini hidden object scenes – a fun addition, but nothing groundbreaking.
Whispered Secrets: Forgotten Sins concludes at the end of the fourth hour, with two bonus chapters featured in the Collector's Edition. Other extras include a strategy guide, wallpapers, soundtracks, concept art, videos, replayable hidden object scenes, replayable puzzles, achievements, and collectibles.
Compared to its predecessors, Whispered Secrets: Forgotten Sins doesn't stack up. Apart from a solid production and an uncommon theme, the game disappoints in other aspects.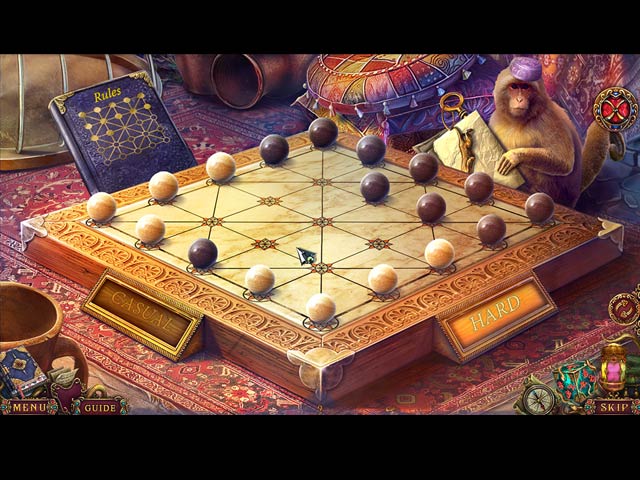 Starting off right where Mystery Case Files: The Harbinger ended, this twenty-second Mystery Case Files game takes the Master Detective through time hoops in an attempt to save the world! When the time is bren and existence as we know it is about to be destroyed, can rise to the occasion and save the day […]
There is word around town that three collectors have gone missing while attending a secret auction at a grand mansion. When a wealthy collector contacted you, the Detective, and asked you to attend this very auction as his proxy, you couldn't resist your curious mind and accepted the invitation. What happens next beats even your […]
Following Mystery Case Files: The Harbinger's cliffhanger ending, the Master Detective must now follow the Banshee's doomsday prediction and stop the phenomenon that would shatter the world! When the construct of time is breaking – the world will soon fall into chaos. Travel through time portals to past cases in the iconic Mystery Case Files […]