INFO
Item Reviewed
Spirits of Mystery: The Moon Crystal Collector's Edition
September 5, 2017
RELEASE DATE
August 20, 2017
DEVELOPER
AMAX Interactive
FEATURES
Widescreen Support
Interactive Jump-Map
Voice Overs
3 Difficulties + Custom Mode
Magic Amulet
COLLECTORS EDITION
Exclusive Bonus Chapter
Integrated Strategy Guide
Wallpapers & Soundtracks
Concept Art & Screensavers
Achievements & Collectibles
Replayable HOs and Puzzles
It's the Princess' birthday! And this year, the grand celebration lies on the night of the blood moon, when the innocent citizens of the kingdom are to be sacrificed by the demons. Help the Princess stop this cruel practice on this cursed night!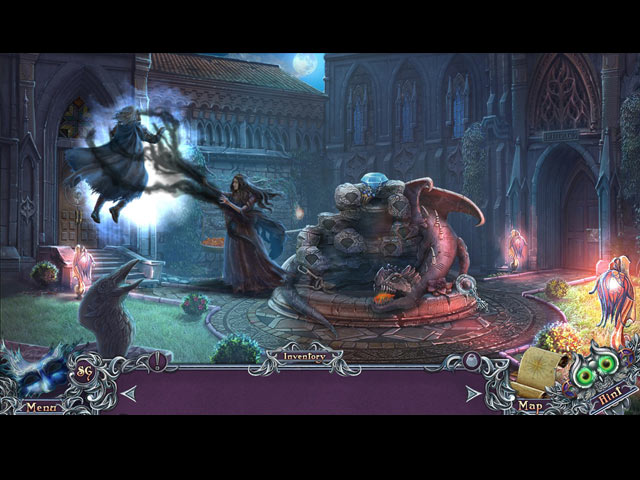 We always thought of the Spirits of Mystery as fairytale-like fantasy series. While each of the installments almost always possesses a dark edge, the mood of the game is still quite upbeat. The Moon Crystal definitely takes "dark" to a whole new level. This latest sequel features an unnecessary amount of disturbing scenes of human sacrifices, as well as gore and blood. These elements might work if the game is framed as a psychological thriller or is being released under a different franchise, but as it is now, the thought of princesses, fairies, and all these deary elements existing in the same game are both conflicting and confusing.
It might be partly because of these conflicting emotions that we never felt truly engaged in the game. The adventure gameplay is standard; a good chunk of backtracking, an overwhelming amount of weirdly-shaped locks, and predictable tasks to solve. The hidden objects scenes repeat themselves at least once, which can be seen as a sign of laziness on the developer's part, and none of them are particularly innovative either. The puzzles are slightly more entertaining, filled with great ideas, but not necessarily well-executed.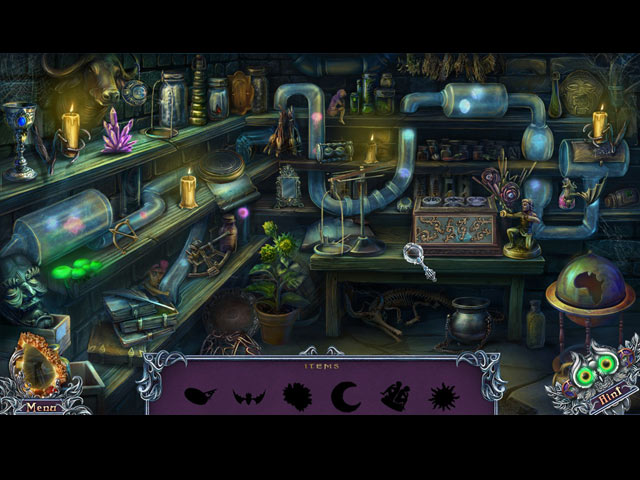 Production wise, Spirits of Mystery: The Moon Crystal is pretty much spot-on. The hand-drawn visual style from AMAX Interactive is definitely great-looking, accompanied by amazing shades of color and plenty of special effects. Moreover, the gloomy music is appropriate for the game and the voice-acting is solid.
Spirits of Mystery: The Moon Crystal has a standard four-hour length, and the bonus chapter comes in at 50 minutes. The Collector's Edition features a strategy guide, wallpapers, concept art, screensavers, videos, replayable hidden object scenes, replayable puzzles, achievements, and collectibles.
Spirits of Mystery: The Moon Crystal clumsily and unsuccessfully combines horror and fairytale into one adventure.

Can you believe that the Dark Tales series has already come to its eighteenth installment? In The Devil in the Belfry, you arrive in a town where evil lurks in every corner. Each night, someone is murdered at the 13th chime of the bell tower., but no one has ever seen the bell itself. Can […]
AMAX Interactive returned with their second crossover adventure – Worlds Align: Deadly Dream. After the Puppet Master, the Cardinal, and Detective Dupin worked together in Worlds Align: Beginning, their paths crossed yet again and this time the threat is even greater than before. Can you join forces with Watchers of the Game Worlds and stop […]
When you received an urgent message from your university professor, you knew that something bad had happened! Travel back to your university and join forces with the professor's assistant, Natasha to rescue the professor from his mechanical kidnappers. As his star student, can you live up to your potential in PuppetShow: Fatal Mistake? The PuppetShow […]