INFO
Item Reviewed
Haunted Legends: The Cursed Gift Collector's Edition
September 11, 2017
RELEASE DATE
August 25, 2017
DEVELOPER
AMAX Interactive
FEATURES
Widescreen Support
Interactive Jump-Map
Voice Overs
3 Difficulties + Custom Mode
COLLECTORS EDITION
Exclusive Bonus Chapter
Integrated Strategy Guide
Wallpapers & Screensavers
Concept Art & Cutscenes
Soundtracks
Achievements & Collectibles
Replayable HOs & Puzzles
The malicious dwarf, Saint Germain (SG), is back again with another Haunted Legends installment (yes, we did get the last once just five months ago and yes, it was awful). Long ago, Sebastian's father made a deal to allow Sebastian to communicate with the spirit world. Now that the father is dead, SG is intending to steal this boy's ability that will grant him immortality. Can you save this innocent boy from the grasps of the tricky dwarf?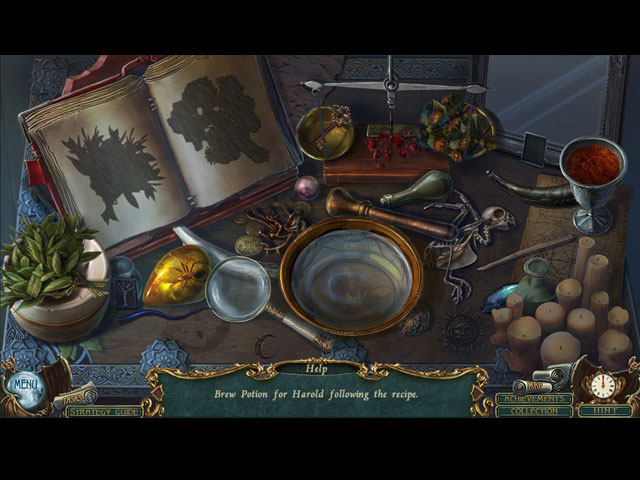 When we knew we were going to test the new Haunted Legends sequel next, we did not have high expectations. The last few games in this never-ending series were dull and uninspiring. To our surprises, The Cursed Gift is actually quite entertaining. The storyline is nothing revolutionary, but it managed to grab our interests and we were engaged all the way through. The story development allows for moments of excitement as well as suspense, which is ideal for a horror-lite game like this. However, the game could have reduced the amount of readings and still remains effective.
Haunted Legends: The Cursed Gift features stellar sights and sounds, as one would expect from this veteran developer. The scene designs are spectacularly-drawn and stunningly-painted, so are the special effects and the animations. The audio does not disappoint either; the background music provides great atmospheric support for the game and the majority of the voice-overs are on-point.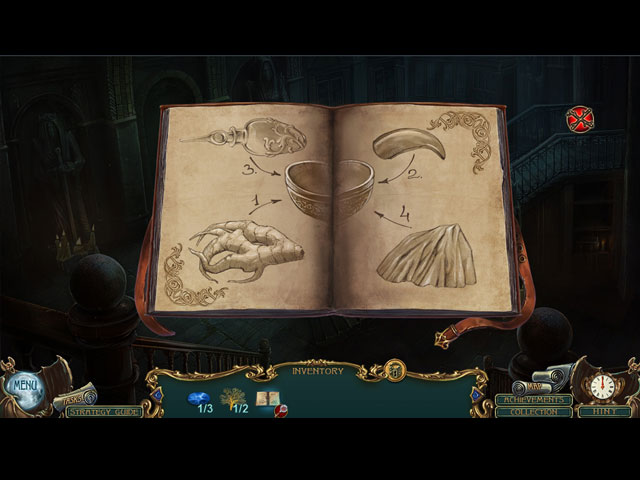 Nonetheless, Haunted Legends: The Cursed Gift has large rooms for improvement. Firstly, the gameplay involves far too much hand-holding. This leads to easy gameplay and predictable paths of actions. Also, the objects in the hidden object scenes are far too large – we rarely resorted to the hint button in these scenes. While we appreciate the option to switch between Hard and Easy modes in most of the puzzles, the underlying concepts behind these puzzles are still quite simple. AMAX Interactive could try thinking outside-the-box and layering different styles of puzzles with their future releases.
Haunted Legends: The Cursed Gift Collector's Edition includes a bonus chapter, a strategy guide, wallpapers, screensavers, concept art, videos, soundtracks, replayable puzzles, replayable hidden object scenes, achievements, and collectibles.
Haunted Legends: The Cursed Gift miraculously manages to reignite the fire in this age-old series. We hope this trend continues if AMAX still decides that Haunted Legends is a keeper.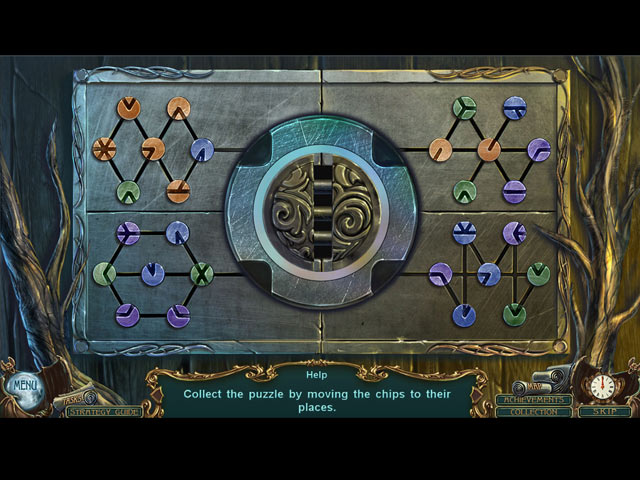 Can you believe that the Dark Tales series has already come to its eighteenth installment? In The Devil in the Belfry, you arrive in a town where evil lurks in every corner. Each night, someone is murdered at the 13th chime of the bell tower., but no one has ever seen the bell itself. Can […]
AMAX Interactive returned with their second crossover adventure – Worlds Align: Deadly Dream. After the Puppet Master, the Cardinal, and Detective Dupin worked together in Worlds Align: Beginning, their paths crossed yet again and this time the threat is even greater than before. Can you join forces with Watchers of the Game Worlds and stop […]
When you received an urgent message from your university professor, you knew that something bad had happened! Travel back to your university and join forces with the professor's assistant, Natasha to rescue the professor from his mechanical kidnappers. As his star student, can you live up to your potential in PuppetShow: Fatal Mistake? The PuppetShow […]