INFO
Item Reviewed
Saga of the Nine Worlds: The Gathering Collector's Edition
June 23, 2017
RELEASE DATE
June 28, 2017
DEVELOPER
Eipix Entertainment
FEATURES
Widescreen Support
Interactive Jump-Map
Voice Overs
3 Difficulties + Custom Mode
Diary
COLLECTORS EDITION
Exclusive Bonus Chapter
Integrated Strategy Guide
Wallpapers & Concept Art
Soundtracks & Cutscenes
Achievements & Collectibles
Replayable HOs & Puzzles
Characters & Journal
It is about that that Eipix introduces a new series. Saga of the Nine Worlds: The Gathering welcomes us to a new HOPA universe, where fantasy creatures walk among humans. You play as the Shield Maiden, protector of the princess, on the quest to stop a powerful dragon from destroying the village!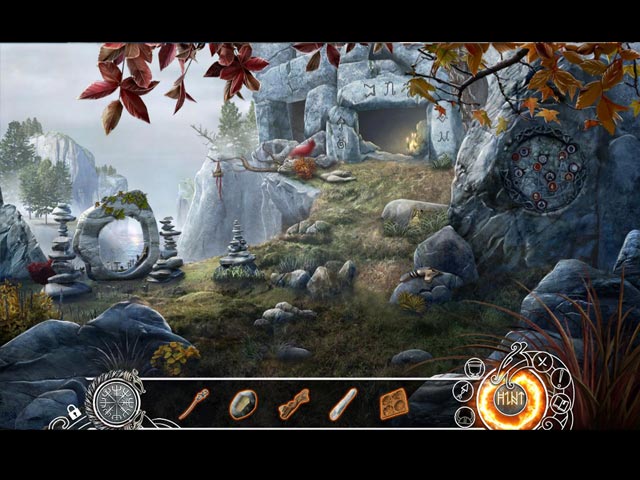 Despite a strong theme that runs through the game, the storyline in Saga of the Nine Worlds fails to connect. Perhaps, it was because the unlikable characters, or maybe it was the predictable plot – but we lost interest in following the storyline not long into the game. Still, some players might find the ability to select your own path fascinating. The game allows you to choose whether you want to visit the Huntress, the Skald, or the Seer first and last.
We appreciate the way Eipix experiments with Saga of the Nine Worlds: The Gathering. Unlike all the recent Eipix releases, which rest on formulaic gameplay and straightforward mechanics, we begin to see some innovative changes in this new release. Eipix incorporates storytelling into the game itself, which amps up the fun factor. The hidden object scenes are more complex than ever, with multi-layered scenes and a variety of entertaining hidden object formats. Further, the puzzles are no longer cookie-cutter types, as they showcase creativity and deliver actual challenge.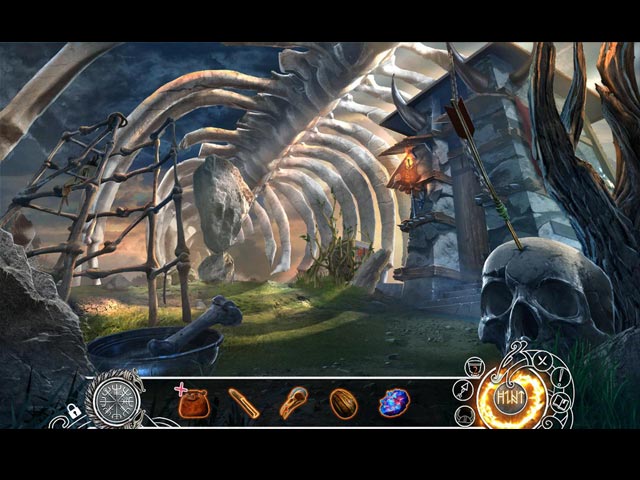 On the production side, Saga of the Nine Worlds: The Gathering is nothing short of impressive. The opening cutscene is one of the best we have seen from Eipix, and the other visual effects are similarly stunning. The graphics are well-drawn and designed, although they can be a little rough around the edges.
The standard game of Saga of the Nine Worlds: The Gathering was enjoyable, and we finished it within three and a half hours. The bonus chapter continued from the ending of the main game, and took us another 50 minutes. Other extras include wallpapers, concept art, journal, characters, soundtracks, movies, soundtracks, replayable hidden object scenes, replayable puzzles, achievements, and collectibles.
As far as Eipix games go, Saga of the Nine Worlds: The Gathering is a breath of fresh air. However, a more fast-paced storyline would be appreciated.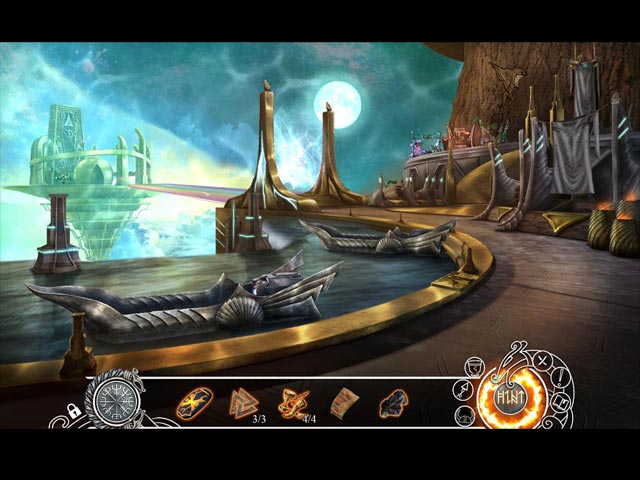 Happy Thanksgiving and get ready for another epic Mystery Case Files adventure! In this twentieth installment of the iconic Hidden Object series from Big Fish Games and Eipix Entertainment, you are tasked to investigate an urgent call from the infamous Manchester Asylum for the mentally insane. A mysterious patient from room 11 suddenly begins drawing a […]
Dreadful Tales: The Space Between was a revelation earlier this year and so, I had high expectations going into this new creepy Hidden Object sequel. In Dreadful Tales: The Fire Within, the legend has it that unnatural, ghostly things happened in the eerily quiet Coldfell Forest. Jill Weaver witnessed this firsthand when her family-bonding time […]
When an inmate at the Manchester Asylum draws a huge crown covering the walls of her cell, you're sent to learn what, if anything, it has to do with your past. But when the inmates escape, there's only one way for you to regain control — find the Black Crown before they do. You'll need […]