INFO
Item Reviewed
Ominous Objects: The Cursed Guards Collector's Edition
May 18, 2017
RELEASE DATE
April 28, 2017
DEVELOPER
Daily Magic Productions
FEATURES
Widescreen Support
Interactive Jump-Map
Voice Overs
3 Difficulties + Custom Mode
Hidden Objects Vs. Match 3
Cat Helper
COLLECTORS EDITION
Exclusive Bonus Chapter
Integrated Strategy Guide
Wallpapers & Concept Art
Soundtracks
Achievements & Collectibles
Game - Dots
Developer's Diary
The Duke of Braunschweig is obsessed with collecting a set of legendary cursed armor, created centuries ago by an evil king. Now that he has collected the full set, strange events started happening and the whole city is under attack from paranormal forces. Trace back to the origin of this cursed armor set and try to stop all this madness in Ominous Objects: The Cursed Guards.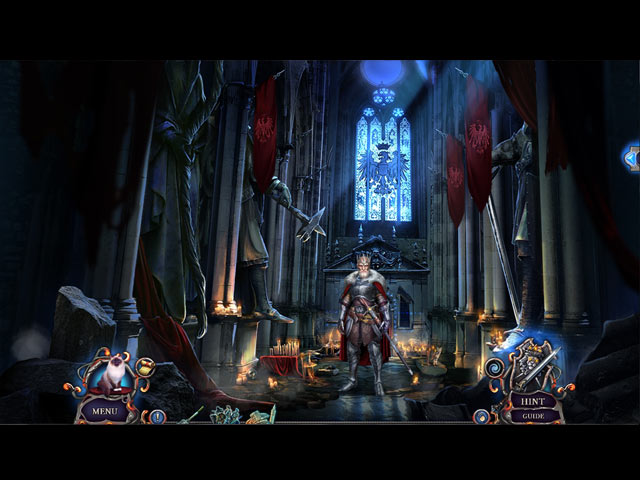 We are never big fans of the Ominous Objects series, as we feel that the theme of "ominous objects" is not strong and different enough to build a whole series around it. The Cursed Guards is the fifth game in the Ominous Objects series, although it feels like it could belong in any other dark fantasy HOPA franchises out there. The storyline is bland, slow-paced, and fairly predictable. Due to the recycled plot, the sense of urgency and excitement is somehow missing, leading to low level of engagement.
Such a cliché storyline could be made more interesting if the gameplay is intriguing enough. Unfortunately, the gameplay in Ominous Objects: The Cursed Guards is as simple as can be. Although professionally-made, the gameplay falls flat when it comes to challenge level and uniqueness. Mr, Jenkins, which is the game's cat helper, is also unnecessary and in our opinion, makes the game even more tedious. To us, the highlight of the game lies in the hidden object scenes. While they might not be something we have never seen before, the level of complexity is astounding and the execution is excellent.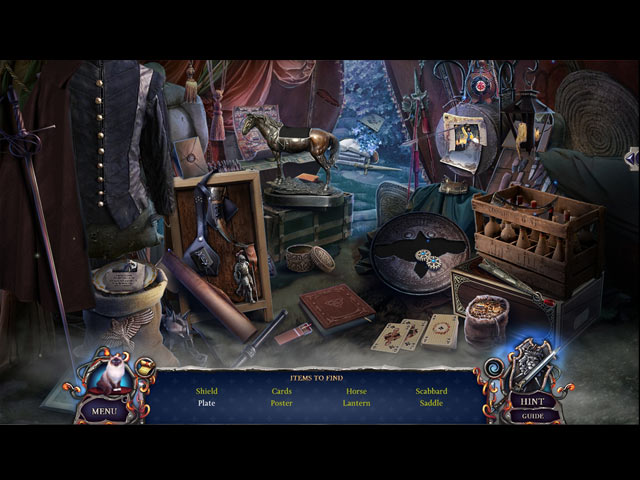 In terms of the production, Ominous Objects: The Cursed Guards does not disappoint. The majority of the visuals is stunning, especially the animations and the cutscenes. We wish the developer would have deviated a little bit from the foggy blue hue to add some much-needed variety to the game.
Ominous Objects: The Cursed Guards took us just under four hours to complete, and the bonus chapter took us another 50 minutes. The Collector's Edition comes with all the usuals; a strategy guide, wallpapers, developer's diary, concept art, soundtracks, a game of Dots, achievements, collectibles, and morphing objects.
Ominous Objects: The Cursed Guards is the definition of average, sort of like the series itself.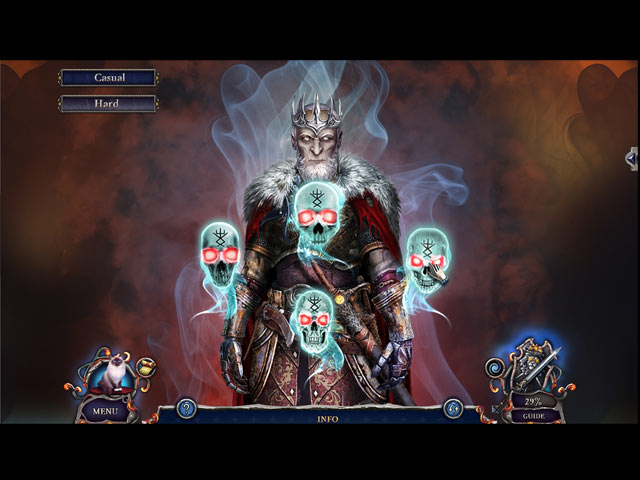 Santa was on his way to a tropical island to iver Christmas gifts when a violent storm knocked him out of the sky. As a demigod with fire magic, you are the only one who can locate Santa and rescue him. However, things might not be as easy as expected when you have to face […]
Following last year's Yuletide Legends: The Brothers Clause, Daily Magic Productions brings back the holiday series with a new installment. Can you the Christmas island and save Santa from the evil force? Screenshots taken by Jan Thomas
Dana and Rick explored an abandoned house on Maple Street when they were just little kids, and their lives were forever changed. Flash forward to today, Dana suddenly collapsed one day after work and in her coma, signaled to you to go back to take care of some unfinished business at that old house. Can […]