King Artos has fallen ill due to a terrible curse. Can you help Kevin and his friends on their battle with the mother nature in search for the Magic Armor? Lately, there seems to be an influx of Time Management titles on Big Fish Games. While we appreciate the variety, there is no need for every single Time Management releases to be qualified a Collector's Edition – this one for example.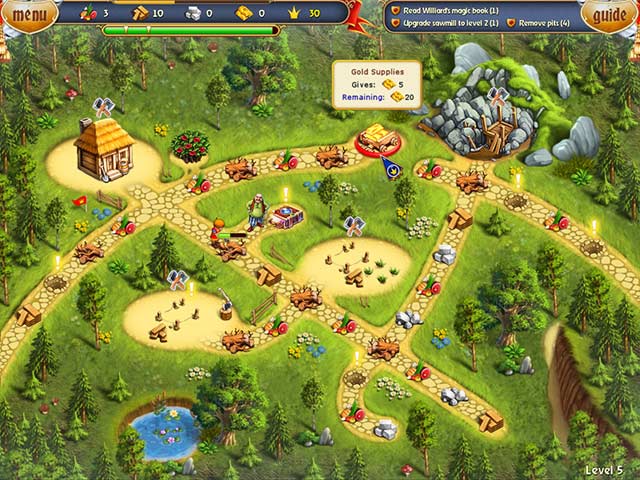 Fables of the Kingdom II follows the footsteps of the first game in the series, but the game also works well as a standalone game considering its almost nonexistent storyline. There is nothing remotely surprising about the storyline in Fables of the Kingdom II. The premise of the plot could not have been more predictable, and the development of the events that occur in the game is not very interesting either.
For hardcore Time Management players like us, Fables of the Kingdom II feels way too easy. All of the game's features are what expected from a standard resource-management game, no innovation whatsoever. Moreover, the level design offers very little complexity and challenge. We blasted through the 45 levels of the game, all with flying three stars, with minimal effort.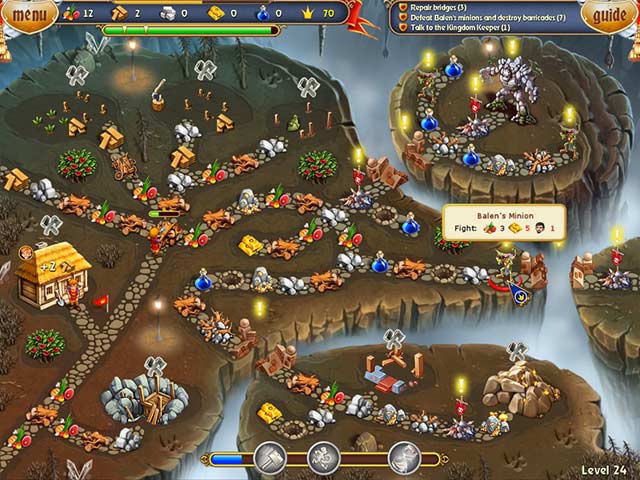 The one thing that Fables of the Kingdom II sort of excels at is the production. The vibrant graphics are lively and easy on the eyes. At the same time, the upbeat background music suits the cartoonish tone of the game very well. Despite the positive qualities, we have certainly seen much better production in some other resource-management titles. The visuals in Fables of the Kingdom II can come off as a little flat and bland, some added effects would be appreciated.
Fables of the Kingdom II is being offered as a Collector's Edition, although we see no point of that. Not only is the game itself fairly humdrum, the extras section is also not very attractive. The Collector's Edition includes a strategy guide, bonus levels, achievements, and wallpapers.
Fables of the Kingdom II is a nice and relaxing Time Management game, but definitely not worthy of the CE price tag.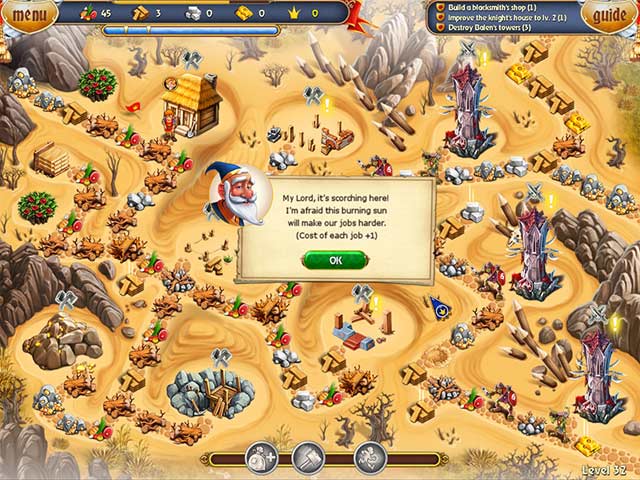 In this fifth installment of the fan-favorite Campgrounds series, Addie is in need of a vacation, but how could she leave her campgrounds lonely? She enlisted her trusted friend Tom to help lo over the campsites while she's away, but as a newbie, is Tom up to the task? all the previous games in […]
Whether it's fairy tale fantasy or medieval or Vikings or crime, the Time Management genre has gone through a wide range of themes – but very few have actually been set in a futuristic world. Faraway Planets takes you to the future when civilization is possible on another planet, when technology is so advanced and […]
General Flavius of Britons is up for a dangerous new journey! After ridding the land of Britons of the Filth in the first chapter, Flavius realized that he still needs to clear the source of the evil. Enter the Shadow Lands – the underworld for the dead souls of the Celts where the Filth has […]