INFO
Item Reviewed
Phantasmat: Mournful Loch Collector's Edition
April 26, 2017
RELEASE DATE
April 14, 2017
DEVELOPER
Eipix Entertainment
FEATURES
Widescreen Support
Interactive Jump-Map
Voice Overs
3 Difficulties + Custom Mode
Hidden Objects Vs. Match 3
COLLECTORS EDITION
Exclusive Bonus Chapter
Integrated Strategy Guide
Wallpapers & Concept Art
Soundtracks & Cutscenes
Achievements & Collectibles
Morphing Objects
Replayable HOs & Puzzles
Souvenir Room
Your search for the Logan artifact has led you to Scotland, home of the Logan's Castle of Scotland, infamous for the Logan Family Massacre. The Phantasmat series is back and is more haunting than ever. Can you uncover the artifact and escape the premises before the evil entities of the Lgan's Castle get to you?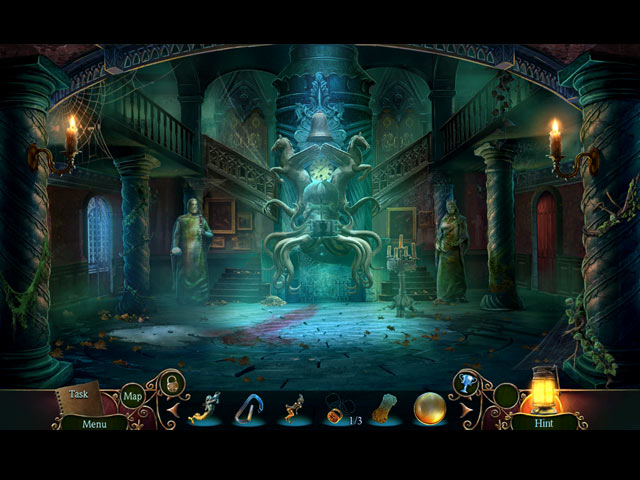 Despite several attempts, none of the Phantasmat sequel was able to truly capture uniqueness of the original Phantasmat game. This latest sequel, Mournful Loch, definitely has a great setting, which gives off a sense of abandonment just as in the original game. However, the original also excelled in storytelling, something that Mournful Loch fails at. There is very little story development going on in the game. Yes, we know that we are supposed to find an artifact hidden in a creepy castle, but why? The plot develops at such a slow pace that it is easy to lose interest before an important plot-point is revealed. The weird stranger that accompanies you and all the random hallucinations also don't make the story much more interesting.
The visuals in Phantasmat: Mournful Loch are gloomy and haunting, which are appropriate for the horror theme of the game. However, the game could benefit from some more variety regarding its color palette, because all of the scenes sort of blend together after a while. Audio wise, there is nothing to complain about – the voice-acting is excellent and the soundtracks are fittingly creepy.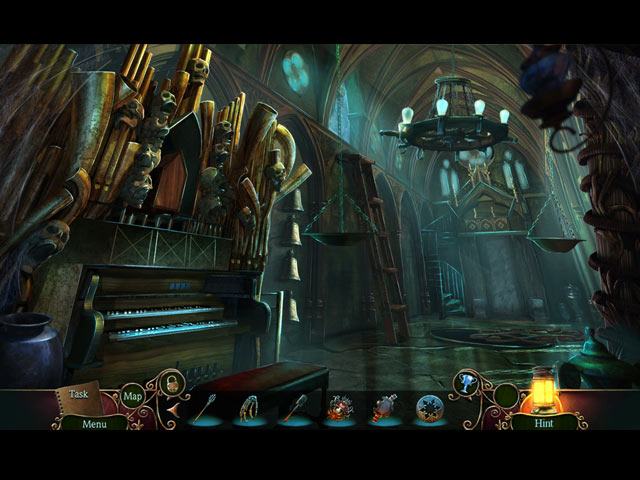 At the end of the day, Phantasmat: Mournful Loch is still an Eipix game, which means a predictable gameplay is to be expected. The game adopts the typical HOPA template, with a slightly heavier emphasis on backtracking. The hidden object scenes are well-designed and can be switched with Match 3 games. Further, the puzzles are a nice mix of simpler ones and more complex ones, all are nicely tied to the theme of the game.
The main game of Phantasmat: Mournful Loch is approximately four hours long, while the bonus chapter in comes in short at 35 minutes. The Collector's Edition meets the industry standard, this includes a strategy guide, wallpapers, concept art, soundtracks, videos, replayable hidden object scenes, replayable puzzles, morphing objects, achievements, collectibles, and a souvenir room.
Phantasmat: Mournful Loch masks a shallow storyline with a solid production. It is no original Phantasmat, but that doesn't mean that it's not entertaining.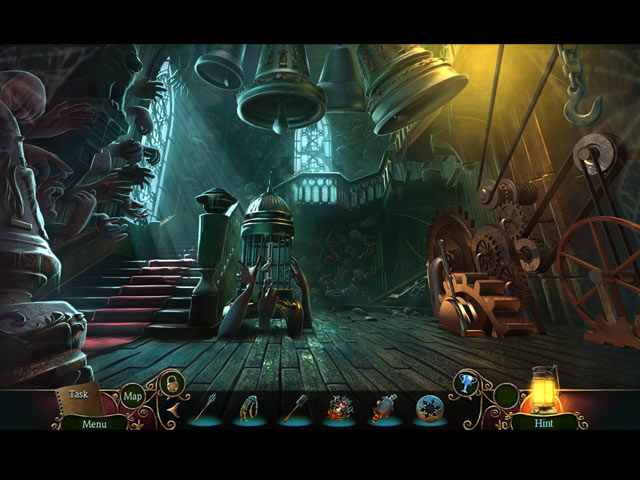 Happy Thanksgiving and get ready for another epic Mystery Case Files adventure! In this twentieth installment of the iconic Hidden Object series from Big Fish Games and Eipix Entertainment, you are tasked to investigate an urgent call from the infamous Manchester Asylum for the mentally insane. A mysterious patient from room 11 suddenly begins drawing a […]
Dreadful Tales: The Space Between was a revelation earlier this year and so, I had high expectations going into this new creepy Hidden Object sequel. In Dreadful Tales: The Fire Within, the legend has it that unnatural, ghostly things happened in the eerily quiet Coldfell Forest. Jill Weaver witnessed this firsthand when her family-bonding time […]
When an inmate at the Manchester Asylum draws a huge crown covering the walls of her cell, you're sent to learn what, if anything, it has to do with your past. But when the inmates escape, there's only one way for you to regain control — find the Black Crown before they do. You'll need […]