INFO
Item Reviewed
Enchanted Kingdom: A Dark Seed Collector's Edition
April 20, 2017
RELEASE DATE
April 7, 2017
FEATURES
Widescreen Support
Interactive Jump-Map
Voice Overs
Hidden Objects Vs. Match 3
3 Difficulties + Custom Mode
Healer's Kit and Diagnostic Lens
COLLECTORS EDITION
Exclusive Bonus Chapter
Integrated Strategy Guide
Wallpapers & Concept Art
Morphing Objects & Soundtracks
Achievements & Collectibles
Zoological Garden
The Kingdoms of Tar have been invaded by a horrifying disease that can turn a person into a tree, called The Dark Seed. You have been invited to find the cure to this mysterious disease because of your immunity and magical healing abilities. Can you use your skills to save the kingdom in this latest fantasy offering from Domini Games?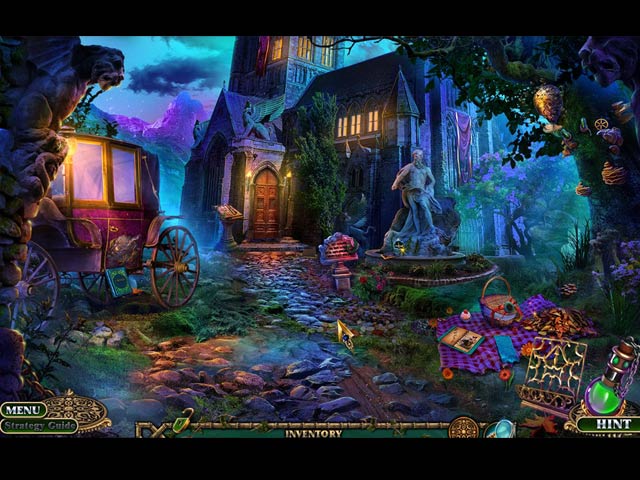 The storyline in Enchanted Kingdom: A Dark Seed starts off rather slowly, but picks up the pace towards the end of the chapter. Although the concept of the game is not original in the slightest, the thoughtful extra features included in the game make the game more interesting. Unlike in many casual adventures, these extra features, Healer's Kit and Diagnostic Lens, are well-integrated into the plot and actually help driving the story forward.
It is unfortunate that the rest of the gameplay is fairly basic. The adventure part of the game follows the typical HOPA pattern, with nothing that long-time HOPA players will find particularly exciting. The hidden object scenes and the puzzles are more creative, but they still could have been more complex and challenging.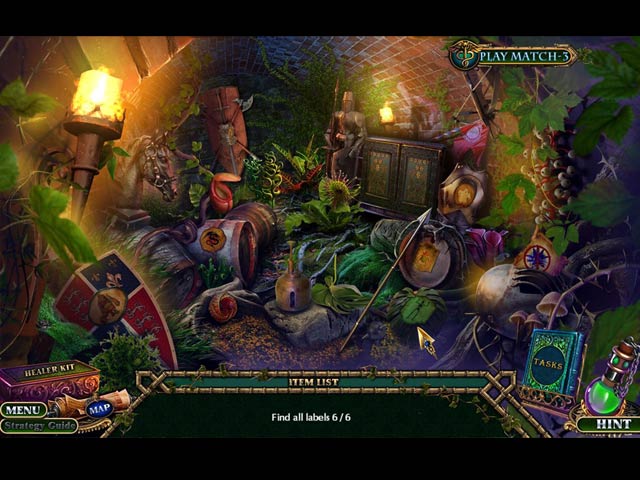 Domini Games has a very specific art style in their games, and Enchanted Kingdom: A Dark Seed does not shy away from that. The graphics are extremely detailed and the special effects are plenty. The heavy focus on the blue hue might be overwhelming at first, but your eyes will adjust to it after a while.
Playing on the easiest mode and without skipping any puzzles, we completed the main game of Enchanted Kingdom: A Dark Seed in just under four hours and the decent bonus chapter in approximately 45 minutes. The game is rather light on the bonus content, having only included a strategy guide, wallpapers, concept art, soundtracks, a Zoological garden, achievements, collectibles, and morphings.
We are curious to see where the Enchanted Kingdom series will go next, because A Dark Seed is a pretty promising opening game.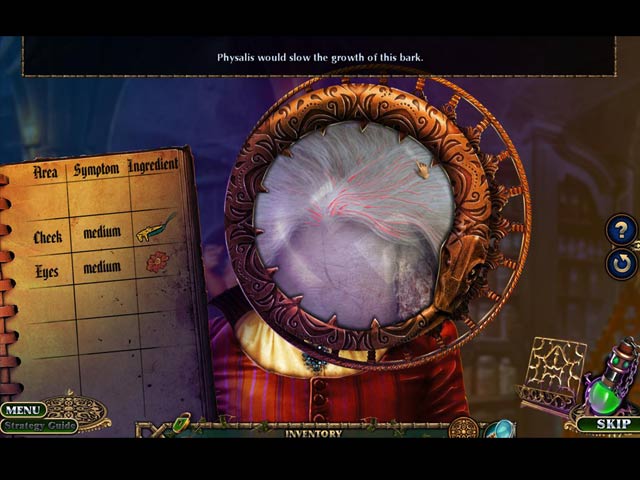 Enchanted Kingdom has beautiful wallpapers, soothing music, attractive concept art, and engaging movies abound in this mystery quest game, so rush to play to fully immerse yourself in the wonderful environment. Do you have any idea how to restore the Kingdom's magical power? You must solve riddles, mental teasers, and mini-games in the exciting adventure […]
Throughout this object-finding game, you'll get a sense of total immersion. Because every area of this game's universe is loaded with hidden objects, you can play as a true explorer.Domini Games has published "The Game," a brand new terrific game in the "Labyrinths of World" series, which was released on September 9, 2021. Simon and […]
Explore your favorite free hidden object games, logic puzzles, and brain teasers, again and again, loing for the items you need to get achievements. Are you up to the task? In these amusing locating object games, your goal is to seek out and uncover concealed objects to solve the case.Domini Games published another excellent game […]