INFO
Item Reviewed
Dark Parables: Requiem for the Forgotten Shadow Collector's Edition
March 14, 2017
RELEASE DATE
February 24, 2017
DEVELOPER
Blue Tea Games
Eipix Entertainment
FEATURES
Widescreen Support
Interactive Jump-Map
Voice Overs
3 Difficulties + Custom Mode
COLLECTORS EDITION
Exclusive Bonus Chapter
Integrated Strategy Guide
Wallpapers & Concept Art
Soundtracks & Cutscenes
Achievement & Collectibles
Replayable HOs & Puzzles
Morphing Parables
This thirteenth installment of the beloved Dark Parables introduces another haunting tale of dark magic. The people of Anaben are plagued by a strange illness, one that turns them into shadows of their former selves. Can you chase down the mysterious hooded figure, who is responsible for this epidemic, and revive the townspeople?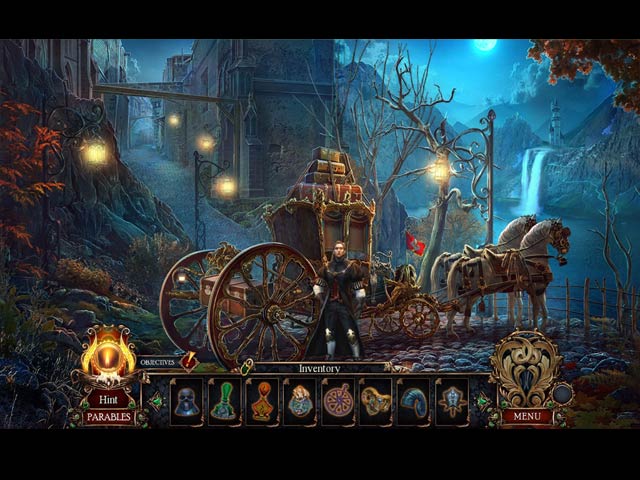 We miss the days when Dark Parables games were twisted versions of classic fairy tales, they felt much more unique and less predictable than the newer installments. The plot in Requiem for the Forgotten Shadow has been told a thousand times before, in various forms. A town invaded by a strange plague, with a secret society at work – how many more storylines along this line are we going to get? The delivery of this cliché storyline in Requiem for the Forgotten Shadow isn't that great either; we found many the transitions to be somewhat odd and a few actions to be illogical.
Moving on to the actual gameplay, Requiem for the Forgotten Shadow plays it pretty safe. While there is nothing essentially wrong with the gameplay, we wish Eipix (and Blue Tea) had stepped outside the Dark Parables' formula and innovated a little, maybe added a special feature or two. The developers also need to drop the overwhelming number of emblems, statues, keys, and amulets in the inventory because we found all the tasks to be very repetitive and confusing after a while.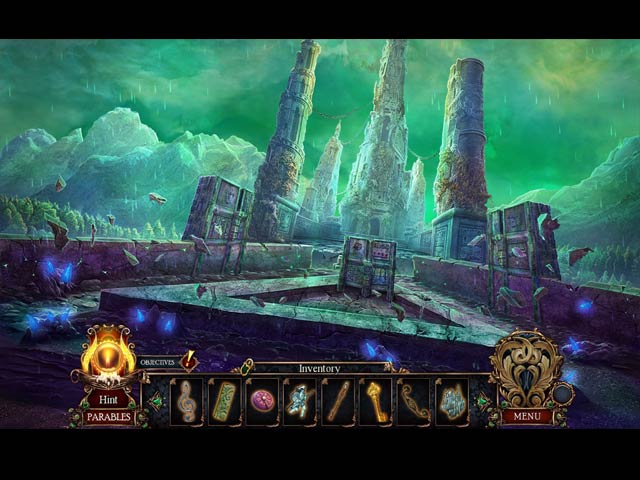 The majority of the puzzles are of moderate difficulty. We were also surprised by the complexity of many of the puzzles since the series was known for its rather straightforward puzzles. As with many Dark Parables games in the past, the fragmented object scenes are the some of the highlights of the game. The fragments in this sequel are particularly well-hidden, which is certainly a great deal fro lovers of this rare type of hidden object scenes.
Surprisingly, we are on the fence about the visuals in Requiem for the Forgotten Shadow. From the start, the Dark Parables series has always delivered spectacular visuals; no matter how tedious the gameplay was, we were always impressed by the visuals. On one hand, Dark Parables: Requiem for the Forgotten Shadow gives us some of the best and most detailed scene designs we have ever seen in the HOPA industry. In addition, the range of colors in use is also quite astounding and the animations are indeed phenomenal. On the other hand, the slight fuzziness kind of takes away the potential for the visuals of the game to feel epic.
Dark Parables: Requiem for the Forgotten Shadow has a standard length of four hours. The bonus chapter, which takes on a different aesthetic, is also very enjoyable. The Collector's Edition features all the usual gallery items, as well as some hard-to-find collectibles.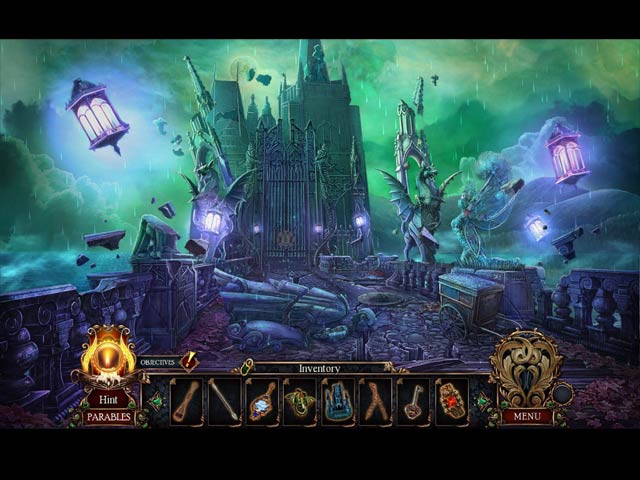 Two young art apprentices, Benno and Siegfried were searching for the forgotten Princess with a Duckling painting when they witnessed the princess stepped out of this cursed painting with their own eyes. With Siegfried missing, Benno reached out to you for your expertise and help. Discover the legendary tale of the Stained Princess of Cisneros […]
The chart-topping series Dark Parables continues with a new chapter in Portrait of the Stained Princess. Two art apprentices stumbled upon the painting "Princess with a Duckling" in an old abandoned castle. This painting is apparently haunted as a sighting of the princess herself is reported and one of the two young men that discovered […]
In Dark Parables: The Match Girl's Lost Paradise, the renewed detective is now off to a small island off the cost of Denmark to investigate a series off unexplainable fires. Are these incidents the work of the infamous Match Girl or are there secrets to be discovered? Blue Tea Games teamed up with Eipix Entertainment once […]