This is our favorite type of Time Management game, not the more popular "resource management" type – and so we are glad to see Sky Crew being offered as a Collector's Edition on Big Fish Games. The thing is, as much as we are in need of a non-Gamehouse Dash-style game right now, Sky Crew is just not a good game.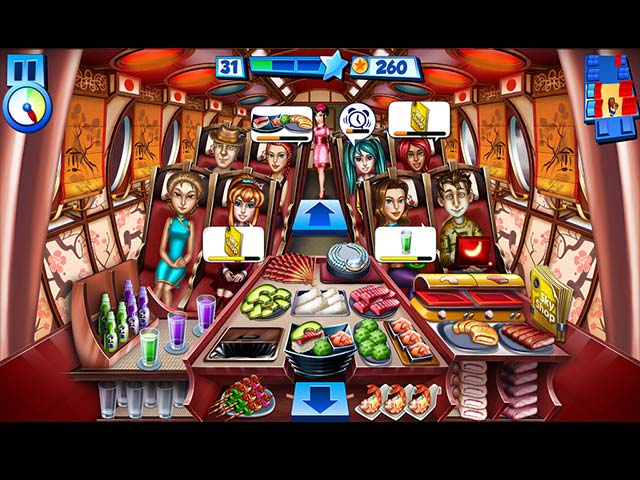 Surely, the idea of playing as a flight attendant serving airline passengers sounds fun, and surprisingly, has not been executed by any major Time Management titles before. Unfortunately, Sky Crew fails to deliver such interesting concept properly. In Sky Crew, you have to prepare and serve various food items to passengers per their requests. In addition to this, you have to also move back to the storage area to restock your cart once in a while. The game started out pretty entertaining, but after 10 levels or so, became extremely repetitive and irritating.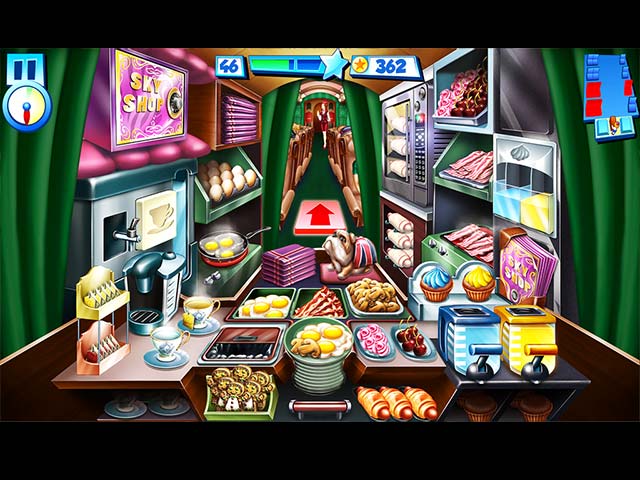 When we said "irritating", we mainly referred to the poorly-designed controls. Yes, we expected a massive amount of clicking in the game, as it is a Time Management game – but we certainly did not expect such overwhelming amount of dragging. Sky Crew not only requires you to drag items to passengers, but to also drag food onto plates, drag soda bottles to glasses and so on. Further, it can be annoying that you are not able to view the orders of every single passenger all at once since you need to move forward and backward in the cabin to do so. This is the least of our problems really, when compared to the cramp-inducing "dragging" phenomena.
Production wise, Sky Crew feels a little outdated. The graphics are cartoonish, bright, and colorful and the soundtracks are lively and upbeat. The sights and sounds are not exactly outstanding, but appealing nonetheless. The game consists of over 200 levels, so that should be satisfying if you are not bored to death first. The Collectors Edition's bonus content is not made quite clear, so there is no reason to go for the higher price tag basically.
If you are looking for an airplane-themed Time Management game, we highly recommend the far more superior Jet Set Go. In fact, that was one of the best Time Management games of all time.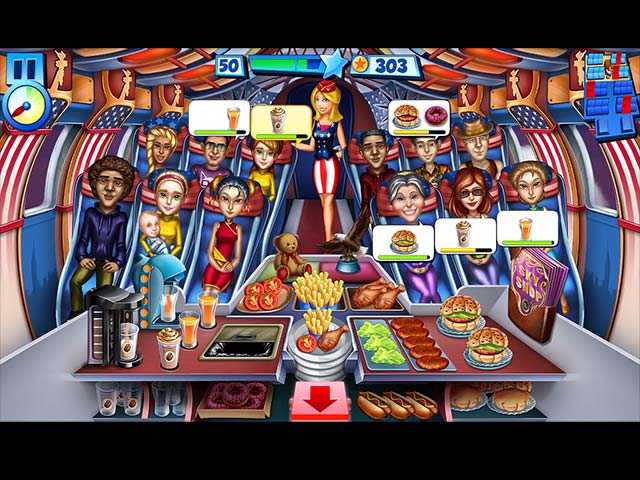 Nordcurrent, the creator of the insanely popular Coing Fever, presents a new twist on coing games. Hungry Invaders is essentially Plants vs. Zombies meets coing – can you feed all the monsters before they reach your kitchen base? If you the format of tower defense games and the mechanics of time management games, then […]
Anna Myers' holiday trip in the Alps does not go as planned when a guest at the hotel she is staying at was found murdered! As mysteries bloom and tensions grow, guests start to meet their ultimate fate one by one. Help Anna exercise her investigative skills and solve challenging murder cases in Murder in […]
In this day and age, it is not common to find a decent non-builder Time Management release that does not belong to the ever-expanding icious universe. Happy Clinic has you following Holly's internship as she joins various clinics and hospitals around the globe. Guide Holly through the fast-paced environment and help her achieve her dream […]