INFO
Item Reviewed
Grim Facade: The Red Cat Collector's Edition
November 16, 2016
RELEASE DATE
October 23, 2016
DEVELOPER
ERS Game Studios
FEATURES
Widescreen Support
Interactive Jump-Map
Voice Overs
3 Difficulties + Custom Mode
Memory Fragment Detector
COLLECTORS EDITION
Exclusive Bonus Chapter
Integrated Strategy Guide
Wallpapers & Screensavers
Soundtracks & Cutscenes
Concept Art
Achievements & Collectibles
Replayable HOs & Puzzles
Grim Facade takes us back to Venice with this new installment, The Red Cat. Recently, a series of murders has been going on in town, with the killer announcing its victim by putting a Red Cat print on the victim's front door. The Mayor has asked for your expertise when his son appears to be the target – can you catch this serial murderer and bring peace back to Venice?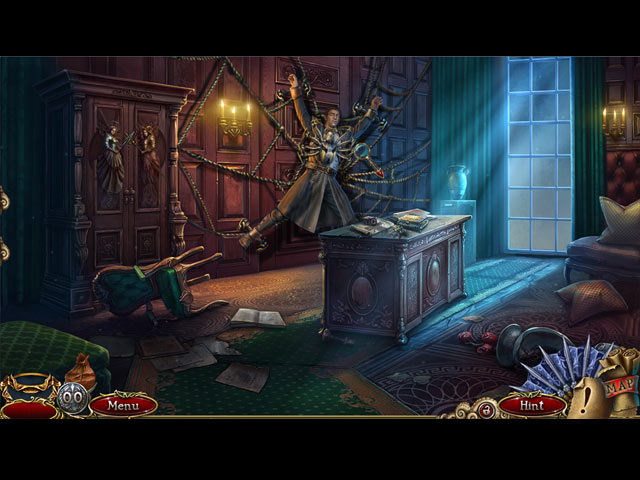 Grim Facade: The Red Cat follows a fairly predictable and tiresome storyline, so we were not as engaged in the game as we should be. Still, we were drawn in by the gorgeous environment and the stunning architecture of Venice beautifully portrayed in this game. The art team at ERS-G has really stepped up their work with the studio's recent releases, as the visuals in this game show no hints of fuzziness we used to see in ERS-G's projects.
The gameplay in Grim Facade: The Red Cat is certainly not revolutionary. The game sticks to the tried-and-true HOPA formula, with little innovation. Still, ERS-G executed it in such a way that is both effective and entertaining. The fast-paced adventure is filled with interesting tasks to complete, and some of them can be quite tricky. Further, the puzzles are often complex and creative, although none of them is truly mind-blowing. Disappointingly, the hidden object scenes are rather mundane.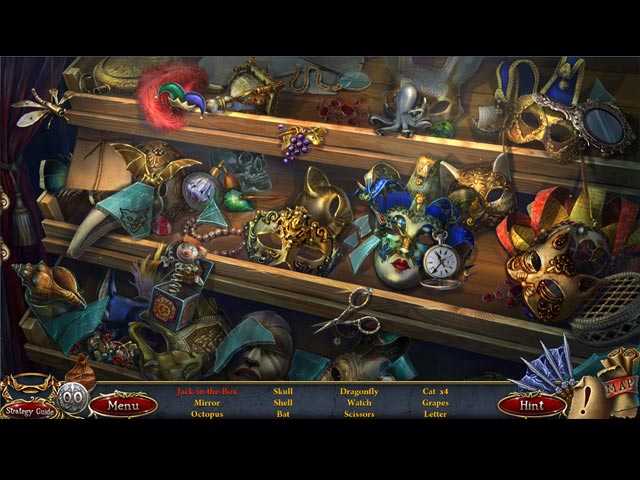 The Red Cat also equipped you with a Memory Fragment Detector which allows you to replay what has happened in the location a few hours back. While this improves our understanding of the storyline, the fantasy aspect of the device kind of takes away from the suspenseful mood of the game.
We completed Grim Facade: The Red Cat in 3 hours and 45 minutes, and the slightly weaker Bonus Chapter in 50 minutes. The Collector's Edition includes all the features expected from a HOPA by a leading developer; wallpapers, concept art, soundtracks, a strategy guide, screensavers, collectibles, achievements, replayable hidden objects and replayable mini-games.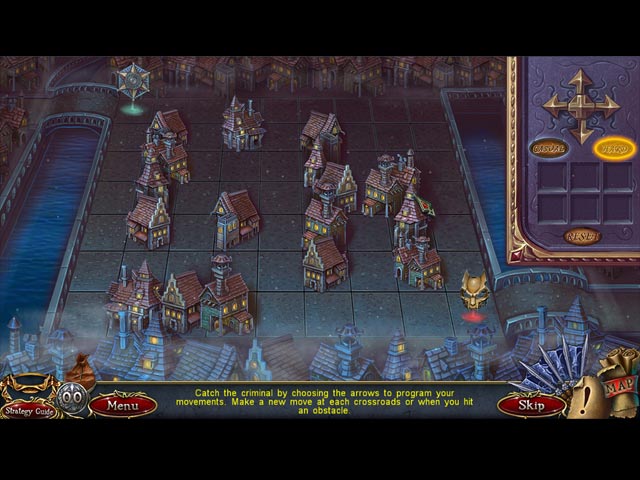 Br the InvestiGator will likely satisfy your needs for the foreseeable future if you're loing for a point-and-click adventure game with competent visuals, anthropomorphic animals, a respectable beat-'em-up minigame, and a respectable number of alternate paths that lead to various interactions with characters as you progress. In this hybrid of an Adventure game and a […]
A well-written drama with excellent acting, Telling Lies captures the essence of contemporary living. The characters go about their daily lives, which are centered on technology and social media. They use sites for video messaging to communicate. And practically every element of their lives is intertwined despite the distance between them. A series of one-sided […]
A classic whodunit, Tangle Tower has a vintage and contemporary feel to it. With clearly unrealistic puzzles, clever commentary, and a lot of click ticking, hunting for clues, and speaking to witnesses, it pays homage to classic point-and-click games. However, the game doesn't come across as a carbon ; rather, every design decision you come […]