INFO
Item Reviewed
Heart's Medicine: Time to Heal Collector's Edition
October 4, 2016
RELEASE DATE
September 14, 2016
DEVELOPER
Gamehouse
Blue Giraffe Games
FEATURES
Widescreen Support
Three Difficulty Settings
Hidden Hamster
COLLECTORS EDITION
30 Challenge Levels
Achievements
From Delicious and Cathy's Crafts to Fabulous Angela's and now this – 2016 has certainly been a crazy year for Gamehouse. What's interesting is that the studio still manages to keep up the quality and every one of their releases has been stellar so far, including Heart's Medicine: Time to Heal.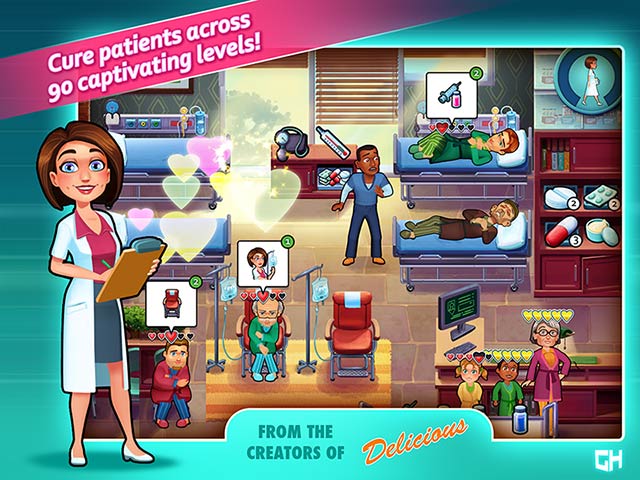 Time to Heal is the long-awaited sequel to the 2010's best-selling Heart's Medicine: Season One. Six years have gone by and the Heart's Medicine has definitely improved with time. Time to Heal begins with a dramatic sequence; Daniel was in a terrible accident and our heroine, Allison, is the only one that can save him. The game then flashes back to months prior to the event, when Allison was a hospital intern and began falling for Daniel's charm. The game has you follow Allison's journey as she works her way through a variety of departments in the hospital across 60 story-centric levels and 30 smartly-designed challenge levels.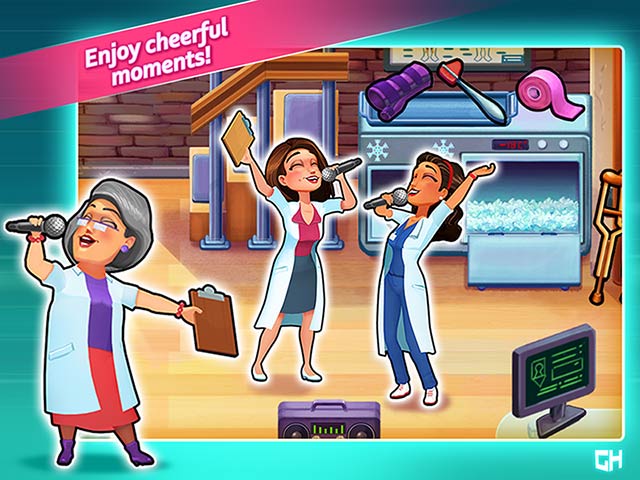 Just like other games in the "Delicious' family", Heart's Medicine 2 is a story-driven Time Management game. Each level presents a new challenge task for you to solve and earn bonus points, which in turn, progresses the storyline. It is also important to note that Time to Heal is an incredibly fast-paced game, even to Dash veterans like ourselves. The game involves quite a hysterical amount of clicking, some might even find that overwhelming.
Nonetheless, we still thought Heart's Medicine: Time to Heal was excellently executed. Not only because of the clever gameplay and the captivating storyline, but also because of the sights and the sounds. The visuals in Heart's Medicine: Time to Heal are sharp, bright and nothing short of attractive. The soundtracks are also, for the most parts, upbeat and fun – fit right in with the manic vibe of the game.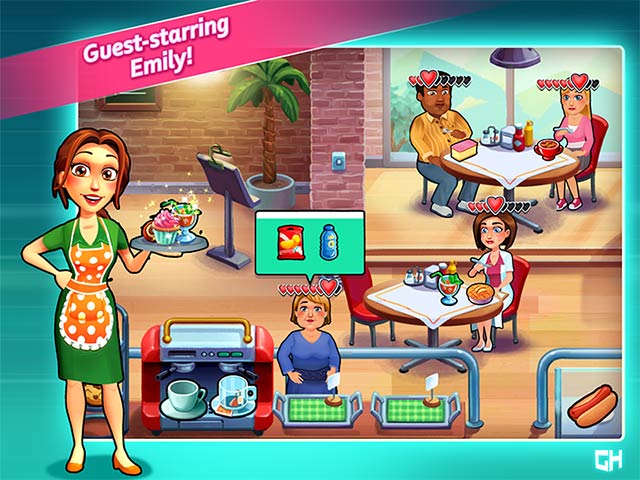 After a long of successful projects, Gamehouse has finally dipped its toes in the increasingly-crowded freemium pool. Heart's Medicine: Doctor's Oath follows Allison Heart's journey at Queensburrow Bridge Hospital, on her path to graduating as a fully-fledged doctor. Unfortunately, things go haywire when a mysterious patient unleashed a mysterious contagious disease at the hospital and prompted the […]
It is definitely not an easy task to follow the footsteps of Heart's Medicine: Time to Heal, one of the best Time Management games in the recent years. Still, we hold extremely high hopes and expectations for this sequel, and thankfully, Heart's Medicine: Hospital Heat ivers. Heart's Medicine: Hospital Heat starts with probably the most intense opening […]
We do realize that it is well over the holiday season by this point, but we always need a little icious in our lives, don't we? In a blink of an eye, baby Paige has already started preschool and it is nearly time for her first Christmas musical! Join Emily and her friends on a […]