INFO
Item Reviewed
Dark Romance: Curse of Bluebeard Collector's Edition
October 30, 2016
RELEASE DATE
October 14, 2016
FEATURES
Widescreen Support
Interactive Jump-Map
Voice Overs
Hidden Objects Vs. Match 3
3 Difficulties + Custom Mode
Character-Switching
COLLECTORS EDITION
Exclusive Bonus Chapter
Integrated Strategy Guide
Wallpapers & Concept Art
Replayable Mini-Games
Morphing Objects & Cutscenes
Achievements & Collectibles
Boudoir
Another child of Count Bluebeard's has been born cursed and only the woman with the purest soul can reverse the curse! Bluebeard sets his sights on Rachel, and is willing to do anything to force marriage upon her. This latest installment of the Dark Romance franchise has you playing as Richard, Rachel's lover, as he tries to free his wife-to-be from Bluebeard's grasp.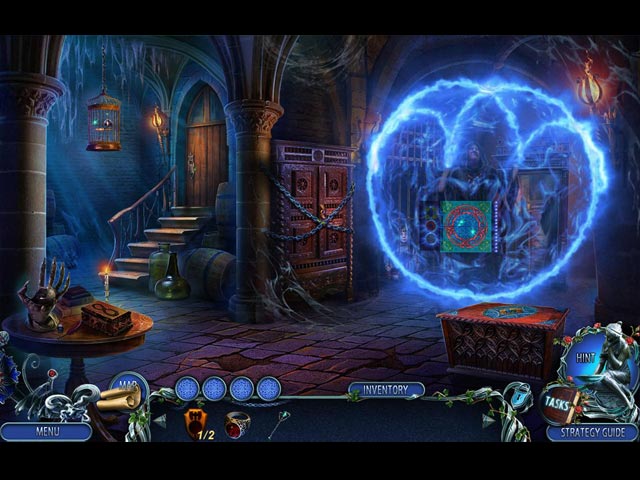 We always admire the Dark Romance series for its ability to find its signature style and stick to it, making it one of the most cohesive HOPA series yet. This sixth Dark Romance game utilizes the overdone storyline of the Bluebeard's curse, but puts its own horror meets romance spin on it. The capacity to play from two different perspectives, Richard's and Rachel's, is certainly interesting and breathes a new life into this rather tired storyline.
Dark Romance: Curse of Bluebeard is also surprisingly well-executed. It has all the features you would expect to find in a top-tier HOPA; custom difficulty settings, an interactive map and a bunch of collectibles and morphing objects. The gameplay is fairly predictable, but definitely not boring. Curse of Bluebeard is a puzzle-intense adventure, with a variety of puzzles, ranging from easy to hard, lurking at every corner. While these puzzles are not necessarily innovative, they help make the game more interactive and thus, more enjoyable. Similarly, the hidden object scenes are also highly entertaining.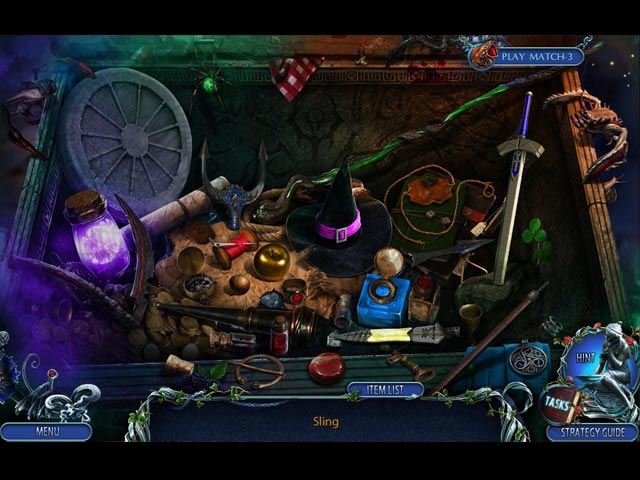 Domini Games did a solid job with the production of Dark Romance: Curse of Bluebeard. The visuals are rich in color, and we think that the dark blue hue of the graphics suits the mood of the game well. The cinematic and the animations in this sequel are also done to the highest caliber, some of the very best works from this developer. Most of the times, we have no problem with the voice-acting in the game, although Rachel's voice-overs are often just a tad too calm given the stressful situation she is in.
When it comes to value for money, Dark Romance: Curse of Bluebeard impresses. The standard game took us over four hours to master, and the bonus chapter took us another hour. The Collector's Edition also comes with a plethora of extras; wallpapers, concept art, soundtracks, videos, replayable mini-games, a Boudoir, a strategy guide, achievements and as mentioned, lots of collectibles.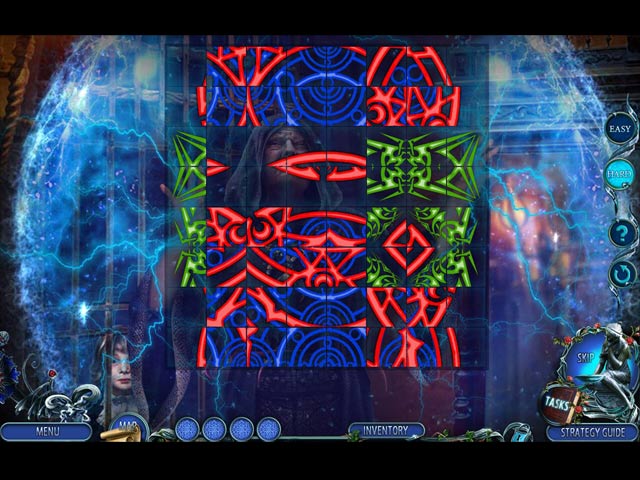 Enchanted Kingdom has beautiful wallpapers, soothing music, attractive concept art, and engaging movies abound in this mystery quest game, so rush to play to fully immerse yourself in the wonderful environment. Do you have any idea how to restore the Kingdom's magical power? You must solve riddles, mental teasers, and mini-games in the exciting adventure […]
Throughout this object-finding game, you'll get a sense of total immersion. Because every area of this game's universe is loaded with hidden objects, you can play as a true explorer.Domini Games has published "The Game," a brand new terrific game in the "Labyrinths of World" series, which was released on September 9, 2021. Simon and […]
Explore your favorite free hidden object games, logic puzzles, and brain teasers, again and again, loing for the items you need to get achievements. Are you up to the task? In these amusing locating object games, your goal is to seek out and uncover concealed objects to solve the case.Domini Games published another excellent game […]