INFO
Item Reviewed
Bridge to Another World: Alice in Shadowland Collector's Edition
August 21, 2016
RELEASE DATE
August 5, 2016
FEATURES
Widescreen Support
Interactive Jump-Map
Voice Overs
3 Difficulties + Custom Mode
Compass
COLLECTORS EDITION
Exclusive Bonus Chapter
Integrated Strategy Guide
Wallpapers & Screensavers
Soundtracks & Cutscenes
Concept Art
Achievements & Collectibles
Replayable HOs & Puzzles
4 Friends Games continues to improve with each of their releases, and Bridge to Another World: Alice in Shadowland might be their best work yet. In this third installment of the highly-acclaimed fantasy series, you play as Alice, who were brought to the Shadowland in hope that you would help save the world from the much-loathed Red Queen. Whether you are the real Alice from the legend or not, you must join the rebels and face against the Queen in order to earn your way home.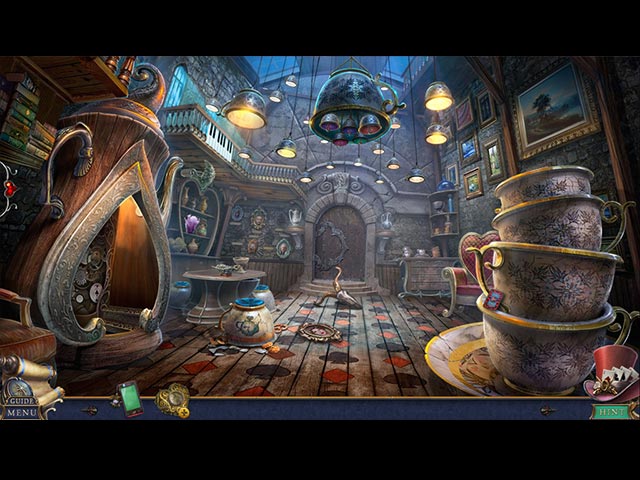 Alice in Wonderland is one of our favorite fairytales, and so we are excited every time a HOPA takes on this classic theme. Bridge to Another World: Alice in Shadowland is loosely based on the iconic fairytale, but with even more over-the-top moments and action-packed excitement. There is definitely a lot to see and interact with in this game; thus, we were captivated by the game all the way from start to finish.
The people at 4 Friends Games are the experts when it comes to fantasy adventures, having already spawned the stunning Living Legends series. But no matter how gorgeous the studio's previous games were, they could not be compared to the beauty of Alice in Shadowland. This game is downright spectacular. All of the scenes are filled with lush colors and detailed artwork, what's not to love about that? Besides, the incredible cutscenes and the epic soundtracks make the game even more appealing. One tiny problem, we found the voice-overs to be slightly awkward at times – although that didn't make the game any less enjoyable.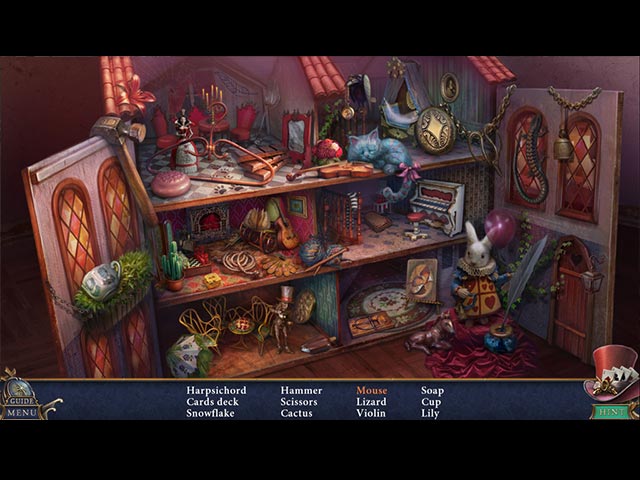 Bridge to Another World: Alice in Shadowland kept us occupied at all times with a gazillion tasks to complete in a scene. That is, Alice in Shadowland is not actually an easy game, predictable as it is. Every single aspect of the game is well-executed. The hidden object scenes are satisfyingly challenging, with objects that are less obvious to find and a nice variety. The puzzles are delightful and creative, ranging from easy to medium difficulty. In addition, you are also equipped with a Compass that helps you recover a lost item – we found this a little gimmicky.
We completed the main game of Alice in Shadowland within 4.5 hours and the amazing bonus chapter in an hour and 15 minutes. The bonus content section of the Collector's Edition featured a strategy guide, wallpapers, concept art, screensavers, movies, soundtracks, achievements, collectibles, replayable puzzles and replayable hidden object scenes.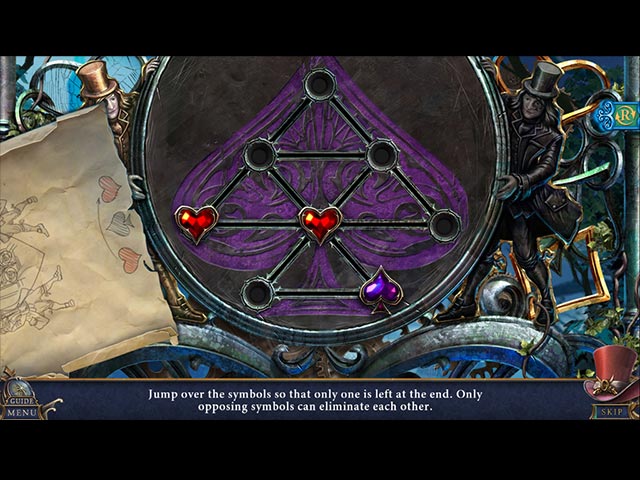 Come and discover all concealed items, use your sense of observation. Do you think you'd be an excellent detective?In this ightful game, you'll navigate through stunning mini-games, brainteasers, amazing riddles, and hidden clues.Friendly Fox Studio's Dark City: London is an adventure game featuring lots of hidden objects, mini-games, and riddles to solve that was launched […]
To find all hidden things, use your sense of observation. Do you think you'd make an excellent detective?In this ly adventure, navigate through stunning mini-games, brain teasers, astonishing riddles, and hidden clues.Friendly Fox Studio's Bridge to Another World: Through the Loing Glass is an adventure game featuring loads of hidden objects, mini-games, and puzzles to […]
A stranger's request brings you to the capital of Hungary to investigate a series of nightmarish attacks. You are then joined by Agatha, a curious partner who provides you with necessary local insights. Are these attacks instigated by a vengeful vampire or do lead to something much sinister? Find out in Dark City: Budapest. […]