INFO
Item Reviewed
Vermillion Watch: Moorgate Accord Collector's Edition
July 11, 2016
RELEASE DATE
June 24, 2016
DEVELOPER
Eipix Entertainment
FEATURES
Widescreen Support
Interactive Jump-Map
Voice Overs
3 Difficulties + Custom Mode
COLLECTORS EDITION
Exclusive Bonus Chapter
Integrated Strategy Guide
Wallpapers & Concept Art
Soundtracks & Cutscenes
Achievements & Collectibles
Replayable HOs & Puzzles
Characters & Souvenir Room
Developer's Diary
For quite a while, Eipix has been putting out sequel after sequel. But after the developer's iconic series like Sea of Lies and Off the Record have ended, it is time for a new start. In this first Vermillion Watch game, you need to stop the monsters that are terrorizing the streets of London.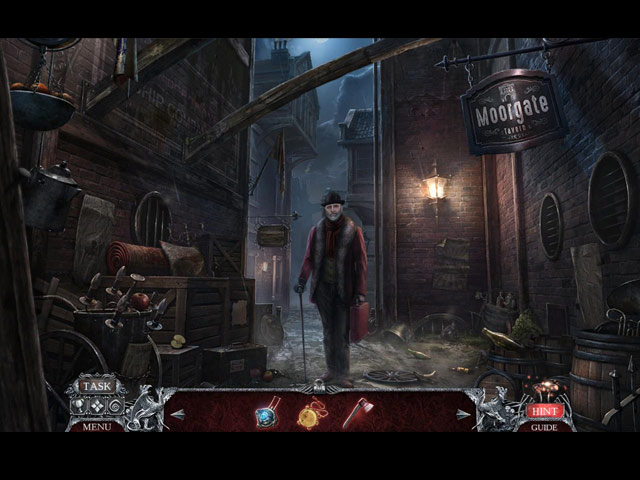 The concept and the theme of Vermillion Watch captured us right from the start – solving a supernatural case in the gloomy, yet beautiful city of London, how cool is that? We love the atmosphere in Vermillion Watch; mesmerizing and mysterious, definitely a good setting for a detective game with this kind of dark content.
Vermillion Watch: Moorgate Accord starts off pretty promising, but then goes a little off track. The game has too many sub-plots going on all at once – thus, the game doesn't feel very cohesive. We get everything from Dr. Jekyll and Mr. Hyde and Sherlock Holmes to Alice in Wonderland and Issac Newton. All these random references and character cameos felt overwhelming after a while, and at the end of the day, the plot didn't even feel worth following. Not to mention that there are way too many dialogs and talking in the game, which makes the already-complicated plot even harder to grasp.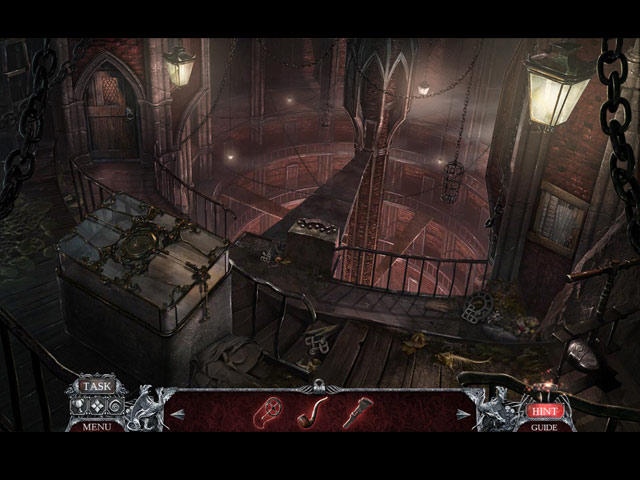 Luckily, the game is saved by its entertaining and professionally-designed gameplay. Vermillion Watch: Moorgate Accord might not be a very challenging game, but it is captivating nonetheless. The adventure tries to be interesting by involving some unconventional tasks and events, while hidden object scenes and puzzles are more traditional.
In addition, the production values in Vermillion Watch: Moorgate Accord are undoubtedly high. The graphics are mind-blowing and every single scene looks absolutely epic. At the same time, the cutscenes are perfectly created to add to the thrill and excitement. The soundtracks are great at accompanying the game and the voice-overs – although a little bit over-the-top – are not distracting.
Playing on the easiest difficulty mode, we completed the main game in four hours. The bonus chapter, which was a continuation of the main game took us another one and a half hour – a great length. The Collector's Edition also comes wallpapers, concept art, cutscenes, soundtracks, a souvenir room, character profiles, developer's diary, replayable hidden object scenes, replayable puzzles, achievements and collectibles.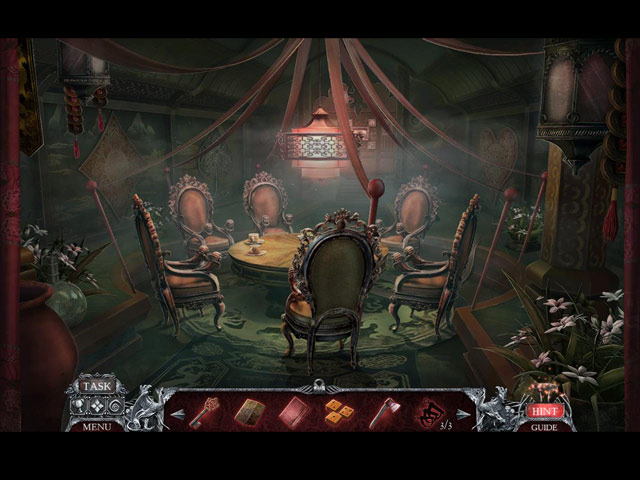 Experience the excitement of combat as you fight to save your innocent clients in a court of law like Phoenix Wright. In this beautiful compilation, you may play all 14 episodes from the first three games. Capcom has made one of the best visual-novel masterpieces named Phoenix Wright: Ace Attorney Trilogy, which was launched on […]
We have a fantastic opportunity to discover what Agent Brown was concealing and why he went on his own to investigate. Solve challenging riddles, travel through odd locations, and unravel the Restville mystery.Will it be easy for you to get to the end of "Detectives United: Phantoms of the Past" and solve the mystery?'Detectives United' […]
Starting off right where Mystery Case Files: The Harbinger ended, this twenty-second Mystery Case Files game takes the Master Detective through time hoops in an attempt to save the world! When the time is bren and existence as we know it is about to be destroyed, can rise to the occasion and save the day […]