INFO
Item Reviewed
Moai IV: Terra Incognita Collector's Edition
July 23, 2016
DEVELOPER
Alawar Entertainment
Toyman Interactive
FEATURES
Widescreen Support
Untimed Mode
Power-Ups & Artifacts
COLLECTORS EDITION
20 EXCLUSIVE Levels
Integrated Strategy Guide
Wallpapers
Soundtracks
Character Biographies
We have now come to the fourth Moai game and our main characters, Hero and Bright Light, are now proud parents of Hika-Ri and Koa-Ri! After a wave of natural disasters hit the island, the villages are destroyed. Help Hero and friends restore the settlements and explore the new territories in this latest Moai sequel.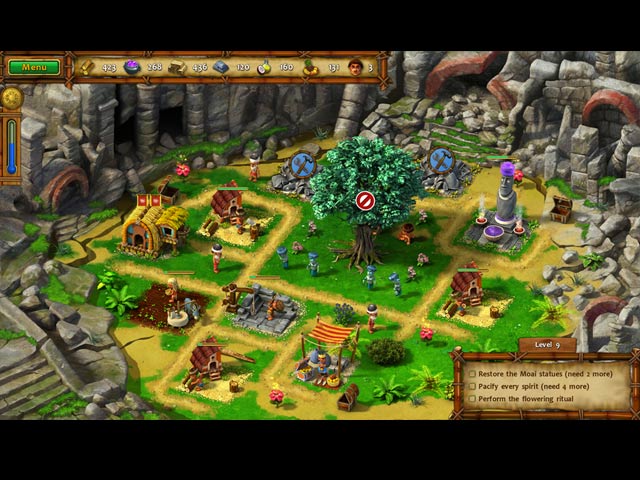 Kudos to the developers for making Moai better with each episode! The most significant improvement in this new Moai game is the production. The visuals have never been better; each scene is filled with lush colors, detailed artwork and great animations – an absolute pleasure for the eye. The upbeat music and lively sound effects also fit with the hectic feeling of the game very well.
The gameplay has also gotten better in Moai IV. Hardcore fans of the genre will definitely appreciate the level of challenge this game has to offer. Each level is amazingly-designed with interesting tasks and complex actions. Those who are new to the genre can also enjoy the game on Easy mode, with no timer. Despite the entertaining and wildly challenging levels, we did not see any real innovation in Moai IV: Terra Incognita. All of the features have been done before, either in the previous installments or in other resource-management titles. It would be great to see some creative new features in future Moai episodes because as of now, the Moai series isn't much different from the rest of its kind.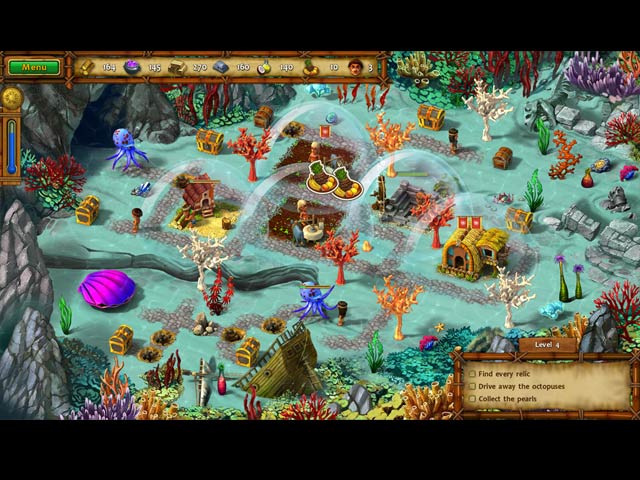 Similar to Moai 3: Trade Mission, this fourth game also comes with a Backpack. At the start of each level, you are given an array of useful bonuses and power-ups to choose from and help guide you through the level. Apart from that, Moai IV introduces progressive skill updates for Hero. These skills are extremely beneficial as the game progresses.
Moai IV: Terra Incognita is surely worth the price of a Collector's Edition. The game comes with 45 main levels, 15 bonus levels and 20 CE exclusive levels as well as a variety of achievements, wallpapers, soundtracks, a strategy guide and character biographies.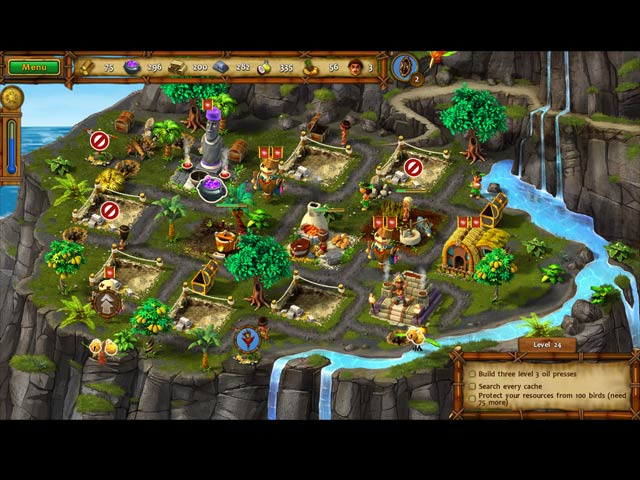 Over the years, the New Yankee series has gained quite a reputation among Time Management fans and built itself a loyal group of players. In this ninth installment, the series still has many tricks up its sleeves. When an evil spell bo plans to defeat the King and Queen and conquer Camelot, it is up […]
Claire always aspires to be a famous master chef, and her dream has a chance of becoming true this time. Join Claire on her cross-country adventure as she opens food trucks, serving icious dishes to the masses. Can you help her survive the chaos of running restaurants in Claire's Cruisin' Cafe? Is 2020 the resurgence […]
Join Ashley and Scott as they co their way across cuisines with the dream of launching their own successful eatery. GameOn Production presents a brand-new Time Management game sets in the world of food and icacy! Baking Bustle joins GameOn Production's growing portfolio of Time Management games, which consists of quality hits like Rescue Team […]