INFO
Item Reviewed
The Curio Society: New Order Collector's Edition
June 4, 2016
FEATURES
Widescreen Support
Interactive Jump-Map
Voice Overs
3 Difficulties + Custom Mode
Diary
Hidden Objects Vs. Match-3
COLLECTORS EDITION
Exclusive Bonus Chapter
Integrated Strategy Guide
Wallpapers
Soundtracks & Concept Art
Achievement & Collectibles
Archive & Personality Test
Releases from Domini Games have always been kind of a hit-or-miss for us, and this one is definitely not a hit. Frederick stole a powerful artifact from the Curio Society, an artifact that will help with his plan of ridding the world of emotions.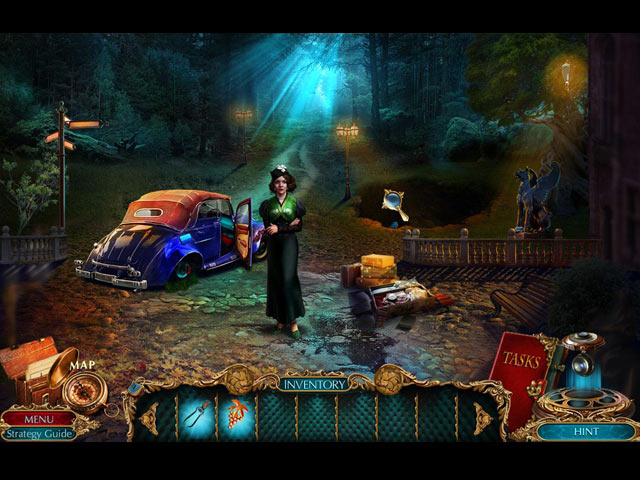 Essentially, The Curio Society: New Order is a catch-that-villain type of game. However, we found the theme of a city with no emotions to be quite intriguing, at least at first. As the game progresses, we slowly lose our interests in the storyline. We feel that the plot lacks excitement, and the cheesy dialogues and distracting voice-overs certainly do not help.
The visuals in The Curio Society: New Order, just like in any other games by Domini, are of extremely high contrast. Further, the colors are heavily saturated, way too heavy. As a result, we did not find the visuals in the game to be very appealing. The cutscenes are not that impressive either – most of them are somewhat fuzzy.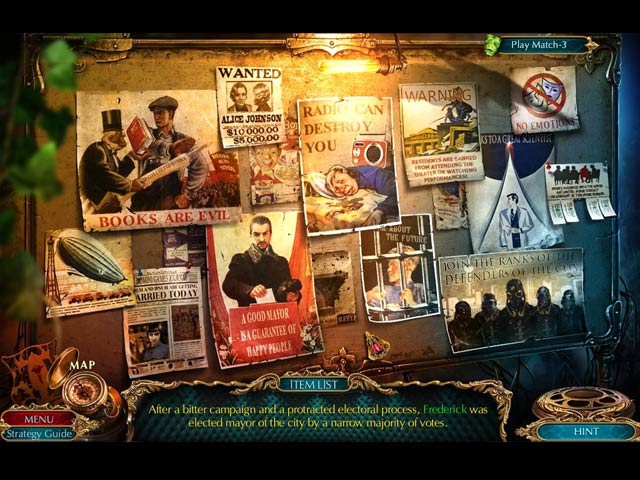 The Curio Society: New Order is an interactive adventure game with a fair share of hidden object scenes and puzzles. The adventure part of the game is nowhere near memorable; it does not offer anything we have not seen a hundred times before nor it is particularly complex or challenging. Moreover, the puzzles are very dull and ridiculously easy. On the other hand, we enjoyed the hidden object scenes. Most of them are progressive scenes that feature some clever interactions, and the Match 3 mode is also a nice alternative.
We completed the game in less than four hours, which is arguably fast for a game with such a slow pace. Anyway, the Collector's Edition does come packed with extras; a strategy guide, wallpapers, concept art, soundtracks, a one-hour bonus chapter, achievements, collectibles, an archive room and a personality test.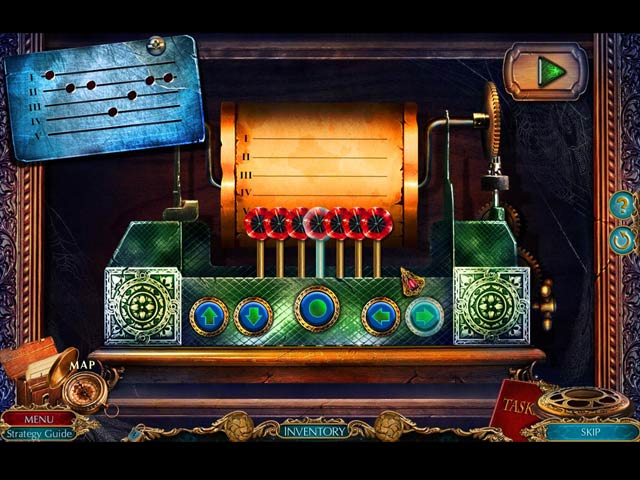 A Halloween family reunion at a festive fairground sounded like a fun night out to you, until you arrived to find something sinister lurking in the background! Halloween Chronicles: Cursed Family is an upcoming hidden object adventure sequel to the best-selling Halloween Chronicles: Monsters Among Us and Halloween Chronicles: Evil Behind a Mask. Screenshots by […]
Transylvania awaits you in this new Dark Romance game! Join Gabriel Dracula and his fiancé in the Carpathian Mountains as Gabriel's vampire blood slowly unravels. Stop the evil vampire Tamash from unleashing his power over Gabriel and turn the handsome young man into a corrupted vampire in Dark Romance: Vampire Origins. This marks the second […]
Domini Games proudly presents a new fairy tale adventure in Fairy Godmother Stories: Little Red Riding Hood. When the Little Red Riding Hood went missing, her grandmother reached out to the Fairy Godmother detective for help. Begin your Fairy Godmother Stories adventure with Cinderella and Dark Deal! Screenshots by Jan Thomas.