INFO
Item Reviewed
Redemption Cemetery: At Death's Door Collector's Edition
May 22, 2016
DEVELOPER
ERS Game Studios
FEATURES
Widescreen Support
Interactive Jump-Map
Voice Overs
3 Difficulties + Custom Mode
COLLECTORS EDITION
Exclusive Bonus Chapter
Integrated Strategy Guide
Wallpapers & Screensavers
Concept Art
Soundtracks & Cutscenes
Achievement & Collectibles
Replayable HOs & Puzzles
We have mentioned over and over again that it is time for ERS-G to let Redemption Cemetery (and many of its other redundant series) rest in peace. If you have played any one of the games in this series before, then Redemption Cemetery: At Death's Door will feel very familiar to you, far too familiar.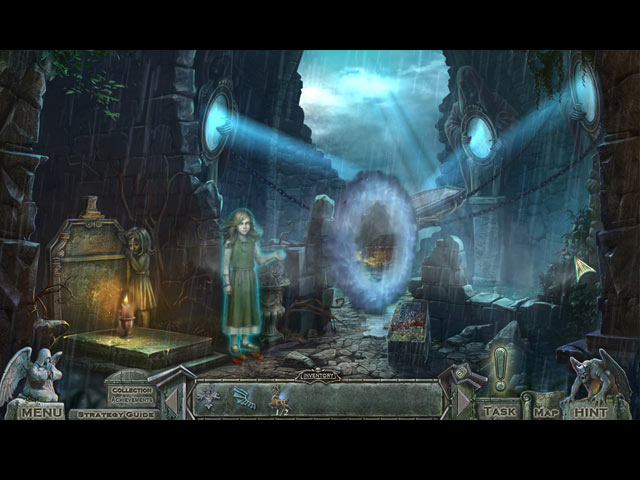 For the eighth time, you are stuck in a creepy cemetery and you need to travel into the past and unleash the restless spirits in order to free yourself. Redemption Cemetery: At Death's Door delivers absolutely nothing new both to the series itself, and to the genre as a whole. The main plot and the sub-stories are mundane and predictable, while the characters are not as fascinating as the developer had hoped them to be.
Redemption Cemetery: At Death's Door featured a number of interactive hidden object scenes, although none of them are particularly engaging or unique. However, the puzzles are worse. They are dull and easy, and those that seem to be more challenging are actually more time-consuming rather than genuinely complex.
This does mean that the game is not well-executed though, because it is. The game mechanics in Redemption Cemetery: At Death's Door  flow smoothly together and all the features fit right into their place. The adventure gameplay is also better than we expected it to be; with more tasks to do and more challenge than the level that ERS-G's games usually possess.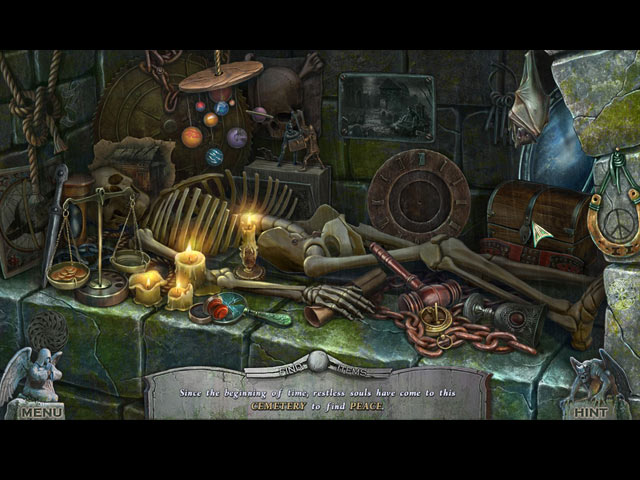 Moreover, the sights and sounds are pretty epic too. The graphics are clear, the artwork is very appealing and the visual effects are stunning – if only the theme of the locations could be more different from those in the previous seven installments. As for the soundtracks, they are appropriately creepy and nicely varied.
The game is slightly shorter than the average HOPA; the main game lasted three and a half hours on the easiest difficult selection, and the bonus chapter took us around 45 minutes. Other features in the Collector's Edition are the standards; wallpapers, a strategy guide, concept art, screensavers, soundtracks, cutscenes, replayable hidden objects, replayable puzzles, achievements and puzzles.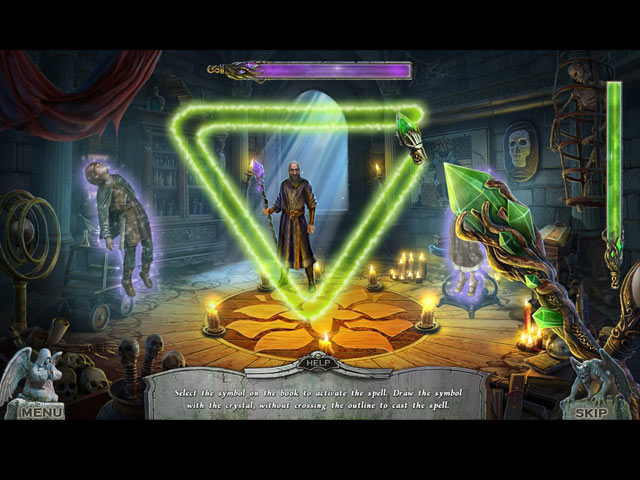 Grim Facade takes us back to Venice with this new installment, The Red Cat. Recently, a series of murders has been going on in town, with the killer announcing its victim by putting a Red Cat on the victim's front door. The Mayor has asked for your expertise when his son appears to be the […]
Marjory called for your help when her fiancé has been kidnapped by hooded figures in plague masks. As you dive deeper into the case, you discover something far sinister lies behind. PuppetShow has now come to the ninth installment, with little progress. First off, there is simply nothing innovative about the story in PuppetShow: Her Cruel Collection. […]
Here comes another Dark Tales game in this long-running series from ERS Game Studios. In this ninth installment, you are asked to travel to Hungary to solve another gloomy case, based on the famous Allan Poe's short story Metzengerstein. Despite Metzengerstein being one of our personal favorite Allan Poe's works, we found this installment […]