INFO
Item Reviewed
Edge of Reality: Ring of Destiny Collector's Edition
May 15, 2016
RELEASE DATE
April 29, 2016
FEATURES
Widescreen Support
Interactive Jump-Map
Voice Overs
3 Difficulties + Custom Mode
Diary
Dog Companion
Ring of Destiny
COLLECTORS EDITION
Exclusive Bonus Chapter
Integrated Strategy Guide
Wallpapers & Concept Art
Soundtracks & Screensavers
Replayable Cutscenes
Achievement & Collectibles
Replayable HOs & Puzzles
Your life takes an exciting turn soon after you adopted a Golden Retriever, Ice, from the animal shelter. As you then realized, Ice is no ordinary dog – he was sent from another world to find a human worthy of the powerful Ring of Destiny, and you are the Chosen One! Can you help the Kingdom of Agora survive the attacks from the evil forces?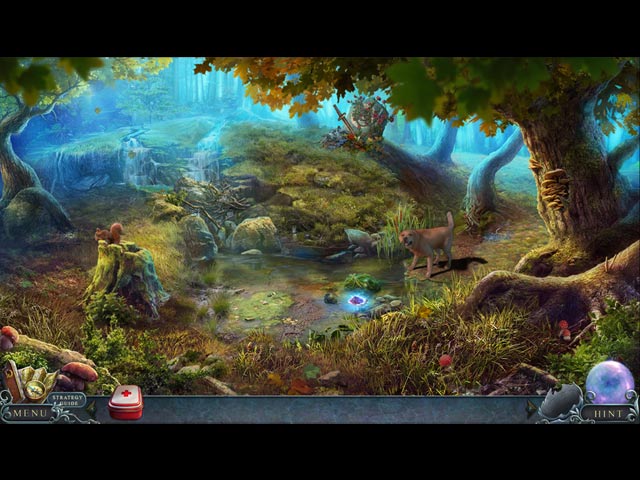 4 Friends Games is definitely one of the finest makers of fantasy HOPAs in the industry, and this brand-new series further proves the point. For once, this fantasy HOPA has a rather interesting story. The fantasy world featured in the game is extremely well-built – filled with wonderful creatures to interact with and fascinating things to look at. The accompany of Ice is also much welcomed, considering how cute and smart he is.
As expected, the visuals in Edge of Reality: Ring of Destiny are second to none. All of the scenes are creatively designed, drawn to perfection and painted with appropriately bright colors. Moreover, the cutscenes and animations are top-notch – the art team at 4 Friends Games deserves an award for their work in this game! The audio is not disappointing either. The game is pretty quiet most of the times, save for the relaxing ambient sounds. However, when the soundtracks are playing, they all hit the right notes.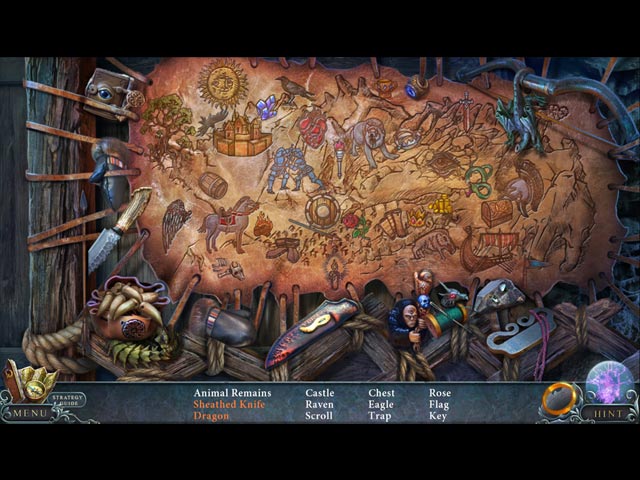 Edge of Reality: Ring of Destiny is revolved around mini-games and puzzles, rather than hidden object scenes. Thus, it is kind of a let-down that the puzzles are not more difficulty. The majority of the puzzles in the game are not challenging, nor are they particularly innovative. On the other hand, the hidden object scenes are surprisingly clever, highly interactive and of course, very entertaining.
When it comes to the adventure part, Edge of Reality: Ring of Destiny could have been better. Fans of the genre will find the game to be a no-brainer and even somewhat tedious. At times, the game requires you to take far too many steps to complete one simple task. In addition to the main game mechanics and the dog companion, you also have the Ring of Destiny to help guide you through the game. This magic ring possesses many useful abilities, and it is a bummer that this ring requires the completion of boring Match-3 mini-games every time before its use.
The Collector's Edition of the game comes with a great one-hour bonus chapter, which is unlocked after the four-hour main game is completed. Other extra items include a strategy guide, wallpapers, soundtracks, scrensavers, concept art, cutscenes, replayable hidden objects, replayable puzzles, achievements and collectibles.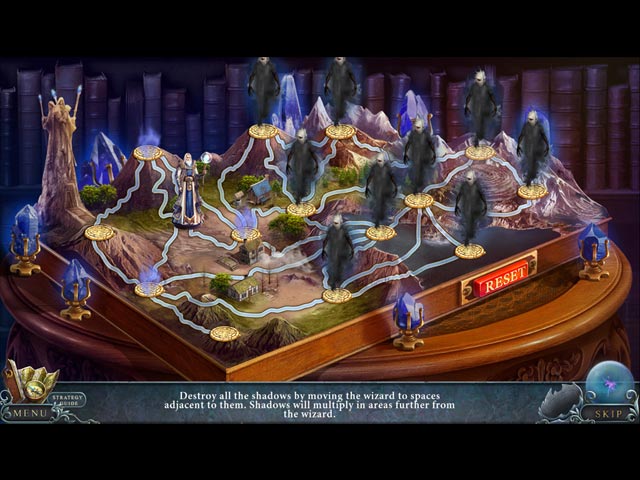 Come and discover all concealed items, use your sense of observation. Do you think you'd be an excellent detective?In this ightful game, you'll navigate through stunning mini-games, brainteasers, amazing riddles, and hidden clues.Friendly Fox Studio's Dark City: London is an adventure game featuring lots of hidden objects, mini-games, and riddles to solve that was launched […]
To find all hidden things, use your sense of observation. Do you think you'd make an excellent detective?In this ly adventure, navigate through stunning mini-games, brain teasers, astonishing riddles, and hidden clues.Friendly Fox Studio's Bridge to Another World: Through the Loing Glass is an adventure game featuring loads of hidden objects, mini-games, and puzzles to […]
A stranger's request brings you to the capital of Hungary to investigate a series of nightmarish attacks. You are then joined by Agatha, a curious partner who provides you with necessary local insights. Are these attacks instigated by a vengeful vampire or do lead to something much sinister? Find out in Dark City: Budapest. […]