INFO
Item Reviewed
The Treasures of Montezuma 5
January 22, 2016
RELEASE DATE
December 29, 2015
DEVELOPER
Alawar Entertainment
Wellore
FEATURES
Widescreen Support
Achievements
Mini-Games
Slot Machine
Are you brave enough to explore the jungle of the Aztecs and find the treasures hidden deep in the ancient temple? The fan-favorite Match 3 series is back with a brand new sequel, developed by Alawar and Wellore.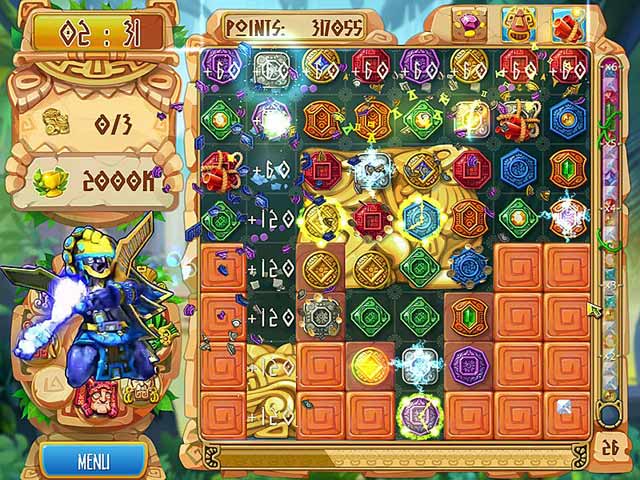 Like most of the Match 3 titles out there, The Treasures of Montezuma 5 does not really revolve around a particular storyline. Nonetheless, the developer still kept the signature Aztec theme of the series around in this sequel.
With the switch in developer, the art style in this sequel also noticeably changed – for the better, at least. The graphics are bright and cheerful, with colorful visual effects and a nicely-cluttered design – The Treasures of Montezuma has never look so modern! Moreover, the soundtracks are no less impressive. We love the lively and enthusiastic mood of the music; fun, while not being distracting.
Gameplay wise, The Treasures of Montezuma 5 is rock-solid. There are 70 levels in total, across 14 different landscapes. In each level, your main task is to unleash a specific number of gems from the tiles by doing matches. You can also achieve the Bonus Goal by scoring enough points; in return, you will receive a Key to the chest, where you will find some awesome rewards.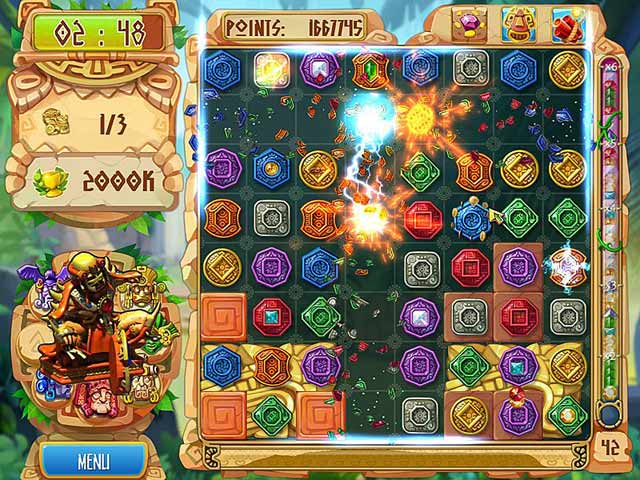 The main currency used in the game is Crystal. You can earn more crystals through several methods – complete a level, play one of the three mini-games or visit the slot machine. The crystals can be used in the Shop, where you can various one-time boosters or Totems that can be helpful during the game.
The major concern with The Treasures of Montezuma 5 is that due to the lack of variety, the levels can get repetitive after a while. It is no question that the game is addicting, we just wish the developer would have included some unique features or bonus levels. Unfortunately, The Treasures of Montezuma 5 also comes with only one standard mode, there is no Untimed Mode available. This can be very challenging, almost frustrating, for beginners or those who want to relax a little bit because levels can turn into a mayhem pretty fast.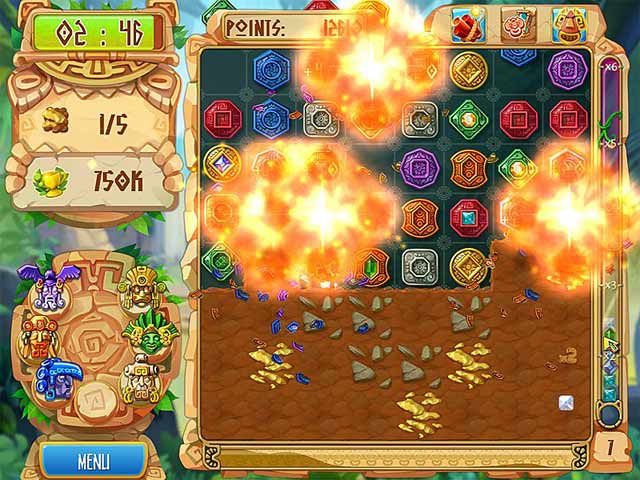 Over the years, the New Yankee series has gained quite a reputation among Time Management fans and built itself a loyal group of players. In this ninth installment, the series still has many tricks up its sleeves. When an evil spell bo plans to defeat the King and Queen and conquer Camelot, it is up […]
Claire always aspires to be a famous master chef, and her dream has a chance of becoming true this time. Join Claire on her cross-country adventure as she opens food trucks, serving icious dishes to the masses. Can you help her survive the chaos of running restaurants in Claire's Cruisin' Cafe? Is 2020 the resurgence […]
Join Ashley and Scott as they co their way across cuisines with the dream of launching their own successful eatery. GameOn Production presents a brand-new Time Management game sets in the world of food and icacy! Baking Bustle joins GameOn Production's growing portfolio of Time Management games, which consists of quality hits like Rescue Team […]