INFO
Item Reviewed
The Curio Society: Eclipse Over Mesina Collector's Edition
December 12, 2015
RELEASE DATE
November 29, 2015
FEATURES
Widescreen Support
Interactive Jump-Map
Voice Overs
3 Difficulties + Custom Mode
Energy Ball
Diary
Hidden Objects Vs. Match-3
COLLECTORS EDITION
Exclusive Bonus Chapter
Integrated Strategy Guide
Wallpapers & Screensavers
Soundtracks & Concept Art
Achievement & Collectibles
Relic Room
Domini Games presents us with yet another new Hidden Object Puzzle Adventure series. Ignotus the Magician has converted the statues all over the town into living beasts! Join the secretive, The Curio Society and help them solve this supernatural case.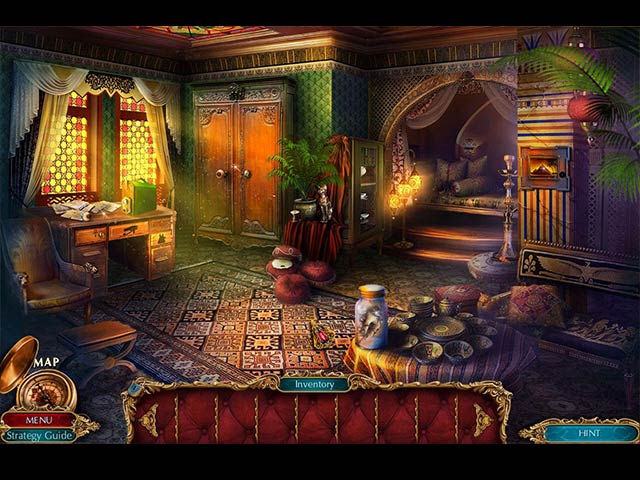 At first, we did not hold such high expectations for The Curio Society: Eclipse Over Mesina. The opening cutscene introduced us to an extremely tiresome story of living statues and a villain with magical capabilities. Luckily, despite the mundane storyline, The Curio Society is actually a very enjoyable game.
Why is that? The Curio Society: Eclipse Over Mesina is just an expertly-crafted game. The game mechanics flow seamlessly together, resulting in a rather addicting gaming experience. The adventure part of the game also really fun, although not very challenging. The game balances well between the hidden object scenes and puzzles, not too few or too many of each. The hidden object scenes come in a variety of formats, with a Match-3 option and interesting interactions, so you would never get bored. The puzzles are a nice mix of simple ones and moderately difficult ones – they are not particularly innovative, but definitely quite fun.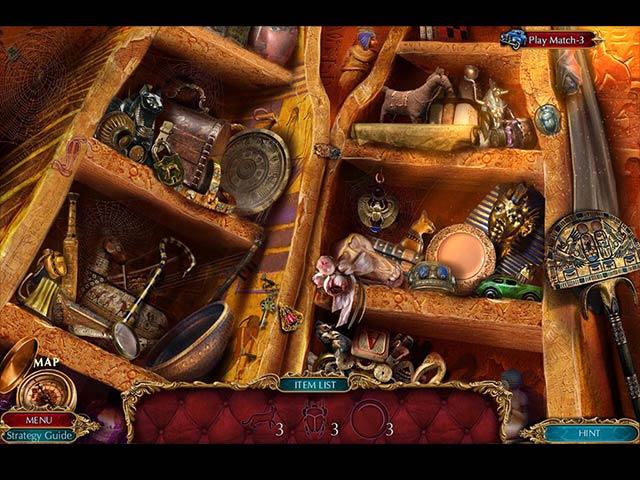 Additionally, the game featured two features to add some variety to the gameplay. Firstly, you have a weird ball of energy with a name, Harry. Harry can help you with the obstacles you will face along your journey. There are also several coins to collect in each of the locations, these coins can be used to buy furnitures and decorations in the Relic Room – not really necessary, but better than nothing.
To top it off, The Curio Society: Eclipse Over Mesina comes with an A-grade production. The artwork makes use of pleasant colors and fascinating details, each location looks beautifully realistic. Besides, the characters are well-drawn and easy to distinguish, even though their animations could be improved. The soundtracks are just fine, nothing mind-blowing nor unbearable.
The Curio Society: Eclipse Over Mesina has a fairly decent length as well. The standard version of the game took us just a little over four hours to complete, and the bonus chapter took us another 70 minutes. The extras section in the Collector's Edition does not contain anything extraordinary, but all the expected features are there.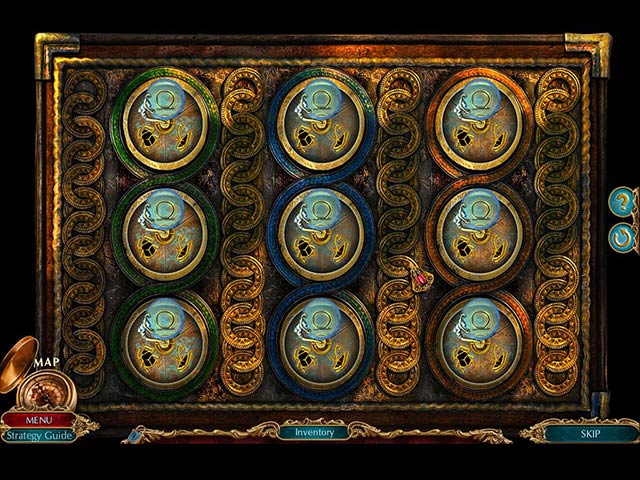 Enchanted Kingdom has beautiful wallpapers, soothing music, attractive concept art, and engaging movies abound in this mystery quest game, so rush to play to fully immerse yourself in the wonderful environment. Do you have any idea how to restore the Kingdom's magical power? You must solve riddles, mental teasers, and mini-games in the exciting adventure […]
Throughout this object-finding game, you'll get a sense of total immersion. Because every area of this game's universe is loaded with hidden objects, you can play as a true explorer.Domini Games has published "The Game," a brand new terrific game in the "Labyrinths of World" series, which was released on September 9, 2021. Simon and […]
Explore your favorite free hidden object games, logic puzzles, and brain teasers, again and again, loing for the items you need to get achievements. Are you up to the task? In these amusing locating object games, your goal is to seek out and uncover concealed objects to solve the case.Domini Games published another excellent game […]