INFO
Item Reviewed
Christmas Stories: Puss in Boots Collector's Edition
December 14, 2015
RELEASE DATE
December 04, 2015
FEATURES
Widescreen Support
Interactive Jump-Map
Voice Overs
3 Difficulties + Custom Mode
Cat Helper
COLLECTORS EDITION
Exclusive Bonus Chapter
Integrated Strategy Guide
Wallpapers & Screensavers
Concept Art & Secret Room
Soundtracks & Cutscenes
Achievements & Collectibles
For the fourth year in a row, Elephant Games offered us an early Christmas present with a new installment in the chart-topping Christmas Stories series! On Christmas Eve, a shivering kitten has arrived at your doorsteps – you did not hesitate for a moment and adopted it into your home. Little did you know that Simon, this cute kitten, is one of Santa's helpers and he came here to personally ask a big favor. The magic Christmas star has been stolen, and without it, Christmas won't happen – can you save Christmas just in time?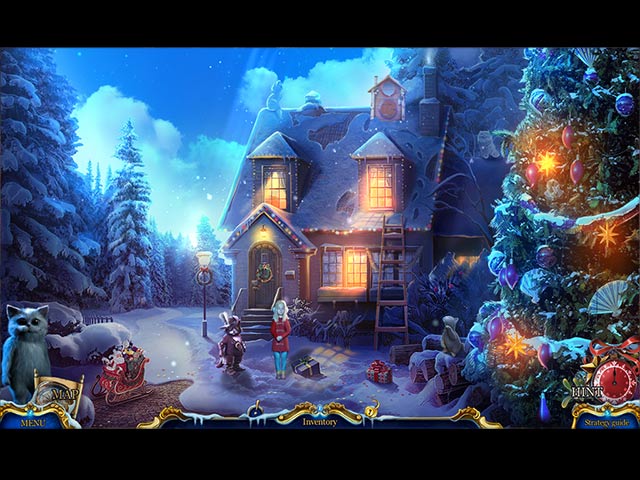 For all sorts of reasons, Christmas Stories: Puss in Boots is probably the happiest and merriest HOPA title of 2015! The storyline is heart-warming and very Disney-like, while exciting and captivating at the same time. From start to finish, you will meet many adorable characters, with varied personalities and accompanied by some of the very best voice-overs we have heard in the HOPA field.
Christmas Stories: Puss in Boots featured a lot, and we mean A LOT, of animations. Luckily, Elephant Games did an absolutely fantastic job in that department. The character animations could not be any more flawless, the cats are life-like with smooth movements. Apart from that, Christmas Stories: Puss in Boots is a feast for the eye. The graphics are sharp, bright and colorful, all the locations are decorated with unique holiday accessories and the cutscenes are just spectacular! Besides, the soundtracks are simply enchanting – Puss in Boots is certainly one of the most festive HOPAs ever created.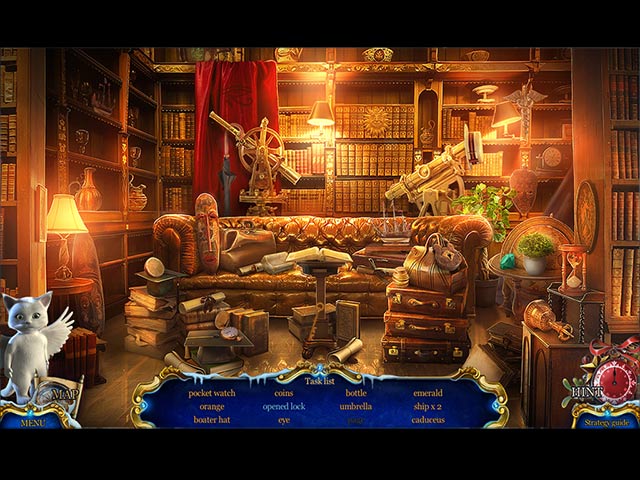 On the gameplay side, Christmas Stories: Puss in Boots might not score as high as it did on the production side. On one hand, Puss in Boots is an incredibly entertaining game, and it was a pure joy to play. On the other hand, it featured a little too much backtracking and an overwhelming amount of animations that annoyed us after a while. The game also does not exactly deliver in terms of challenges; the puzzles are well-made, but disappointingly simple – while the hidden object scenes offer nothing new to the table.
Regardless, Christmas Stories: Puss in Boots is enjoyable throughout its four hours of gameplay, and the one-hour bonus chapter is just as exceptional. The Collector's Edition of the game comes with all the standard bonus content; wallpapers, a strategy guide, screensavers, concept art, soundtracks, a secret room, achievements and collectibles.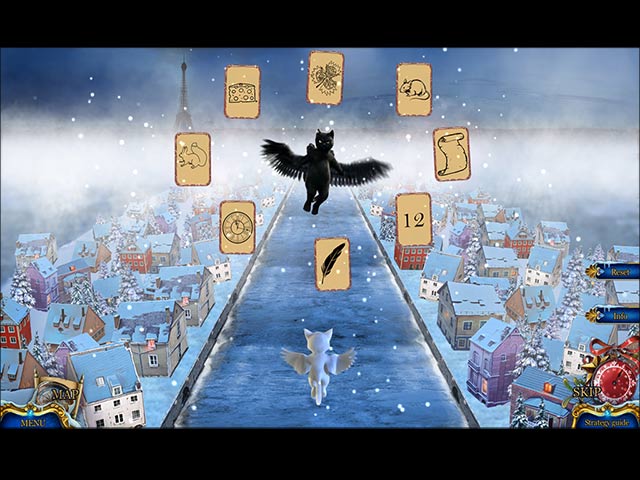 Christmas Stories- The Christmas Tree Forest will engage you in the unforgettable world of Haunted Hotel and put your skills to the test in thrilling hidden-object puzzles, fascinating locations, and uncovering the hotel's mystery that is robbing people of their years of life before it's too late. Will you be able to solve the puzzles […]
Solve challenging riddles, travel to odd locations, and uncover the secrets of the magical Halloween animals. Will you be able to solve Halloween Stories: The Neglected Dead's puzzles? You have a fantastic opportunity to learn about the surprises that the three world locations have in store for you. Neglected, a great puzzle adventure game from […]
In this detective adventure game from Elephant Games LLC, which was released on March 4, 2021, you can hunt for hidden things and solve puzzles and brain teasers.Your mission is to find unusual stuff in order to halt the murder. Can you solve the "Strange Investigations: Becoming" criminal case? Explore crime scenes, stop the perpetrator, […]