INFO
Item Reviewed
Dark Parables: Goldilocks and the Fallen Star Collector's Edition
November 29, 2015
RELEASE DATE
November 28, 2015
DEVELOPER
Eipix Entertainment
FEATURES
Widescreen Support
Interactive Jump-Map
Voice Overs
Parables
3 Difficulties + Custom Mode
COLLECTORS EDITION
Exclusive Bonus Chapter
Integrated Strategy Guide
Wallpapers & Concept Art
Soundtracks & Cutscenes
Achievements & Collectibles
Replayable HOs & Puzzles
You are sent to the Kingdom of Olesia, where mechanical beasts have been attacking the citizens! With the help of Princess Leda, who possesses a golden touch and your old friend, Jack – can you help solve this disastrous conflict between the two kingdoms?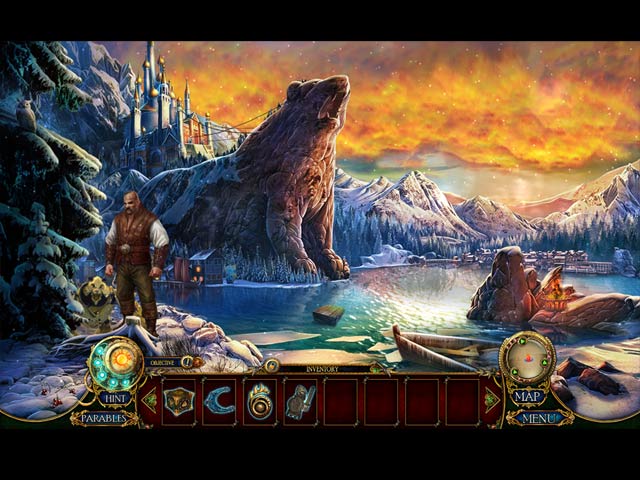 In this tenth Dark Parables tale, we are introduced to an exciting retelling of the familiar story of Goldilocks and the Three Bears. The story of mechanical creatures attacking the kingdom is definitely not new; still, Eipix managed to keep the backstory thrilling enough to capture our attention all the way through.
As usual, Dark Parables: Goldilocks and the Fallen Star is an exceptionally beautiful game. Production wise, we think that this installment has more of the original Dark Parables feels compared to the previous two installment that were done by Eipix. The graphics are colorful with exquisite details and the special effects are very well-balanced. We are glad to see some of the signature Dark Parables' sound effects came back in this game, they are ever-so-charming.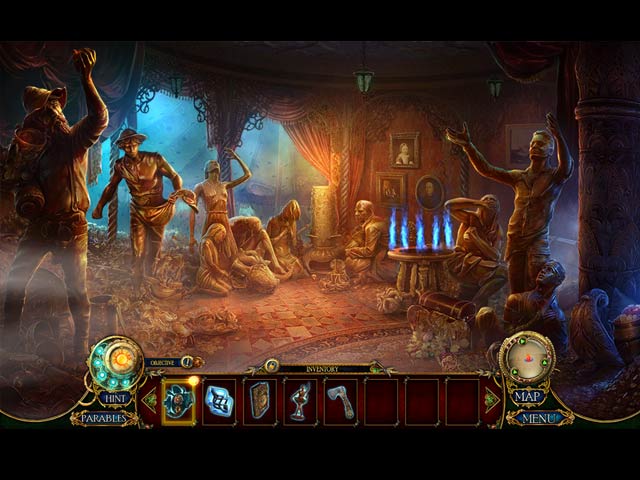 The gameplay of Goldilocks and the Fallen Star does not stray far from those in the original games, perhaps just a little easier. The majority of the game still consists of collecting random artifacts and emblems, the interesting parables collectibles are still there as well as the simple and efficient interactive map. The fragmented object scenes are very well-crafted, although there is nothing particularly memorable about them. In addition  the game offers a nice variety of puzzle formats; but again, none of them really stands out as totally creative.
Dark Parables: Goldilocks and the Fallen Star has a fair length of 4 hours, plus an hour for the quite special bonus adventure. The Collector's Edition comes with all of the expected features; gallery items, achievements, collectibles, parables, replayable hidden objects and replayable puzzles.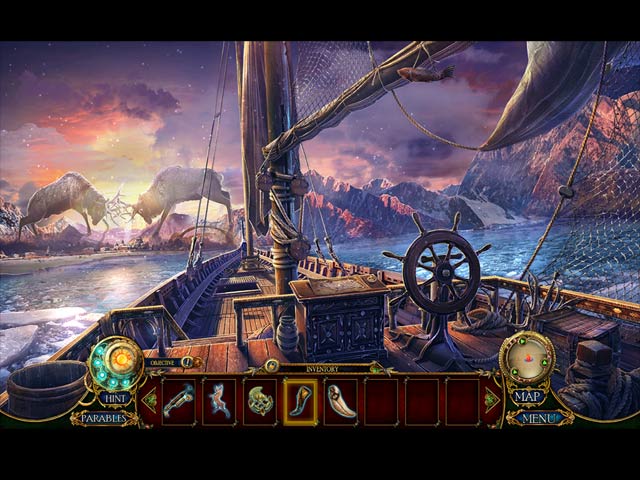 Two young art apprentices, Benno and Siegfried were searching for the forgotten Princess with a Duckling painting when they witnessed the princess stepped out of this cursed painting with their own eyes. With Siegfried missing, Benno reached out to you for your expertise and help. Discover the legendary tale of the Stained Princess of Cisneros […]
The chart-topping series Dark Parables continues with a new chapter in Portrait of the Stained Princess. Two art apprentices stumbled upon the painting "Princess with a Duckling" in an old abandoned castle. This painting is apparently haunted as a sighting of the princess herself is reported and one of the two young men that discovered […]
In Dark Parables: The Match Girl's Lost Paradise, the renewed detective is now off to a small island off the cost of Denmark to investigate a series off unexplainable fires. Are these incidents the work of the infamous Match Girl or are there secrets to be discovered? Blue Tea Games teamed up with Eipix Entertainment once […]