Who doesn't like a good-old solitaire game? Although there are plenty of solitaire games out there, it is only once in a while that we will be getting a real solid one. Chef Solitaire: USA is a brand-new solitaire game from The Revills Games, the developer of the much-loved Legends of Solitaire series!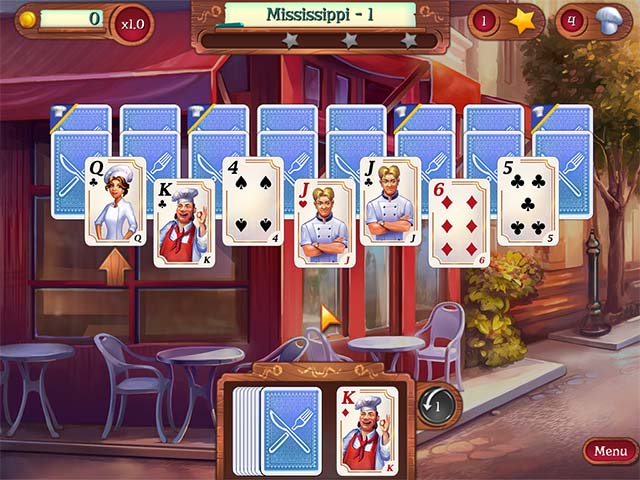 In Chef Solitaire: USA, you will be travelling across the 48 states of the United States opening your very own restaurant franchise. Yes, you will really be playing solitaire across all of the 48 states, this divides up to 10 levels per state and thus, there is a total of 480 levels. Plus, three bonus games; Freeplay, Tri-Peaks and Five-Peaks.
Chef Solitaire: USA is a higher/lower type of solitaire game, so the rules are fairly simple and easy to learn. It plays pretty much like any other solitaire games of its kind, with some fun twists. Since this is a restaurant-themed game, many of the features in the game are smartly geared towards the theme. Many times throughout the game, there will be various obstacles that prevent you from using some specific cards. For example; a card that is covered by bacon needs to be picked up with a tongs before use. Further, there are also four different fun mini-games to help earn you extra points.
In addition, the game is made for the enjoyment of all kinds of players. Beginners can enjoy the Casual mode, in which there is a higher chance to score bonuses and receive special cards. More advanced players can choose between the Normal mode or the Hard mode for some stimulating challenges.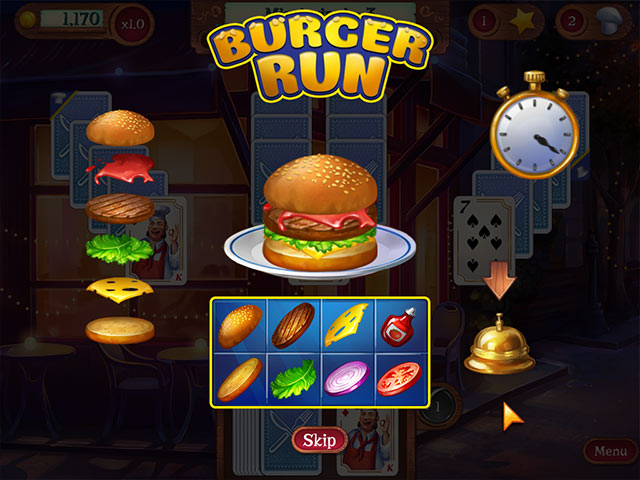 Unlike most of the solitaire games, Chef Solitaire: USA does not require you to complete the board in order to progress to the next level. In each level of the game, there will be one or two objectives in which you need to complete. Once you have completed these objectives, you are allowed to move on even if there are still cards left unturned. For those that prefer some more challenges, the Auto-Finish option can be turned off so that you would have to complete both the objective and the board itself.
Chef Solitaire: USA also excels when it comes to the production. We would not say that Chef Solitaire: USA is a story-driven game, but there are some interesting conversations between the characters now and then – these dialogs are fully-narrated by pleasant voice-talents. Moreover, the visuals are bright and cheerful and the soundtracks are fun and upbeat – Chef Solitaire: USA will definitely put you in a good mood while playing.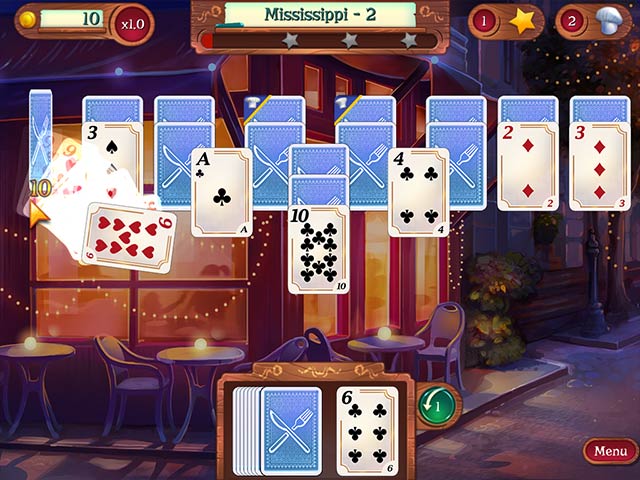 Claire always aspires to be a famous master chef, and her dream has a chance of becoming true this time. Join Claire on her cross-country adventure as she opens food trucks, serving icious dishes to the masses. Can you help her survive the chaos of running restaurants in Claire's Cruisin' Cafe? Is 2020 the resurgence […]
As far as famous coing games go, Coing Diary is in the top tier of the list. This free-to-play Time Management game from MyTona was only launched in 2018, but has seen the type of success that most mobile games can only dream of. Coing Diary has already been downloaded 10 million times worldwide and […]
Nordcurrent, the creator of the insanely popular Coing Fever, presents a new twist on coing games. Hungry Invaders is essentially Plants vs. Zombies meets coing – can you feed all the monsters before they reach your kitchen base? If you the format of tower defense games and the mechanics of time management games, then […]