INFO
Item Reviewed
Delicious: Emily's Home Sweet Home Collector's Edition
July 10, 2015
RELEASE DATE
June 28, 2015
DEVELOPER
Gamehouse
Blue Giraffe
FEATURES
Widescreen Support
3 Difficulty Settings
Hidden Mouse
Customizable Menus
Trophies
Emily's House
Challenge Levels
COLLECTORS EDITION
Ten EXCLUSIVE Levels
Wallpapers
Concept Art
Gamehouse's Delicious is one of those few franchises that we never get tired of playing. In this ELEVEN (can you believe it?) installment, Emily is ready to start a new life with her lovely husband and her baby, Paige. But things are not going as smoothly as she wants – guide Emily through countless obstacles and meet new characters, all the while try to achieve the much-needed profits from Emily's restaurants.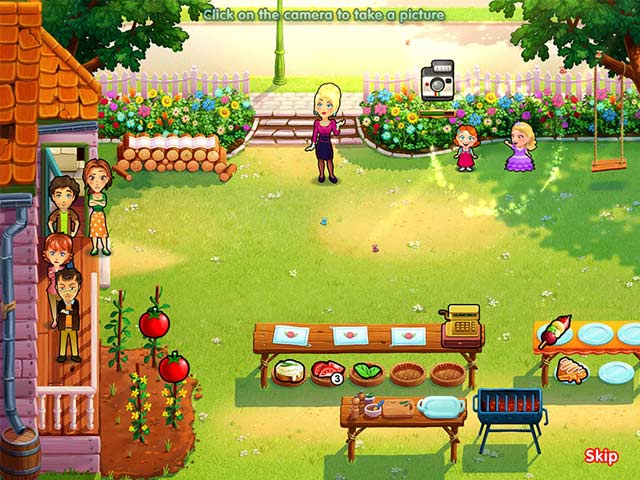 If you are a long-time fan of this highly successful Time Management franchise, then you probably know that most Delicious games were released towards the end of the year. Unlike its predecessors, Delicious: Emily's Home Sweet Home was released on the last week of June. Regardless of the change in release date, we think Home Sweet Home is a perfect fit for summertime due to its liveliness, bright environment and a very strong summer vibe.
Delicious is famous for its heartwarming storyline, and Home Sweet Home delivers that excellently. Each new level introduces a new event that requires completion – these events are all very entertaining, sometimes humorous and very cute. The new characters we get to meet in this new sequel are all very memorable, and serve as pleasant additions to the ever-growing list of the Delicious family tree.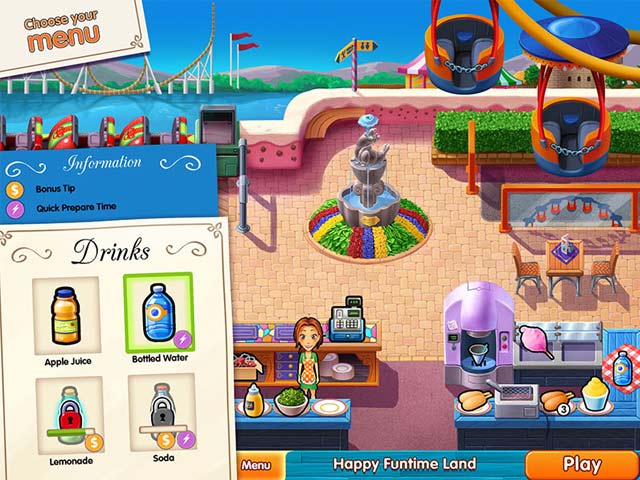 The basic game mechanics of Home Sweet Home remain very familiar, so those who have already played the previous game(s) can work their way around this game easily. Still, there are a couple of interesting new features. Firstly, the customizable menus from the previous game are back in this game. However, instead of selecting menus to match with the customer's preferences like in the previous game; we need to choose the menus according to the bonuses attached to each menu, which vary level by level. Also, in order to unlock more menus, specific tasks need to be performed – a satisfyingly smart idea. At the end of each level, you will also be rewarded with Diamonds, if you have managed to complete the level event. These diamonds are used to purchase decorations and repairs for Emily's dream house, which is now in a desperate condition. Last but not least, in addition to the 10 levels per each venue, there are five more challenge levels. In these levels, you are given a challenge task to complete – they are usually very challenging and sometimes require some serious strategic thinking.
Besides, the production in Home Sweet Home is just as delightful. The artwork is beautifully drawn, the colors are vivid and the animations are very well done. The soundtracks are Delicious signatures, nothing really new here; but they do add a light-hearted feeling to the game.
To us, Delicious: Emily's Home Sweet Home is more than worth the money, even the Collector's Edition price. The game featured 60 main levels and 30 challenge levels, across 6 venues. The Collector's Edition adds extra 10 levels and 5 challenge levels in a completely new restaurant, along with nice-looking wallpapers and concept art.
After a long of successful projects, Gamehouse has finally dipped its toes in the increasingly-crowded freemium pool. Heart's Medicine: Doctor's Oath follows Allison Heart's journey at Queensburrow Bridge Hospital, on her path to graduating as a fully-fledged doctor. Unfortunately, things go haywire when a mysterious patient unleashed a mysterious contagious disease at the hospital and prompted the […]
It is definitely not an easy task to follow the footsteps of Heart's Medicine: Time to Heal, one of the best Time Management games in the recent years. Still, we hold extremely high hopes and expectations for this sequel, and thankfully, Heart's Medicine: Hospital Heat ivers. Heart's Medicine: Hospital Heat starts with probably the most intense opening […]
We do realize that it is well over the holiday season by this point, but we always need a little icious in our lives, don't we? In a blink of an eye, baby Paige has already started preschool and it is nearly time for her first Christmas musical! Join Emily and her friends on a […]