INFO
Item Reviewed
Ominous Objects: Phantom Reflection Collector's Edition
April 27, 2015
RELEASE DATE
April 17, 2015
DEVELOPER
Daily Magic Productions
FEATURES
Widescreen Support
Interactive Jump-Map
Voice Overs
3 Difficulties + Custom Mode
Cat Helper & Goggles
Diary
COLLECTORS EDITION
Exclusive Bonus Chapter
Integrated Strategy Guide
Wallpapers & Concept Art
Soundtracks
Achievement & Collectibles
Game - Dots
Developer Diary & Cat Room
The Daily Magic Productions team is back with a brand new Hidden Object Adventure game! You have been called to the mansion of Lilith Armstrong to investigate a supernatural case of a haunted mirror. Just like in any other dark fantasy HOPAs, your job is to find out the truth behind this ominous object and rescue all the innocent victims of the mirror.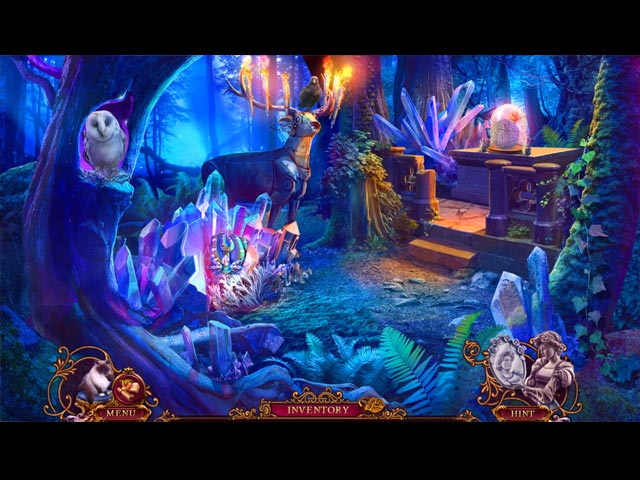 First things first, Ominous Objects: Phantom Reflection is a visual spectacular! With vibrant colors, some cool 3D elements and detailed artwork – nearly every single scene in Phantom Reflection is a perfection. The soundtracks of the game which play quietly in the background are also solid, the melodies are beautiful while not being over-the-top. The voice-overs are pretty much excellent, despite the lack of lip-syncing.
At the same time, the bright graphics of the game could backfire. While the game looks as splendid as it is, the overwhelming shades of blue and purple make the game looks less 'ominous' than what it might intend to be. Thus, Phantom Reflection feels more like a fairy-taleish fantasy rather than a horror.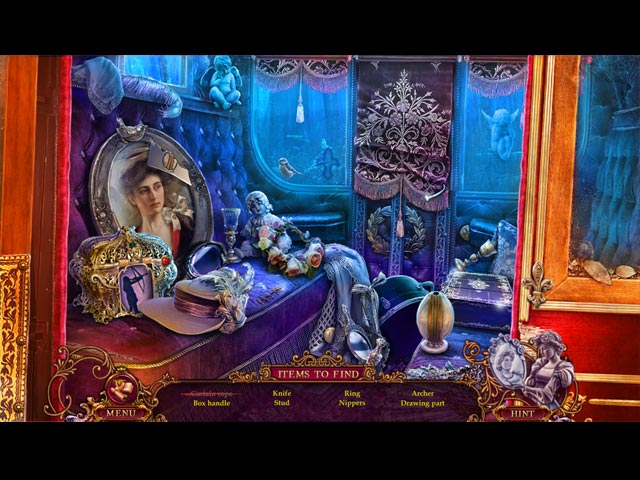 Gameplay wise, Ominous Objects: Phantom Reflection is not necessarily memorable. The adventure part of the game is mostly straightforward, and could be very suitable for beginners. The hidden object scenes, while smart and interesting, are not very challenging either. This same issue applies to the puzzles as well, the majority of them can be solved without the need of the skip button.
The game does include two special features though; the special goggles and the cat helper. Both of these features do add some value to the gameplay, or at least they do help spice things up a little bit. Still, they are both use-and-done type of features and therefore, are not really unique or special.
The main game spans over 6 chapters, with a total length of around 4 hours. The bonus chapter, by the way, plays similarly to the main game and lasted around an hour. The bonus section featured all the usual features as well as some extra mini-games, a decoratable cat room and a developer diary.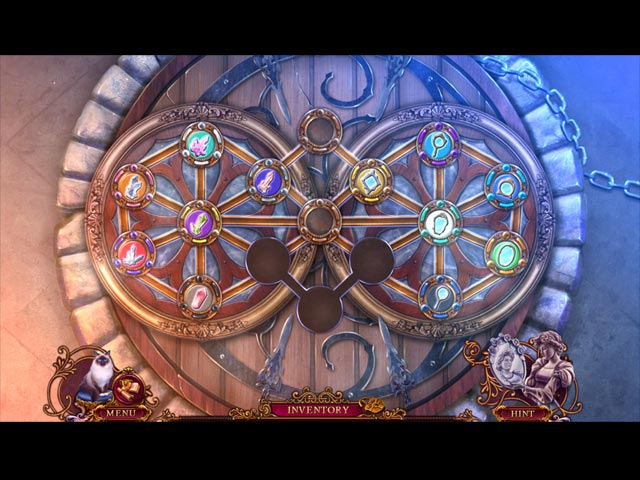 Santa was on his way to a tropical island to iver Christmas gifts when a violent storm knocked him out of the sky. As a demigod with fire magic, you are the only one who can locate Santa and rescue him. However, things might not be as easy as expected when you have to face […]
Following last year's Yuletide Legends: The Brothers Clause, Daily Magic Productions brings back the holiday series with a new installment. Can you the Christmas island and save Santa from the evil force? Screenshots taken by Jan Thomas
Dana and Rick explored an abandoned house on Maple Street when they were just little kids, and their lives were forever changed. Flash forward to today, Dana suddenly collapsed one day after work and in her coma, signaled to you to go back to take care of some unfinished business at that old house. Can […]