INFO
Item Reviewed
Witches' Legacy: Slumbering Darkness Collector's Edition
March 7, 2015
RELEASE DATE
February 27, 2015
FEATURES
Widescreen Support
Interactive Jump-Map
Voice Overs
Hidden Objects Vs. Matching
3 Difficulties + Custom Mode
Imp Companion
Edward's Master
COLLECTORS EDITION
Exclusive Bonus Chapter
Integrated Strategy Guide
Wallpapers & Concept Art
Soundtracks & Screensavers
Achievement & Collectibles
Replayable Mini-Games
It seems like Lynn and Edward will never find a happily-ever-after life. In this fifth Witches' Legacy game, Edward is kidnapped and turned into a puppet while Lynn is captured – take another trip down the road of the witches and save them from the slumbering darkness!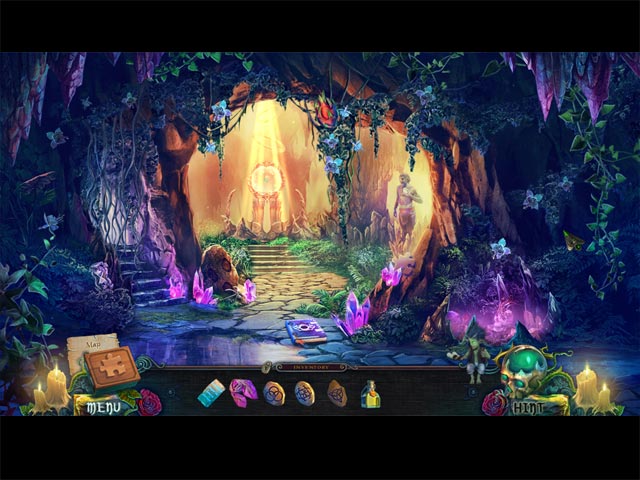 As the franchise comes to its fifth installment, we are getting a little tired of all the same-old adventure. Regardless, we found the storyline to be fairly enjoyable and pleasant to follow. Even if you have not played any of the previous games before, all the necessary turning points are wrapped nicely in the development of the storyline so you would not feel missed out.
The strongest aspect of Witches' Legacy: Slumbering Darkness is no doubt its visual presentation. The locations are brightly colored and stunningly created – with the perfect shades and lighting, Slumbering Darkness is a feast for the eye. The developer also did a great job audio-wise, the soundtracks play fittingly in the background and the voice overs are not annoying by any means.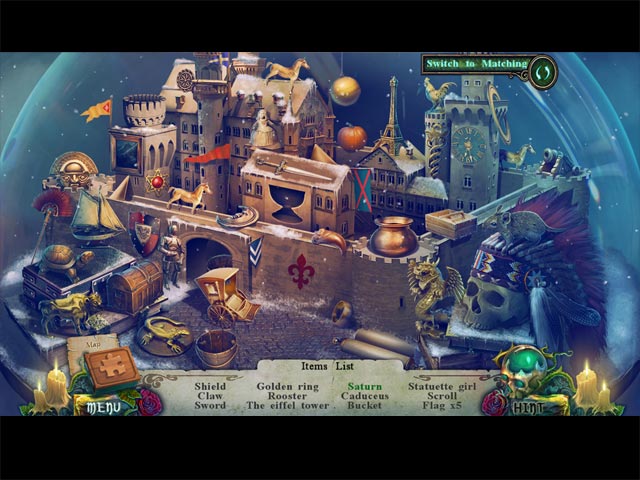 Like most of the game from Elefun, there is not real creativity presented in the gameplay. The game featured the usual interactive map and a useful hint button, although we rarely used them since the adventure part was pretty straightforward. The puzzles are not too unique; nonetheless, they integrate well with the theme and the story. The hidden object scenes are fun to play, with the option to switch to Matching mode.
In addition, your familiar Imp helper is back again to help you with difficult tasks. The Imp is undeniably cute and its movements and animations are simply adorable; however, some might find it to be slightly annoying since it usually takes some time to complete just one basic task. Later on in the game, you will also have another helper – Edward's Master. He can basically fix everything with the right tools, a smart little addition to the rather standard gameplay.
The Collector's Edition of the game featured some gallery items, replayable puzzles, achievements, collectibles and a solid 60-minute bonus chapter.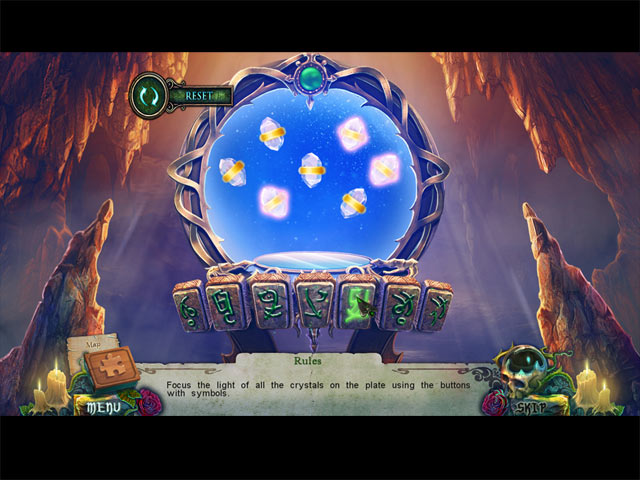 Witches' Legacy continues the successful franchise with its twelfth installment, Secret Enemy. Not long after the Ancient Once was resurrected in the previous game, evil monsters have kicked off their attack on the Earth. But these foul creatures are not the power witch's only foe, as the Witch Hunters are also out tracking down witches […]
Earth is currently swarmed with monsters and evil entities when the Witch Hunters decided to take advantage of this opportunity and attack the witches. Can you keep the Earth as well as your own coven safe from these external forces? Screenshots taken by Jan Thomas
It was the night right after the ceremony in which Fear For Sale magazine won an award and you just arrived home when you got an urgent call from your boss – creepy dolls are attacking the Fear For Sale headquarter! As a skilled investigative journalist, do you have what it takes to solve yet […]