INFO
Item Reviewed
Bloom! Share flowers with the World
February 5, 2015
RELEASE DATE
January 28, 2014
FEATURES
Widescreen Support
Voice Overs
Relaxed & Expert Mode
Achievements
Chain-Tasks Assignment
Can you remember Juliette's Fashion Empire? If that game was one of your favorites, then Bloom! will likely to enchant you as well. Bloom! Share flowers with the World is extremely similar to the developer's previous title. On one hand, it is good because Juliette's Fashion Empire was such a great game. On the other hand, this also means that Bloom! still feels like 2011.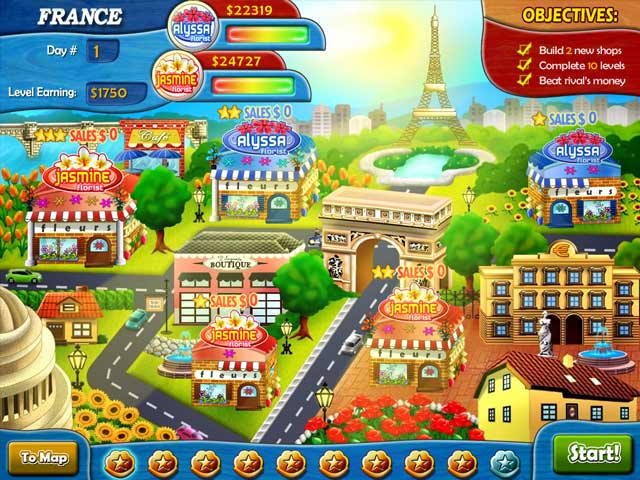 Like many Time Management games, there is not much of a storyline in Bloom!. Instead, the game focuses on occupying players with a handful of tasks to complete simultaneously and a line of customers ready to be serviced. If you are familiar with Dash-style type of games, the Sally's franchise and alike, then finding your way around Bloom! would be extremely easy for you.
Bloom! Share flowers with the World is one of those traditional Time Management games that refuses to progress. It has a classic gameplay, drag your customers around the shop and provide them with the services they want. As you work your way around the flower shop, there will be some pop-up mini-games complete along the way. One feature that slightly differs Bloom! from other games of its kind is the Flower Garden at the bottom right of the screen. The flower supply at the Flower Station does not refill automatically, you need to plant, water and cut the flowers from the garden in order to refill the supply. At the end of each level, you can use the money you earn from the level to buy upgrades and power-ups.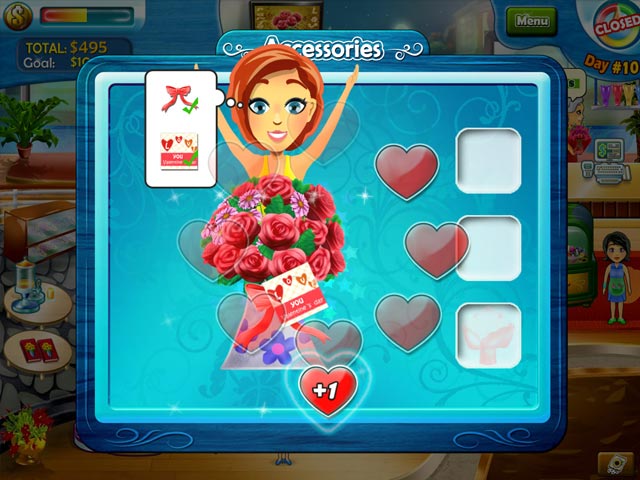 Apart from completing the level and reaching the target income on time, you also have a competitor in the local city to compete with. Again, this feature has been introduced before in Juliette's Fashion Empire so we are not particularly thrilled about it, although it is a pleasant little addition. The game featured 60 levels, spread across six different big cities. The level progressively gets more difficult, which offers avid Dash-fans enough challenges to deal with.
Presentation wise, Bloom! is incredibly old-school. The graphics are hand-drawn cartoons and the characters look neither modern nor attractive. The music is fun and upbeat, but nothing to rave about. In addition, the game does not even offer a Custom Cursor selection and the Widescreen support is a dull patterned bar on each side of the screen.
PS. A week after the release date, the developer also launched a totally unnecessary sequel Bloom! Share flowers with the World: Valentine's Edition, which is basically the exact same game with several Valentine-themed items.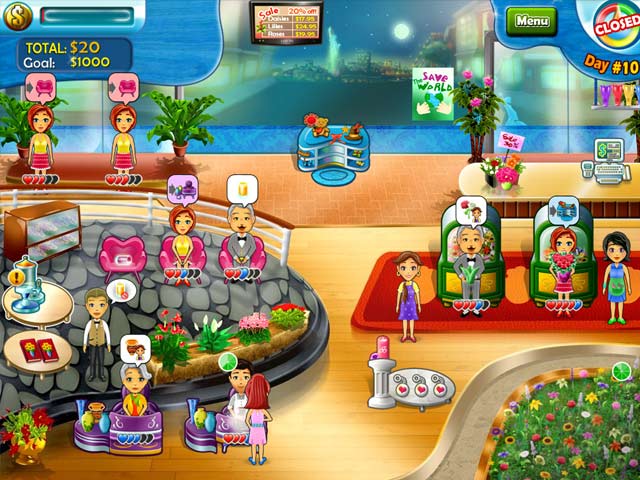 In the increasingly monotonous Time Mamanegement games landscape comes a game that breaks from the usual resource-management format once in a while. Amy's Greenmart is a new Time Management offering from Cyber Intellect. Get to know Amy, a promising young woman who aspires to take her newly-opened eco-friendly supermarket to success. Amy's Greenmart takes on […]
Angela is back in full force with the third game in the Fabulous series. This time, Angela's high school reunion is right around the corner. But can she keep up with all the drama surrounding her career and her life? Will the reunion be Angela's "breakout" moment among her high school friends or will […]
Remember the time when we only got one icious release a year? Now, we don't only get two icious games a year, we also get releases from its sister series; Angela's Fabulous and this latest one, Cathy's Craft. Obviously, Cathy's Craft exists in the same universe as icious and Fabulous, but does it live up […]