INFO
January 25, 2015
RELEASE DATE
January 15, 2015
DEVELOPER
Alawar Entertainment
WMSoft
FEATURES
Endless Mode
Achievements
Oh wait, are we still not over Christmas yet? Toy Factory is another delayed Christmas release, a Time Management game even. Although we would not care much if the game has never been released at all.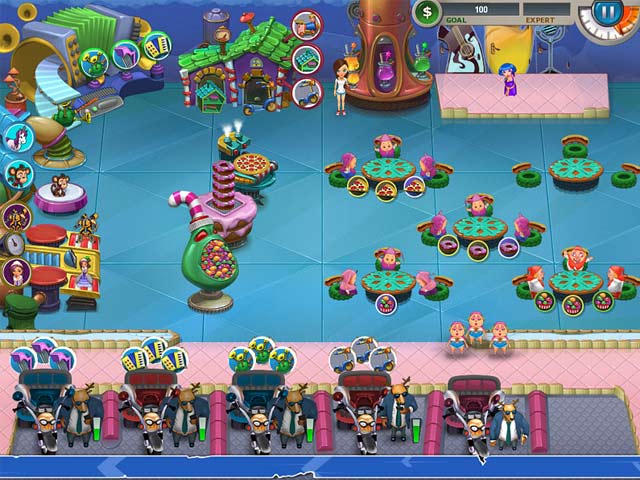 So Toy Factory is a click-frenzy type of Time Management game, which is considerably pretty rare in today's casual games market. Christmas is just around the corner, but somehow this year, Santa workers cannot possibly work fast enough to meet their quota. In Toy Factory, you need to assist Wilma, in building her own toy factory, help Santa and keep the children's dreams alive. Surely, Toy Factory is not the first 'save Christmas' type of Time Management games we have played before – but still, it is not as populated as all those restaurant and farming types.
The gameplay in Toy Factory is quite unique. Your customers will arrive on the belt at the bottom of the screen, it is then your job to drag the customer to an available parking lot, wait for their vehicles to park and seat the customers at the tables. Once that is done, you can lighten the mood of the customers by offering them their chosen beverages or snacks and fulfill their toy orders before their patience runs out. There is a variety of customers types in Toy Maker, ranging from young to old, and each type has different attitude, and strangely, different vehicle speed. The senior's vehicles are painfully slow, for instance. Additionally, there is a huge catalog of toys to choose from; dolls and robots to rocking horses and musical instruments. Each toy needs a different machine to produce, and the machines can be upgraded in the shop.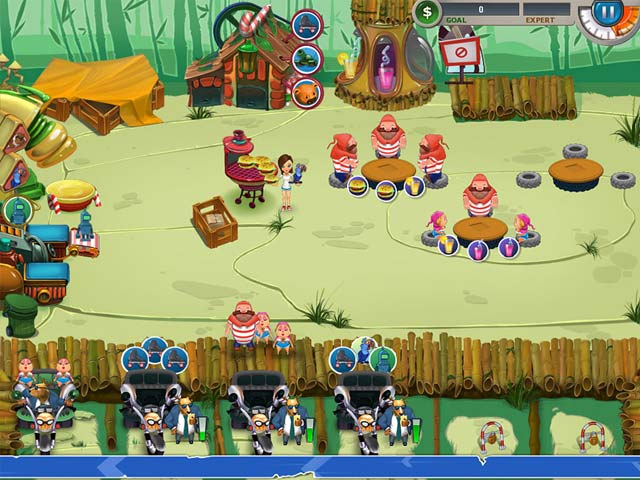 Considering all the gameplay features we have mentioned, you would probably think that Toy Factory is a blast to play. Unfortunately, it does not lived up to its potential. Toy Factory is a very old-fashioned game, the controls are a little awkward and the pace is annoyingly slow. The game does not even support widescreen monitor, and we thought it is 2015 already.
The levels are not particularly challenging; but in order to get all of them to reach Expert, some strategies might be needed. The game featured three locations with little variations, along with 60 levels. The game features are fairly limited that the game gets boring very quickly.
Well, as for the graphics – they are not as great as they could be. The graphics involve some 3D-elements and lots of vibrant colors; however, Toy Factory looks unavoidably cheap and unattractive. Plus, the way the characters animate is laughable also. On the music side, Toy Factory is horrible. The background music is an electronic tune that is extremely repetitive – it is so distractingly upbeat that we needed to turn it down.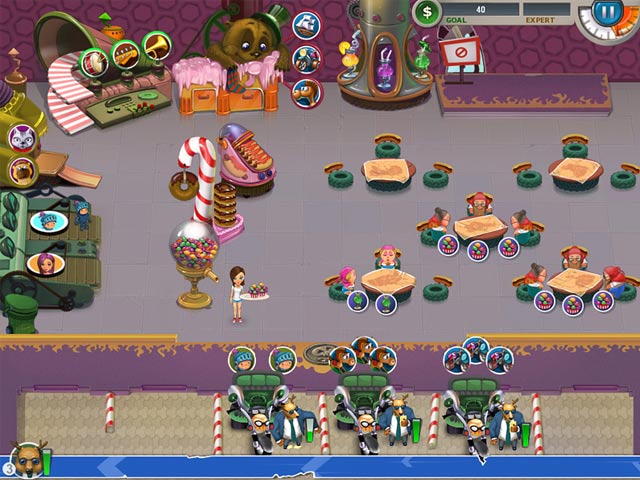 Over the years, the New Yankee series has gained quite a reputation among Time Management fans and built itself a loyal group of players. In this ninth installment, the series still has many tricks up its sleeves. When an evil spell bo plans to defeat the King and Queen and conquer Camelot, it is up […]
Claire always aspires to be a famous master chef, and her dream has a chance of becoming true this time. Join Claire on her cross-country adventure as she opens food trucks, serving icious dishes to the masses. Can you help her survive the chaos of running restaurants in Claire's Cruisin' Cafe? Is 2020 the resurgence […]
Join Ashley and Scott as they co their way across cuisines with the dream of launching their own successful eatery. GameOn Production presents a brand-new Time Management game sets in the world of food and icacy! Baking Bustle joins GameOn Production's growing portfolio of Time Management games, which consists of quality hits like Rescue Team […]