INFO
Item Reviewed
Delicious: Emily's New Beginning Collector's Edition
December 27, 2014
RELEASE DATE
December 21, 2014
DEVELOPER
Gamehouse
Blue Giraffe
FEATURES
Widescreen Support
3 Difficulty Settings
Customizable Menus
Paige's Baby Book
Hidden Mouse
Trophies
COLLECTORS EDITION
Ten EXCLUSIVE Levels
Concept Art
Wallpapers
We woke up by surprise when we discovered that Big Fish Games has finally started offering games from the ever-so-fantastic Delicious series, and even better, as a Collector's Edition. As a matter of fact, Delicious: Emily's New Beginning is the first non-building, dash-style time management game that is released as a Collector's Edition since the release of
Ranch Rush 2
and
Sally's Studio
dated back in 2010! This is definitely a great sign right, time management fans?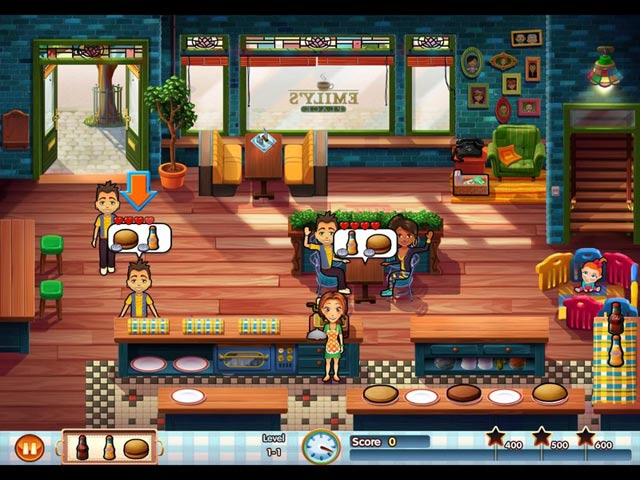 If you did not follow every part of the Delicious series, since the previous games have not been made available on Big Fish Games yet – you might want to know that our lovely Emily has already married with a flower-shop guy named Patrick and has a cute baby girl, Paige. In Delicious: Emily's New Beginning, the story revolves around Emily's family life, and of course,  with the main focus on the little Paige. In each level, you have to help Emily manage her restaurant by cooking and serving her customers with the items they want, just like any typical time management game.
The thing that distinguished Delicious from other games of its kind, and made the series as popular as it is now after nine installments – is the story development. It can be said that it is quite rare for a time management game to develop a proper story, and that is what the Delicious series has succeeded. The story in Emily's New Beginning also did a great job in introducing new characters and new events. Similar to the previous nine games, many levels in Emily's New Beginning also include side challenges – most of them are finding items scattered around the scene. Although they might not be remarkably innovative, they did add some spices to the gameplay and vary things up.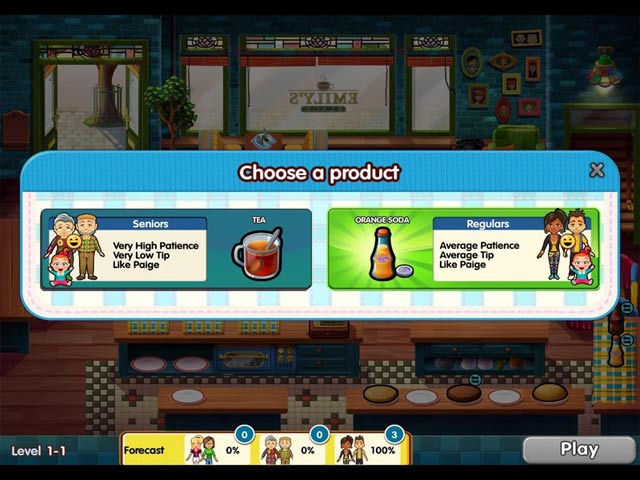 If you are familiar with the signature gameplay of the Delicious games, you will certainly going to get hang of Emily's New Beginning pretty fast. As avid dash players, we did not find any of the levels in the game to be particularly difficult, but they indeed did offer some challenges and a solid strategy is required. To balance things out, the developer also provided three difficulty settings; Beginner, Casual and Advanced. The goal in each level is to complete the level with enough money to pass onto the next level. You will then be rewarded with tokens to purchase upgrades in the shop. Unlike the previous games, at the beginning of each level, you will be offered food choices to decide based on the data of the day's incoming customers, a very nice touch.
As expected, Delicious 10 still has the same bright, colorful and attractive graphics and the original, lively soundtrack. And even though there are no voice overs, the witty conversations were more than enough to keep us entertained.
Fans of the Delicious series will want to consider purchasing the Collector's Edition, since it contains 10 new levels to keep the game going. Along with some beautiful wallpapers and concept art.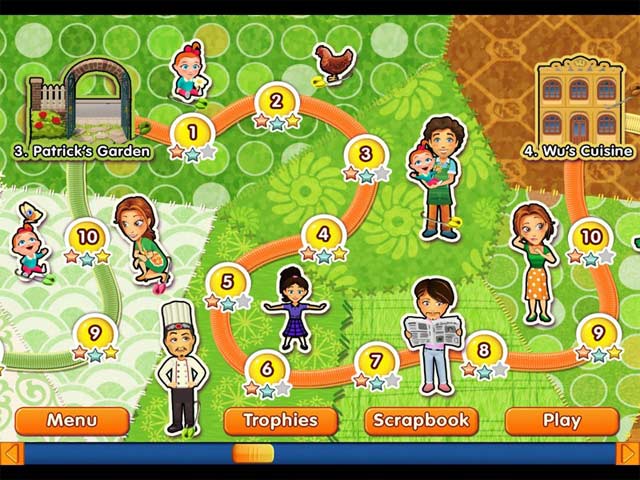 After a long of successful projects, Gamehouse has finally dipped its toes in the increasingly-crowded freemium pool. Heart's Medicine: Doctor's Oath follows Allison Heart's journey at Queensburrow Bridge Hospital, on her path to graduating as a fully-fledged doctor. Unfortunately, things go haywire when a mysterious patient unleashed a mysterious contagious disease at the hospital and prompted the […]
It is definitely not an easy task to follow the footsteps of Heart's Medicine: Time to Heal, one of the best Time Management games in the recent years. Still, we hold extremely high hopes and expectations for this sequel, and thankfully, Heart's Medicine: Hospital Heat ivers. Heart's Medicine: Hospital Heat starts with probably the most intense opening […]
We do realize that it is well over the holiday season by this point, but we always need a little icious in our lives, don't we? In a blink of an eye, baby Paige has already started preschool and it is nearly time for her first Christmas musical! Join Emily and her friends on a […]