INFO
Item Reviewed
Christmas Eve: Midnight's Call Collector's Edition
December 18, 2014
RELEASE DATE
December 12, 2014
DEVELOPER
ERs Game Studios
FEATURES
Widescreen Support
Interactive Jump-Map
Voice Overs
3 Difficulties + Custom Mode
COLLECTORS EDITION
Exclusive Bonus Chapter
Integrated Strategy Guide
Wallpapers & Screensavers
Concept Art
Soundtracks & Cutscenes
Achievement & Collectibles
Replayable HOs & Puzzles
FOR iOS

For iPad

For iPhone
After a year in the making, ERS-G finally released their very first holiday game – Christmas Eve: Midnight's Call. Plunge yourself into the alternate world of Snowhill and help the Snow Queen save her kingdom from the evil sorceress in exchange for the life of your sister!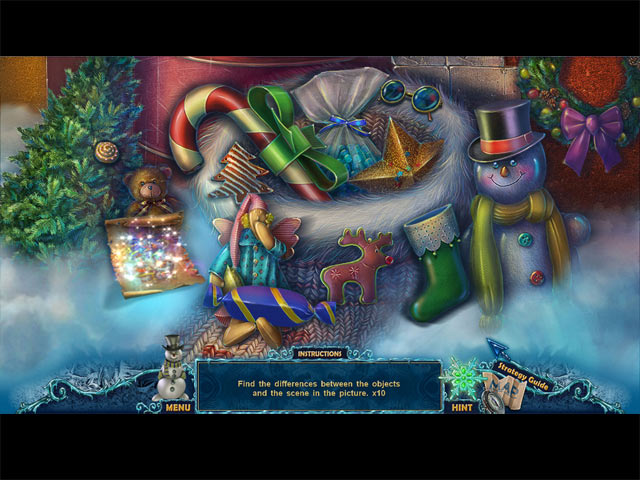 Obviously, Christmas Eve: Midnight's Call is a Christmas-themed HOPA game – one that balanced the joyous Christmas spirits and some darker elements of the game incredibly well. We were surprised by how solid the story was, it was heartwarming, exciting and cheerful all at the same time. The characters were also beautifully drawn and professionally voiced with lip sync.
The visuals of Christmas Eve were the good old-fashioned style we have come to expect from ERS-G. Still, we felt like the art team at ERS-G approached each location in the game with more creativity than ever before, or maybe it was because this is a Christmas game in which they can let their imagination roam free. Nonetheless, ERS-G should really consider amp up their graphics a little bit; imagine how stunning those beautiful scenes would look with sharper and brighter graphics.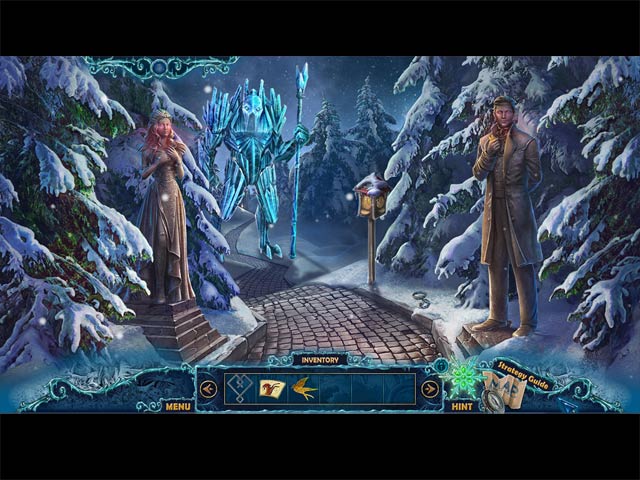 Set all the nice graphics and engaging storyline aside, yet again, ERS-G played it safe when it comes to the gameplay. In fact, the adventure part of Christmas Eve was so mundane and easy that we barely need to use the Hint button, just forget about the strategy guide. There were no unique extra features present in the game, except for an annoyingly cute Snowman and a couple of Magnifying Glass Mini-Games which were not at all challenging. The hidden object scenes and puzzles were not very innovative either; the hidden object scenes came in a variety of modes, the majority was fairly easy to complete. While the puzzles were the typical ones, did not really help with the development of the story.
In the Collector's Edition, Christmas Eve: Midnight's Call featured the usual gallery items, along with a strategy guide, replayable hidden objects and puzzles as well as general achievements and collectibles. The bonus chapter was surprisingly good though, lasted around 40 minutes for us.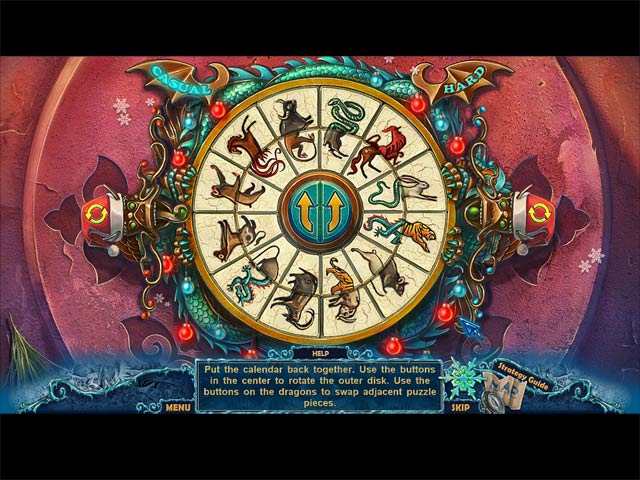 Grim Facade takes us back to Venice with this new installment, The Red Cat. Recently, a series of murders has been going on in town, with the killer announcing its victim by putting a Red Cat on the victim's front door. The Mayor has asked for your expertise when his son appears to be the […]
Marjory called for your help when her fiancé has been kidnapped by hooded figures in plague masks. As you dive deeper into the case, you discover something far sinister lies behind. PuppetShow has now come to the ninth installment, with little progress. First off, there is simply nothing innovative about the story in PuppetShow: Her Cruel Collection. […]
Here comes another Dark Tales game in this long-running series from ERS Game Studios. In this ninth installment, you are asked to travel to Hungary to solve another gloomy case, based on the famous Allan Poe's short story Metzengerstein. Despite Metzengerstein being one of our personal favorite Allan Poe's works, we found this installment […]