INFO
Item Reviewed
Nightfall: An Edgar Allan Poe Mystery
November 23, 2014
RELEASE DATE
July 30, 2014
DEVELOPER
ERS Game Studios
From ERS Game Studios, the people who brought us the famous Dark Tales franchise, comes a new Free-to-Play spin-off. Nightfall: An Edgar Allan Poe Mystery feels very much like other premium Dark Tales games, from the settings to the storyline – our favorite Detective Dupin is also back to guide you through the course of the whole game.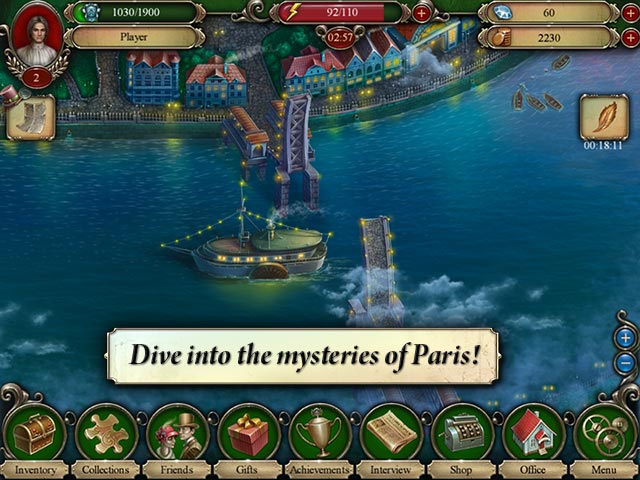 As anyone would have guessed, Nightfall: An Edgar Allan Poe Mystery is a detective/murder-solving themed freemium hidden object game, which might have set apart the game from the rest of its kind a little bit. Nightfall scored high on its exciting plot and captivating storyline, which other F2P games usually lack. You will be solving murder crimes, investigating scenes and interrogating suspects all over Paris – all along with completing hidden object scenes, fulfilling quests from other characters and earning money and experiences.
If you are familiar with the freemium hidden object genre, then Nightfall would not take you back by surprise since there is nothing really unique about the game. Nightfall is dominated by hidden object scenes, although there is a variation of searching modes in each scene; we still wish that the developers incorporated some adventure elements into the game like some other freemiums we have seen, considering that Nightfall has the potential to be such a great freemium adventure. Nonetheless, there are a couple interesting features such as the Interview mini-game that has you answering trivia questions regarding the storyline and the office that you can spend your coins and gems to decorate. Currently, the social features are very limited; but we can expect them in future updates.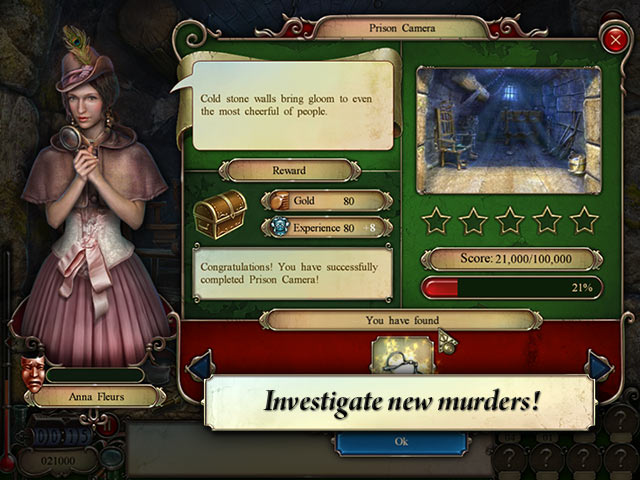 Presentation wise, Nightfall is solid, but not noteworthy. The graphics are undoubtedly ERS', they are ominously beautiful, yet not very sharp nor particularly attractive. We are also slightly annoyed by the graphic bars at the sides of the screen; a 2014 game has no excuse not to fill a widescreen. On the audio side, the music team did quite a great job – the soundtracks are dark and mysterious, which really help build up the environment.
Nightfall: An Edgar Allan Poe Mystery is a Free-to-Play game, that means that despite the game being free, there are some features that required you to spend real money on. The freemium model in Nightfall is fairly standard, most of the times money would be spent on purchasing extra energy to extend the gameplay session. Purchasing extra coins or gems is not necessary, but it does help you to progress at a much faster pace.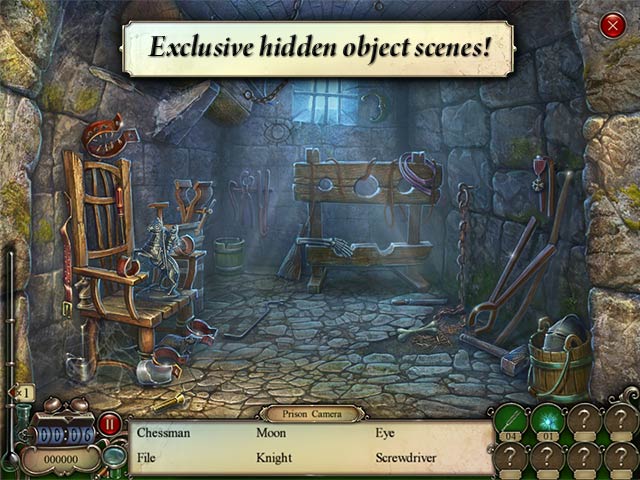 Experience the excitement of combat as you fight to save your innocent clients in a court of law like Phoenix Wright. In this beautiful compilation, you may play all 14 episodes from the first three games. Capcom has made one of the best visual-novel masterpieces named Phoenix Wright: Ace Attorney Trilogy, which was launched on […]
We have a fantastic opportunity to discover what Agent Brown was concealing and why he went on his own to investigate. Solve challenging riddles, travel through odd locations, and unravel the Restville mystery.Will it be easy for you to get to the end of "Detectives United: Phantoms of the Past" and solve the mystery?'Detectives United' […]
Starting off right where Mystery Case Files: The Harbinger ended, this twenty-second Mystery Case Files game takes the Master Detective through time hoops in an attempt to save the world! When the time is bren and existence as we know it is about to be destroyed, can rise to the occasion and save the day […]