INFO
Item Reviewed
Grim Tales: Color of Fright Collector's Edition
November 12, 2014
RELEASE DATE
November 07, 2014
FEATURES
Widescreen Support
Interactive Jump-Map
Voice Overs
3 Difficulty Settings
Diary
Magical Color Palette
COLLECTORS EDITION
Exclusive Bonus Chapter
Integrated Strategy Guide
Wallpapers & Screensavers
Soundtracks & Concept Art
Achievement & Collectibles
Secret Room
The Gray family saga continues in this seventh game from the ever-so-popular Grim Tales series. Unlike some other long-standing HOPA series, we never get tired of Grim Tales; and Color of Fright has just taken things to the next level.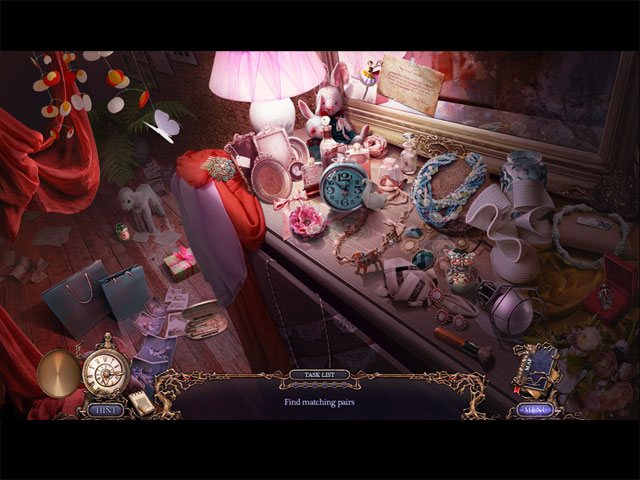 It was lucky that you arrived late for the Gray Family Reunion at the family's mansion. Thomas Gray has just started his evil plan of revenge; with the whole place in a total chaos and your family nowhere to be found, it is once again your job to save them all! Elephant Games definitely knows how to please the fans – Color of Fright pays an homage to the whole series by involving many of the past stories in the previous installments of the franchise in a very clever way. You will be able to interact with the familiar characters in the story territories you once enjoyed; Luisa and John from The Legacy, Elizabeth and James McGray from The Vengeance and Jackie from Bloody Mary. The plotline in Grim Tales: Color of Fright is certainly an exceptionally thrilling, action-packed one with a lot to offer.
Even if you have not played any of the Grim Tales games before (you really should though), you can just appreciate the beautiful sights and sounds Color of Fright provided. The visuals are simply stunning; each location is filled with amazing details and gorgeous colors. What we like are the panoramic scenes in which you can scroll left and right to explore more of the scene. The soundtracks and voice overs are flawless; they really add the creepy and suspense factors to the game without being annoying.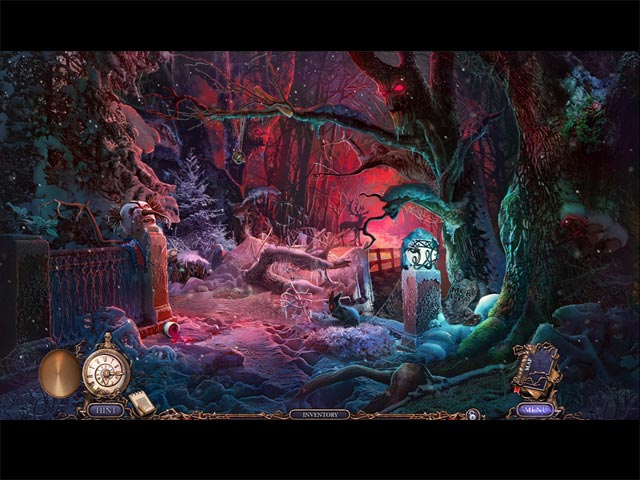 It is clear from playing Color of Fright that the Grim Tales team at Elephant has poured their hearts and souls into making this game. Apart from the usual interactive spots in the scene, you can also interact with other minor items in the scene; although they add nothing to the development of the game, they add some values to the experience. Moreover, the gameplay features in Color of Fright are also worth talking about. The hidden object scenes are multi-faceted, highly interactive and super smart. At the same time, the puzzles are very innovative, especially those 'puzzles within puzzles' or what we called Super Puzzles that really catch our attention. Besides, there is a color palette in which you can use to pain alive animal helpers. One tiny complain from us would be that the gameplay can be a little too easy for advanced players; and this game lacks the custom difficulty mode, it seems to be a requirement for big-budget HOPAs now.
The Extra section of the Collector's Edition is fairly solid; the bonus chapter takes us back in time to prevent the great fire at the orphanage, where all these events began in the first place.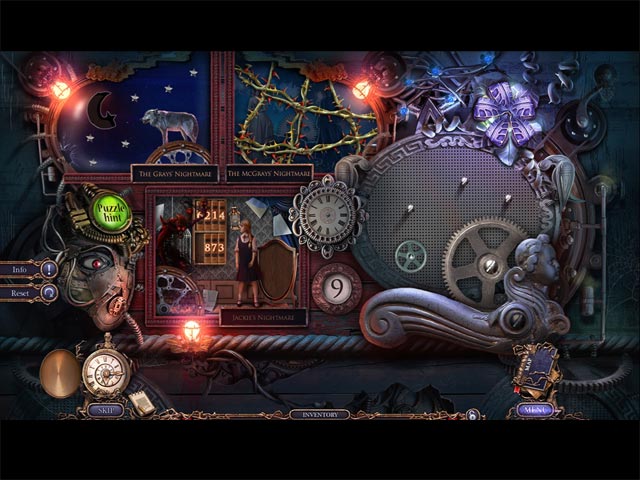 Christmas Stories- The Christmas Tree Forest will engage you in the unforgettable world of Haunted Hotel and put your skills to the test in thrilling hidden-object puzzles, fascinating locations, and uncovering the hotel's mystery that is robbing people of their years of life before it's too late. Will you be able to solve the puzzles […]
Solve challenging riddles, travel to odd locations, and uncover the secrets of the magical Halloween animals. Will you be able to solve Halloween Stories: The Neglected Dead's puzzles? You have a fantastic opportunity to learn about the surprises that the three world locations have in store for you. Neglected, a great puzzle adventure game from […]
In this detective adventure game from Elephant Games LLC, which was released on March 4, 2021, you can hunt for hidden things and solve puzzles and brain teasers.Your mission is to find unusual stuff in order to halt the murder. Can you solve the "Strange Investigations: Becoming" criminal case? Explore crime scenes, stop the perpetrator, […]