INFO
Item Reviewed
Shrouded Tales: The Spellbound Land Collector's Edition
September 19, 2014
RELEASE DATE
September 14, 2014
DEVELOPER
Friendly Cactus Games
FEATURES
Widescreen Support
Interactive Jump-Map
Voice Overs
3 Difficulty Settings
Magical Spells & Spellbook
COLLECTORS EDITION
Exclusive Bonus Chapter
Integrated Strategy Guide
Wallpapers & Concept Art
Soundtracks & Cutscenes
Achievements & Collectibles
Replayable HOs & Puzzles
Lost Pages & Final Quiz
As Veronica, a now grown daughter of a mother with magical powers; you have to rescue your mother who has been banished to the Shadow Realm by the evil Master of Shadows since you were young as well as return light to the city of Havenwick!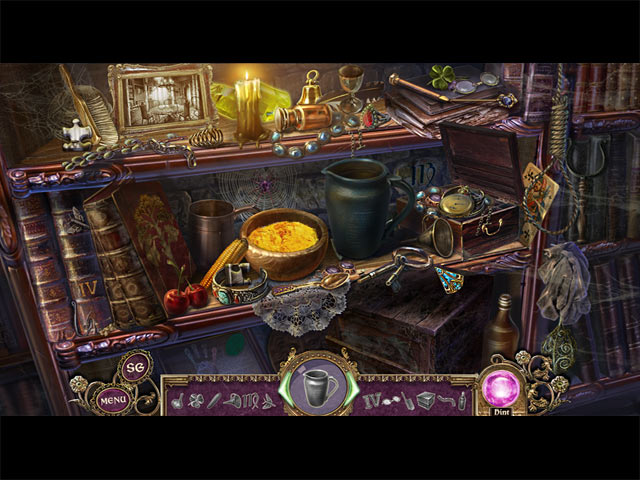 From the blurb above, Shrouded Tales might not sound like the most original game ever; nonetheless, it has managed to captivate us from the start to the end. While the story of a lost mother in a magical fantasy land might not sound so intriguing, the way the story develops in this particular game is pretty interesting. By restoring and repairing the altars, the game allows you to switch between the real world and the Shadow Realm. Basically, there are two parallel worlds where actions in one world can affect the elements in the other.
Apart from the realm-switching feature, Shrouded Tales: The Spellbound Land also includes some nice twists. The six different magical spells, for instance, they can be earned once you have collected all the missing colored glowing collectibles – they are extremely helpful during your adventure and you tend to seek their accompany very often. Also, the interactive map is beautifully designed and the hidden object scenes come with superb interface.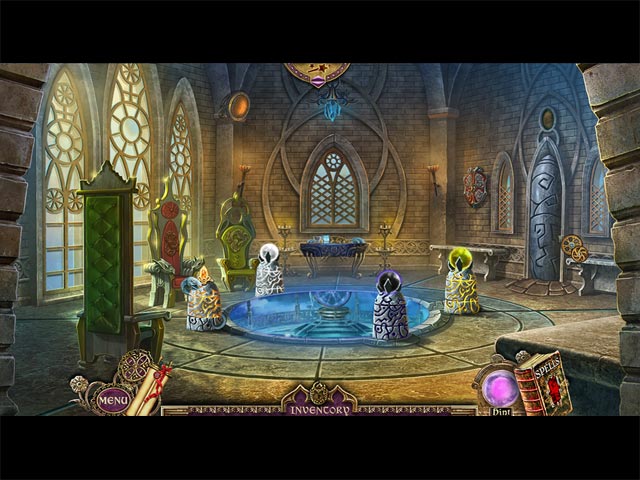 In terms of the visuals and audio, Shrouded Tales is second to none. With its eye-catching artwork, enchanting special effects and spectacular sights; there was not a single moment of boredom when we were playing the game. The soundtracks are also very satisfying, they do not feel out of place or repetitive; at the same time, the voice overs are solid and easy to follow.
In contrast to all those positive aspects, Shrouded Tales: The Spellbound Land is definitely not the game for those who seek for some challenges. The gameplay in Shrouded Tales is most of the time, straightforward; although it is a very busy game with lots to do, the tasks are just not very demanding. Moreover, the puzzles are somewhat easy; regardless of the fact that many of them are very fun and creative.
No matter how easy the game might appear to you, let us assure you that Shrouded Tales: The Spellbound Land is not a short game. We completed the game in just a tiny bit over 4 hours, with an hour or so in the Bonus Chapter. Along with the predictable extras, the Collector's Edition also consists of several cool features such as the Lost Pages that are humorous to read and the Final Quiz which is a smart addition.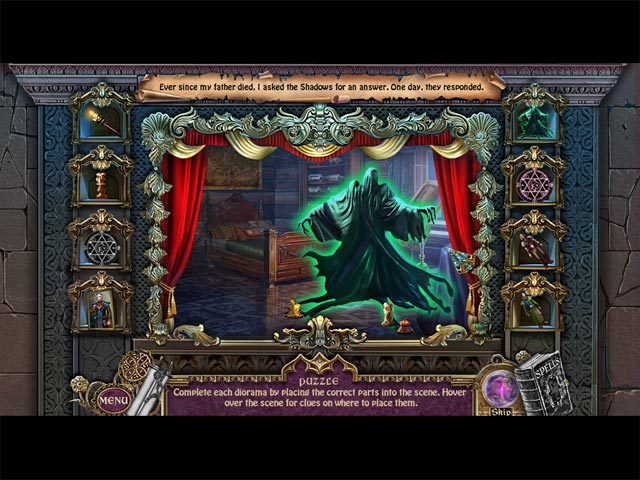 Your friend is having trouble in these searching games because her grandma has gone missing, and she believes something bad has happened.To become a true Fairy Godmother, you must travel to various locations in this hidden object game. Various HOPs and mini-games will assist you in immersing yourself in the enchanting story of a fairytale […]
Demon Slayer's massive success has catapulted it into the shonen major leagues, where anime such as Dragon Ball, One Piece, Hunter x Hunter, and Naruto have dominated for decades. Demon Slayer stands out from its action-adventure peer's thanks to its vibrant art, which includes both conventional 2D and spectacular 3D animations, sweeping/emotional combat themes, and […]
Over the years, the New Yankee series has gained quite a reputation among Time Management fans and built itself a loyal group of players. In this ninth installment, the series still has many tricks up its sleeves. When an evil spell bo plans to defeat the King and Queen and conquer Camelot, it is up […]