INFO
Item Reviewed
Green City: Go South
September 21, 2014
RELEASE DATE
August 28, 2014
Melesta is back once again with the third game in the studio's famous Time Management franchise, Green City. This time, your objective is to build a green paradise right in the middle of the ocean; although it might not be revolutionary, it is undeniably fun to play.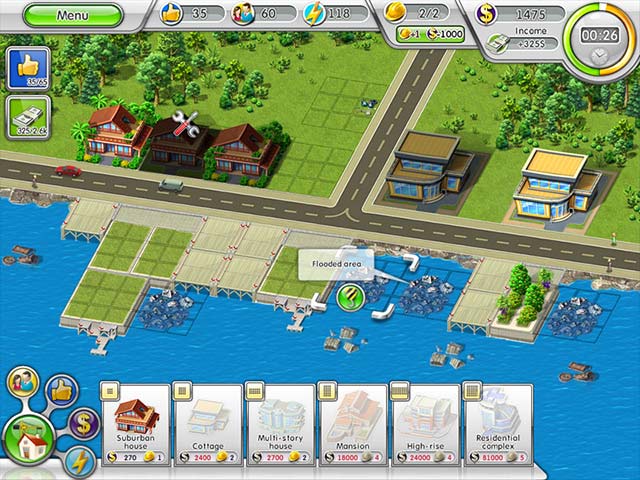 If you have already played the first two Green City games, you should not have any problems get Go South started. As usual, Green City: Go South started off pretty easy with a couple of tutorial-like levels before it lets you handle tasks on your own. The real challenge begins around level 8, when the difficulty bar has really raised and time limit becomes a concern. We all know that Green City is not a Building series for the beginners, and Go South seems to go along with this similar level of challenge. In each level, you have to plan every move very carefully as well as strategize your future moves. There is no real Relaxed or Untimed mode in the game, even though it is not really a serious issue since you can still complete the level after the time ran out, just without those shiny stars.
Green City: Go South is pretty much like every other Green City games, you can build four types of buildings; Residential, Prestige, Commercial and Power Plants and complete level tasks like reaching a threshold income, population ,prestige level and build a set number of buildings.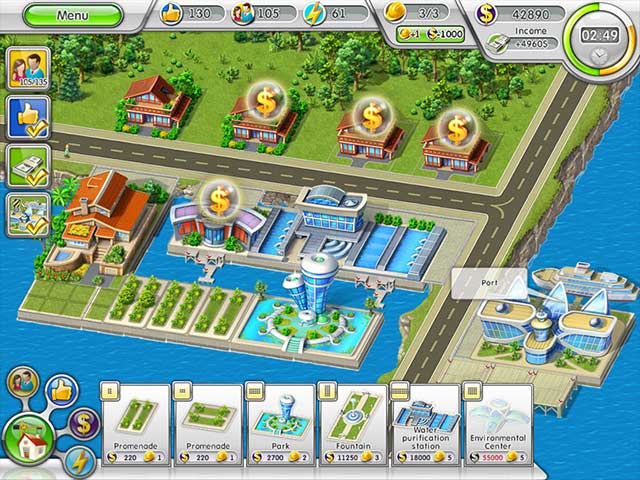 Nonetheless, the visuals in Green City: Go South have improved. The graphics are crystal clear with bright colors and pleasant effects; the green and the blue, which seem to be the main palette used here also contrat each other perfectly. There are no voice-overs during the game's minimal number of comic strips, but the music is cheery and charming.
There are 48 levels in total and a handful of Awards to collect; 48 levels might not sound extremely long, but sine you are probably going to spend a significant amount of time replaying and perfecting each level, 48 levels lasted satisfying long for us.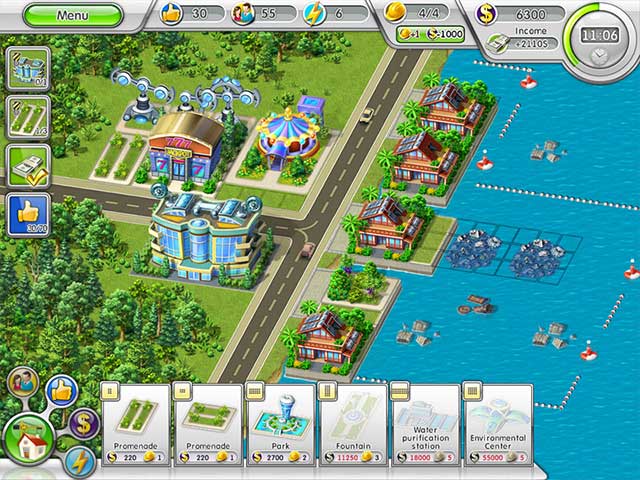 In this fifth installment of the fan-favorite Campgrounds series, Addie is in need of a vacation, but how could she leave her campgrounds lonely? She enlisted her trusted friend Tom to help lo over the campsites while she's away, but as a newbie, is Tom up to the task? all the previous games in […]
Whether it's fairy tale fantasy or medieval or Vikings or crime, the Time Management genre has gone through a wide range of themes – but very few have actually been set in a futuristic world. Faraway Planets takes you to the future when civilization is possible on another planet, when technology is so advanced and […]
General Flavius of Britons is up for a dangerous new journey! After ridding the land of Britons of the Filth in the first chapter, Flavius realized that he still needs to clear the source of the evil. Enter the Shadow Lands – the underworld for the dead souls of the Celts where the Filth has […]