INFO
Item Reviewed
PuppetShow: Lightning Strikes Collector's Edition
August 29, 2014
RELEASE DATE
August 22, 2014
DEVELOPER
ERS Game Studios
FEATURES
Widescreen Support
Interactive Jump-Map
Voice Overs
3 Difficulty Settings
Evidence Board
COLLECTORS EDITION
Exclusive Bonus Chapter
Integrated Strategy Guide
Wallpapers & Screensavers
Concept Art
Soundtracks & Cutscenes
Achievements & Collectibles
Replayable HOs & Puzzles
World Monuments
PuppetShow is an unarguable classic, seemingly never-ending Hidden Object Adventure franchise, which lately, has gotten a little bit tiring. ERS-G appears to have realized this and as a result, apart from the creepy puppet's factor; Lightning Strikes has nothing to do with the story of Felicia and her peers in the previous five games.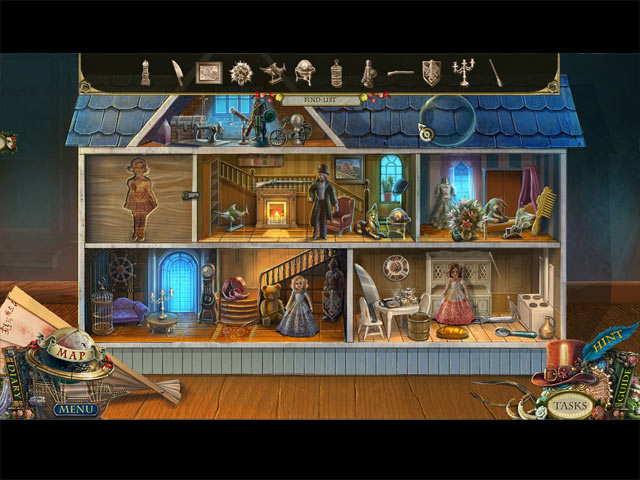 Because of its entirely new plot, PuppetShow: Lightning Strikes feels like a fresh start for the series. In Lightning Strikes, a series of lightning has hit Paris while many young women have disappeared and turned into puppets. It is a story of revenge, desire and deadly romance – a pretty captivating one, although not totally new. Our minor complaint goes for the characters which sometimes perform illogical actions; also, their voice-overs are annoyingly robotic.
The presentation in Lightning Strikes is top-notch, one of the very best we have seen from ERS-G. The town of Paris is beautifully portrayed through amazingly colored scenes, detailed elements and fascinating locations. The cutscenes are exciting and high in quality; moreover, the soundtracks are finely produced and the special effects are startling.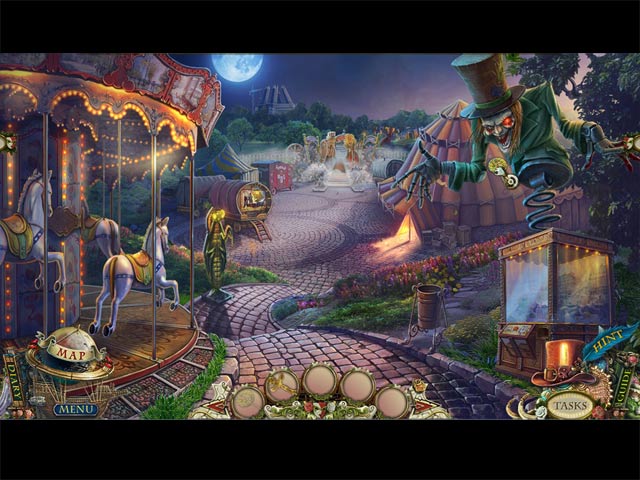 Luckily, there is not much cuteness in this game like in some other ERS's games. For that, Lightning Strikes remains on par with its predecessors in terms of spookiness and the gloomy environment. Despite that, the gameplay in Lightning Strikes is ridiculously childish; perhaps it is one of the easiest games in the recent months. ERS has added this extra feature which is the 'Find' bar – this unnecessary bar appears at the top of the screen and tells you what to find in each scene; not only in Hidden Object scenes, it appears in the adventure part of the game as well, to indicate what inventory items you need to collect. Furthermore, the Hidden Object scenes are not very challenging; even though they come in a nice variety and are smartly designed. The puzzles are better, a few of them required some brain-work and you can adjust the difficulty.
However, PuppetShow 6 is not at all bad – partly because it is a terribly long game. We completed the game under 5 hours, and another hour or so for the Bonus Chapter. Other extra features are noted below in the checklist, including the Collectible coins which can be used to repair several World Monuments.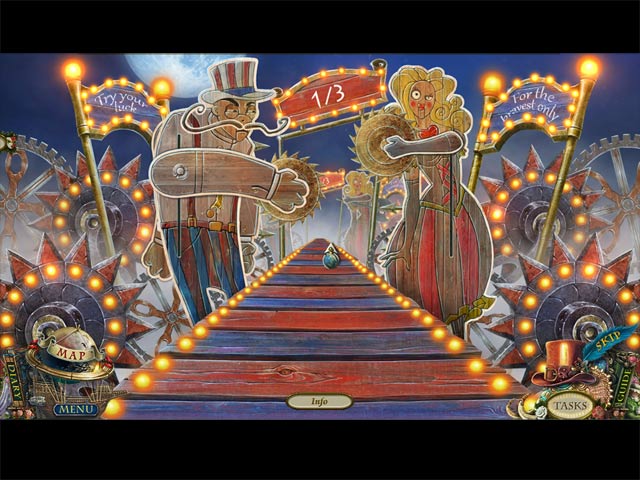 Grim Facade takes us back to Venice with this new installment, The Red Cat. Recently, a series of murders has been going on in town, with the killer announcing its victim by putting a Red Cat on the victim's front door. The Mayor has asked for your expertise when his son appears to be the […]
Marjory called for your help when her fiancé has been kidnapped by hooded figures in plague masks. As you dive deeper into the case, you discover something far sinister lies behind. PuppetShow has now come to the ninth installment, with little progress. First off, there is simply nothing innovative about the story in PuppetShow: Her Cruel Collection. […]
Here comes another Dark Tales game in this long-running series from ERS Game Studios. In this ninth installment, you are asked to travel to Hungary to solve another gloomy case, based on the famous Allan Poe's short story Metzengerstein. Despite Metzengerstein being one of our personal favorite Allan Poe's works, we found this installment […]