INFO
Item Reviewed
Dark Strokes: The Legend of the Snow Kingdom Collector's Edition
April 10, 2014
RELEASE DATE
April 06, 2014
DEVELOPER
Alawar Friday's Games
FEATURES
Widescreen Support
Interactive Jump-Map
Voice Overs
3 Difficulties + Custom Mode
Diary
Magic Potion
Cat Helper
COLLECTORS EDITION
Exclusive Bonus Chapter
Integrated Strategy Guide
Wallpapers & Concept Art
Soundtracks & Cutscenes
Achievements & Collectibles
Replayable Mini-Games
Trivia
Characters & Jigsaws
The Legend of Snow Kingdom is the long-awaited sequel of the Dark Strokes franchise. At least the title of the game says so; otherwise, The Legend of Snow Kingdom does not feel like one. Nonetheless, we still appreciate the game's beauty and innovative gameplay.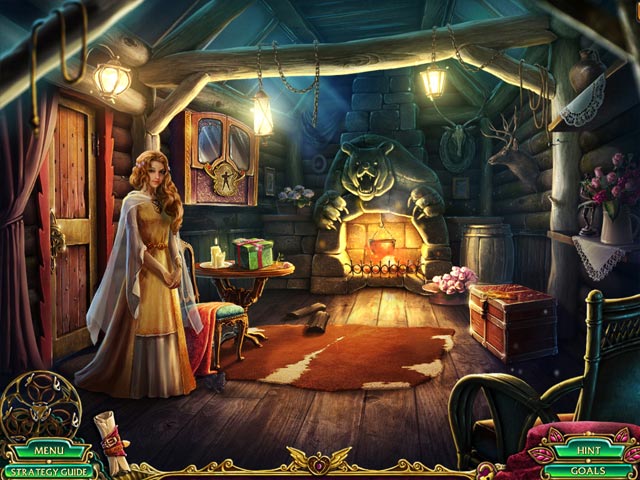 There are so many things in this sequel that are different from Sins of the Fathers, the first Dark Strokes game. In The Legend of Snow Kingdom, you have to release a young girl trapped in a magical snow globe while trying to lift the curse of the kingdom and learning the secret tale behind it all! Firstly, the story in this sequel is nothing near scary and it is certainly not connected to the first game. It seems as if Dark Strokes has turned into a fantasy-themed HOPA which shares none of the first game's creepiness and it just uses the name Dark Strokes for its popularity.
Nonetheless, The Legend of Snow Kingdom still featured top-shelf visuals and audios. The graphics are splendid, all the scenes are beautifully-painted and wonderfully-colored. The characters have pleasant looks despite their wooden faces. The visual effects are definitely among the best ones out there; cutscenes are mind-blowing with supreme quality. For the soundtracks, they are relaxing while not being too plain; voice-overs are professional and well-recorded.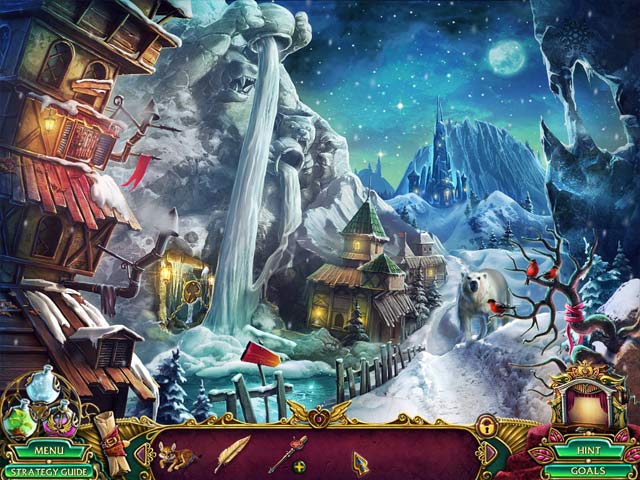 The amount of effort the developers invested in creating this game is apparent. What fascinates us is the details in each location, not only can you explore the areas of interest, you can also interact with other aspects in the scenes; they are just simple animations, but they are what distinguished this game from the pool of average HOPAs.
The Hidden Object scenes in Dark Strokes 2 come in all formats imaginable; standard list, fragmented objects, images, super-interactive and reassemble items. Each scene is required to be played twice, but each time in different mode. There are two types of puzzles here, the mini-puzzles which can be completed within seconds and the main ones. The main puzzles are quite challenging and many of them are very innovative; also, all of them tie in with the story seamlessly.
The 4-hour main game of Dark Strokes: The Legend of Snow Kingdom ends with a conclusive ending although the Bonus Chapter does take the story further. However, we feel like the bonus chapter is a little bit lazy. The opening and ending cutscenes come in storybook style with minimal animations we have seen in the main game, it is filled with hidden object scenes and some puzzles are even recycled from the main game. Despite that, we still enjoyed it pretty much – many locations are those from the game's predecessor which brought us back so many memories. For the Collector's Edition extras, there are plenty; from wallpapers, soundtracks, concept arts, strategy guide, replayable cutscenes, mini-games, collectibles and achievements to trivia quiz, character development and jigsaw puzzles.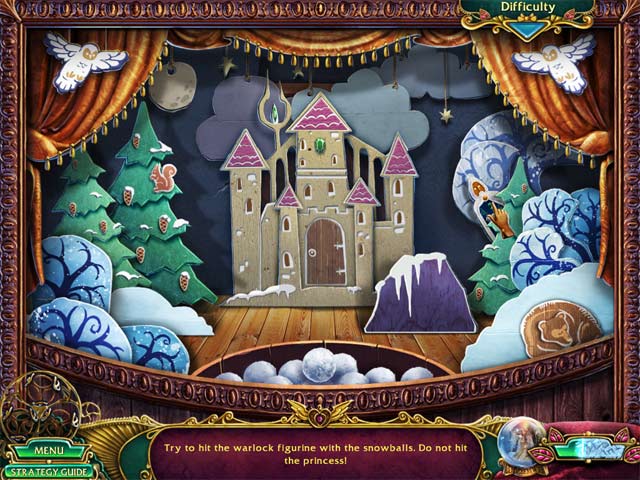 We all know what Alawar Friday's Games is capable of, the team has ivered amazing games one after another. It is two years since the phenomenal success of the Dollhouse Story, we are all eagerly waiting for the release of this sequel and it is not a disappointment! First thing that we noticed about Stolen […]