INFO
Item Reviewed
Farm to Fork
March 2, 2014
RELEASE DATE
February 25, 2014
DEVELOPER
Visual Shape
Playrix Entertainment
FEATURES
Widescreen Support
Achievements
Relaxed Mode
Expert Mode
Not long ago, we had a chance to play the beta version of this game, and we kept waiting for this awesome Time Management game since then. The Time Management genre seems to be on drought this year and by TM games, we mean dash/click-frenzy type not the resource-management ones – that's why Farm to Fork is a real treat for TM players!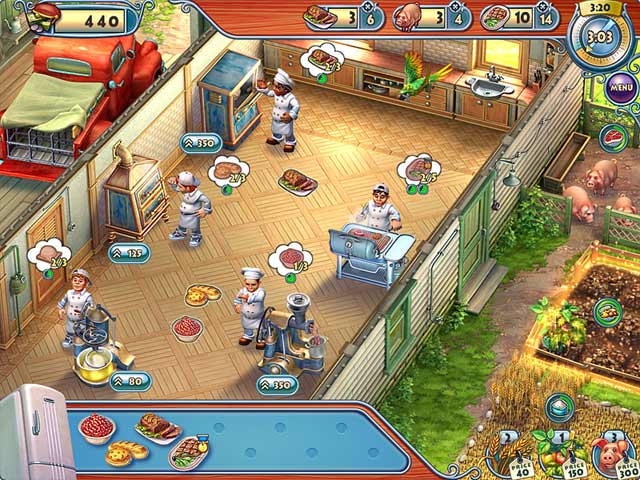 Well, Farm to Fork is all about what the title might have suggested; grow food and feed animals and turn them into manufactured food. The title can sound cruel when you really think about it, still, the game is as cute as the developers can make it. Farm to Fork has fantastic graphics, pleasant beautiful colors, nice characters, good animations and suitable visual effects. This goes the same for the audio side of the game, the background music is lively and fairly catchy which goes well with the active feel of the game.
The gameplay of Farm to Fork reminds us a little of the Farm Frenzy series but it is fresh enough to distinguish itself from that classic franchise. Firstly, you grow what, vegetables and pigs in the farm zone on the right side of your screen. After you collect the raw products, you put them into machines and turn them into more valuable products from simple ones like Salad, Bread, Noodles to high-end ones like Soup, Steak and Burgers. As always, you can queue up and upgrade each machine if you feel the need to. You can shop for new machines and upgraded versions of them in the market – they are usually required to continue to the next level.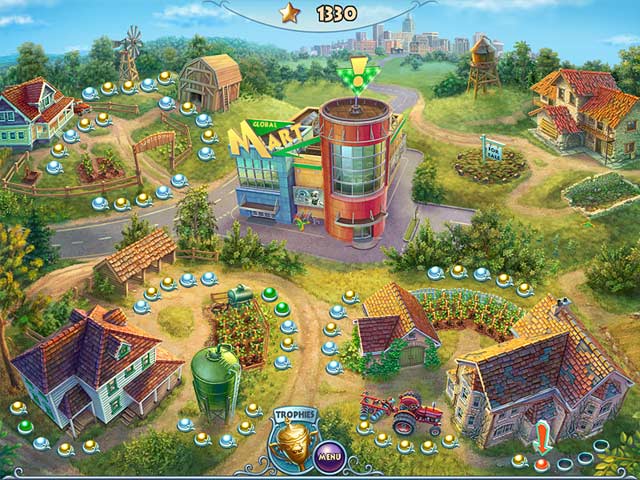 Other than that, again, similar to the Farm Frenzy series; there is a truck which deliver your products to the town in exchange for money and a flying parrot bird which can be captured by rapid-clicking. There are number of goals in each level, usually consist of producing a set number of a specific product or earn each the money target. For slower-pace gamers, there is a Relaxed Mode offer and for hardcore gamers, you can select Expert Mode after complete the normal mode of the game.
Well, what is interesting about Farm to Fork is that there is a new product or new upgrade introduced at the start of nearly every single level. This way, you are always excited and hooked to keep continue playing the game. There are 70 entertaining levels, and they will go by pretty fast once you are captivated  by the game.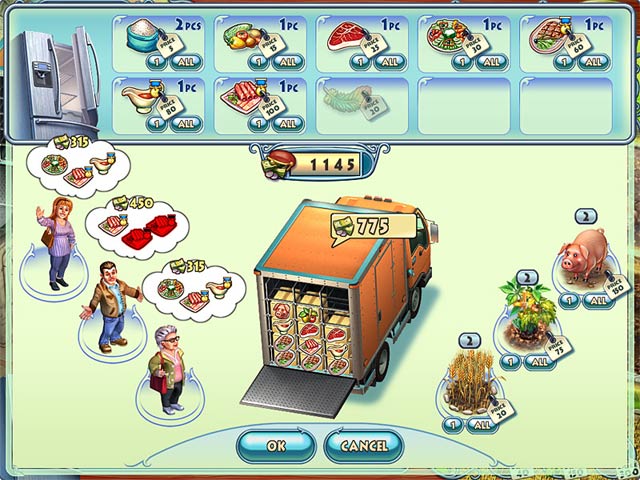 After a long hiatus, Iris and her innate ability to grow magical flowers are back in Magic Farm 3: The Ice Danger. This time, a cold breeze is sweeping over Iris' hometown and she must do everything in her power to save the town and its citizens from freezing. In an unexpected move, Meridian'93 revived […]
Big Fish Games teamed up with Boolat Games, the prolific developer behind favorites like Dreampath and Dark Cases for a new magical farming game for mobile. Decurse takes place on a sparkly island that is half-submerged in water. Can you reverse the curse and bring happiness back to the people of the island? Boolat Games first […]
Jill and Mike just landed a deal to broadcast their very own reality TV show! Help them garden around the world and boost their show ratings. At the same time, the couple is also expecting a baby in the near future. Can the show run smoothly or would a jealous rival try to sabotage the […]