INFO
Item Reviewed
Mystery of the Ancients: Three Guardians Collector's Edition
February 2, 2014
RELEASE DATE
January 31, 2014
FEATURES
Widescreen Support
Interactive Jump-Map
Voice Overs
3 Difficulty Settings
Amulet of Power
COLLECTORS EDITION
Exclusive Bonus Chapter
Integrated Strategy Guide
Wallpapers & Concept Art
Soundtracks
Achievements & Collectibles
Your niece has called you to the town of Green Hill to find her missing boyfriend and lift the curse that conquered the town. Upon your dramatic arrival, you discovered that similar to your niece's boyfriend, there are other that have disappeared as well. The town seems to be consumed by dark magic, not to mention that there are red-eyed crows everywhere you go. Explore it all in this third Mystery of the Ancients game, Three Guardians.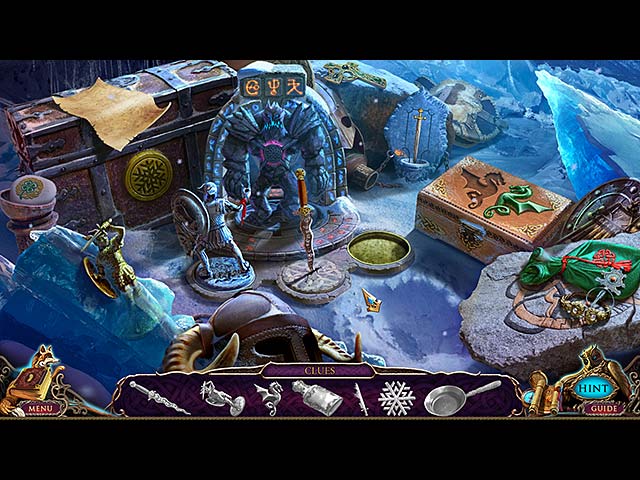 There has been a clear improvement in every new release from Mariaglorum and as soon as the introduction cutscene of Three Guardians finished, we knew that we are in for an amazing treat! Mystery of the Ancients: Three Guardians featured some of the most dramatic, amazing-looking cutscenes out there – they are high in quality and visually wonderful. The graphics are also nothing short of amazing, they are blue/purple in the tone and they are on the dark side but bright enough for the eye. All of the locations are beautiful, sharp and extremely detailed. In addition, the background music is gorgeous with great melody that is not at all distracting. The voice overs are great, unfortunately, there is no attempt of lip syncing.
The plot line in Mystery of the Ancients: Three Guardians might not be the most unique, most creative one but it is no doubt entertaining. With a lot to discover and actions at every turn – there is no single moment of boredom in this game.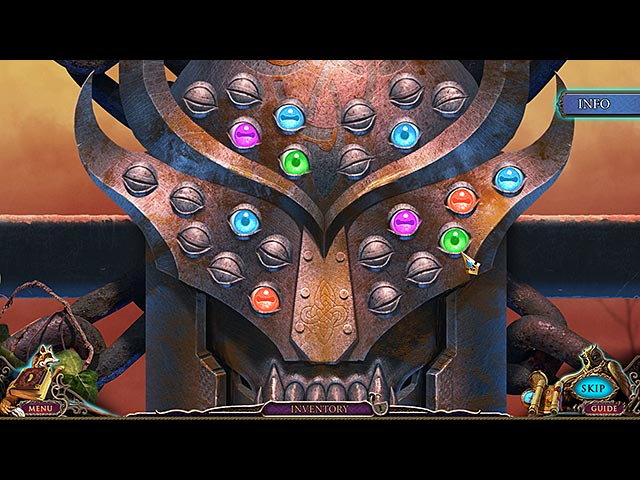 The gameplay is typical but not too straightforward. The Hidden Object scenes are professionally made, they come in various formats and some even include mini-puzzles. for the mini-games, they are on the easy side but offer nice twists on the otherwise standard puzzles; we love those that are well linked with what is currently going on in the game, an innovative way of stroytelling. There is a diary included, however, it is not the usual wordy type. This time, the diary consists of only replayable cutscenes and character cards giving information about each character you encounter. Plus, you also have a power amulet to fight off dark magic barriers you come across in the game.
Mystery of the Ancients 3 has a nice length of four hours for expert players as well as an equally fantastic Bonus Chapter. The Extras are not the strongest we have seen, with Concept Art,  Wallpapers, Soundtracks, Collectibles and Achievements.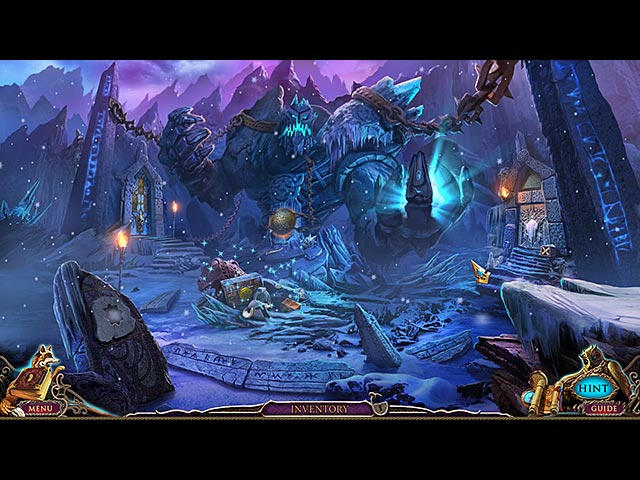 Greedfall, an expansive RPG by the French studio Spiders, offers players lush, opportunity-filled environments that are enhanced by a variety of customization options. Although a Greedfall sequel is in the works, Spiders does not intend to depart from that offering shortly, and the upcoming Steelrising is an action RPG instead, thus it will be […]
We've seen a lot of Daedalic's upcoming stealth adventure game gameplay. We've been waiting for further information about The Lord of the Rings: Gollum since it was ayed to 2022 at the start of 2021. Fortunately, developer Daedalic Entertainment is finally gearing up to iver this game into the hands of J.R.R. Tolkien enthusiasts after […]
Your friend is having trouble in these searching games because her grandma has gone missing, and she believes something bad has happened.To become a true Fairy Godmother, you must travel to various locations in this hidden object game. Various HOPs and mini-games will assist you in immersing yourself in the enchanting story of a fairytale […]