INFO
Item Reviewed
My Kingdom for the Princess IV
February 18, 2014
RELEASE DATE
February 05, 2014
FEATURES
Widescreen Support
Voice Overs
Achievements
We wonder what happened to these classic Time Management  franchise, not long ago the latest Farm Frenzy game turned disastrous and now is the trend is going after My Kingdom for the Princess as well? My Kingdom for the Princess is one of the very first resource-management games and the first three games were very lovely and entertaining; this one, not so much.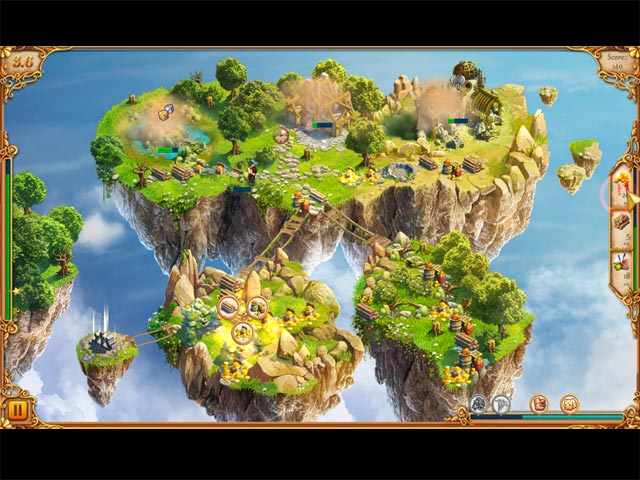 My Kingdom for the Princess IV starts off with a comic-book style cutscene with full voice overs and average story, that is acceptable for a Time Management game – however, there are far too many obvious spelling mistakes; we know that the developers are not native speakers, but seriously?
This fourth My Kingdom game is very different from the other three, as if the developers are trying to 'improve' the game. Unfortunately, most of the attempts trying to improve the game worsen it. There is one actual improvement though which is the game's visuals. The graphics are brighter, more colorful and more eye-candy than the previous games; the scenery of the floating island is quite astounding and the animations of the workers are very well done. The music is charming as usual, slightly different from the other games.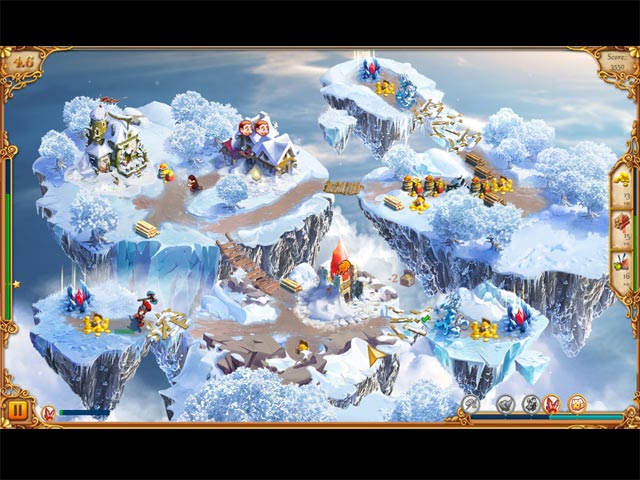 There are a couple new features added to the gameplay but overall, it remains fairly standard. Unlike other games of its kind, My Kingdom 4 has obstacles that require several attempts in order to clear it – for example, wood piles that need you to run back and forth between your base and the pile 2-3 times just to clear that one single pile. It is an interesting idea at first but it gets very tedious extremely fast. Moreover, there are those annoying critters that you have to get rid of, this is not a new concept but in this game they appear way too often, rapid-clicking is definitely not fun. There are also DragonNets which prevent your workers to come out of their houses, very frustrating.
Some might also find it inconvenient to not have all the tasks listed on the screen, they can be viewed but you have to hover your cursor over the bar – plus, each time a task is completed, a huge banner will be pop up which block the view of the game. In addition, My Kingdom for the Princess IV is nowhere as  challenging as its predecessors which will sure disappoint advanced players.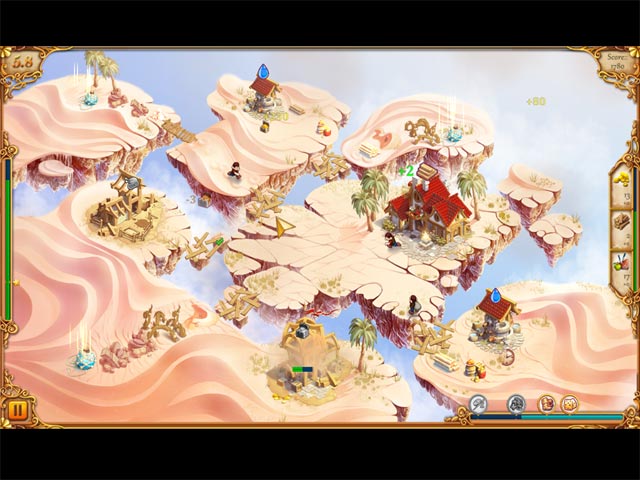 In this fifth installment of the fan-favorite Campgrounds series, Addie is in need of a vacation, but how could she leave her campgrounds lonely? She enlisted her trusted friend Tom to help lo over the campsites while she's away, but as a newbie, is Tom up to the task? all the previous games in […]
Whether it's fairy tale fantasy or medieval or Vikings or crime, the Time Management genre has gone through a wide range of themes – but very few have actually been set in a futuristic world. Faraway Planets takes you to the future when civilization is possible on another planet, when technology is so advanced and […]
General Flavius of Britons is up for a dangerous new journey! After ridding the land of Britons of the Filth in the first chapter, Flavius realized that he still needs to clear the source of the evil. Enter the Shadow Lands – the underworld for the dead souls of the Celts where the Filth has […]