INFO
Item Reviewed
Mystery Case Files: Fate's Carnival Collector's Edition
December 1, 2013
RELEASE DATE
November 27, 2013
DEVELOPER
Elephant Games
Big Fish Studios
FEATURES
Widescreen Support
Interactive Jump-Map
Voice Overs
Five Difficulty Settings
Interactive Diary
Cat Helper
COLLECTORS EDITION
Exclusive Bonus Chapter
Integrated Strategy Guide
Wallpapers & Concept Art
Soundtracks & Cutscenes
Achievement & Collectibles
Shop, Solitaire & Secret Room
Awards
Best of 2013
Editor's Choice
To celebrate the tenth game in one of the world's biggest Hidden Object franchises, Mystery Case Files brings back the sequel to one of the most-talked-about MCF games, Madame Fate! In fact, Big Fish Games has also handed over this successful franchise to the trusted Elephant Games, does that make MCF any better?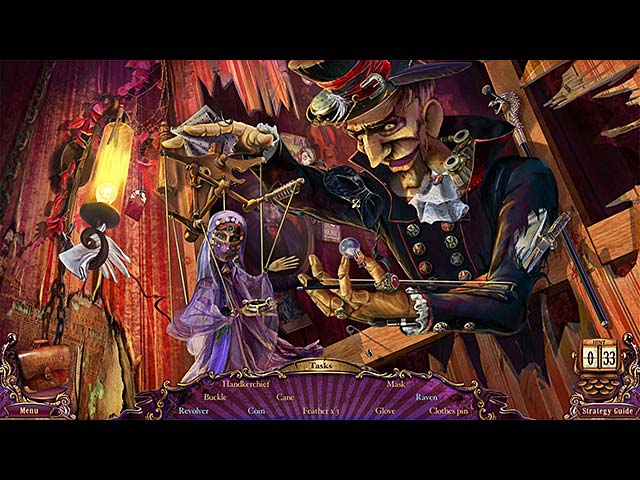 With the latest two installments considerably flops, Fate's Carnival feels like a major improvement. The story continues to clarify the unanswered hangovers at the end of the original Madame Fate game. The dead Madame Fate has returned along with her circus peers, you will be able to meet and rescue loads of vivid circus characters, some that you have met before in the previous game. However, although the story sounds really promising, we must say that the pace is kind of slow. The story develops rather too slowly at first but then it gets much more exciting later on as the villain and his evil forces are introduced.
On the visuals side, Elephant never fails to impress. All of the locations look absolutely stunning with great attention to details, colors and shades. The colors are sort of purpleish but that suits the carnival theme of the game quite well. The voice overs and the soundtracks are extremely well done as well.
Fate's Carnival is a busy game with tons of things to do. There are tasks to complete everywhere, here and there and you often lose tracks of where to go next. Fortunately, there is a jump-map at your service, it is beautifully designed and efficient to use. There are mini-games hidden in your diary which you can play to pass the time and earn more collectibles. Speaking of collectibles, there are three sets of collectibles in this game, Bobbleheads, Cards and Old Pounds which you can use to purchase items for your friendly cat in the Shop.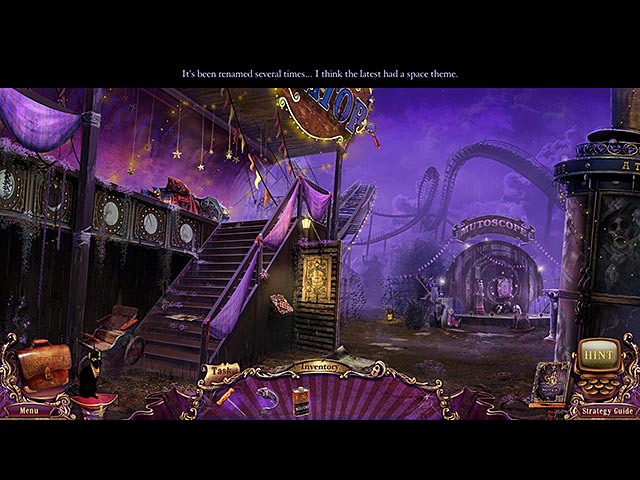 The Hidden Object scenes in Fate's Carnival are all traditional type, despite that, they are really entertaining as you are actually searching through a scene instead of a junk-pile. What also excels in Fate's Carnival is the game's puzzles. There are two main types of puzzles, the normal ones which you can expect from any HOPA games – they are very fun to play and offer some twists to the typical gameplay. The other one is the one that which we would call, Chain-Reaction puzzles. Basically, you have to strategise what to do first in that puzzle scene since one action will result in another action. This latter type is superbly creative, require a lot of brainwork but they really make the experience much more memorable.
As this tenth MCF game is no longer developed by Big Fish Games Studios, Fate's Carnival lost a little bit of the signature MCF feelings. Fate's Carnival does not feel very realistic like in the other MCF games, it is more fantasy and feels much more like an Elephant Games rather than a MCF. Anyways, it is a fantastic  addition to the MCF family.
For those who still hesitate about purchasing the Collector's edition, we can assure you that the CE version of the game comes with a whole bunch of Extras. The main game is already very long, with an addition of a great Bonus Chapter – the whole MCF10 could last you over 5 hours even if you are a very fast player.  Furthermore, it comes with Solitaire mini-games, gallery items, Secret Room, Achievements and more.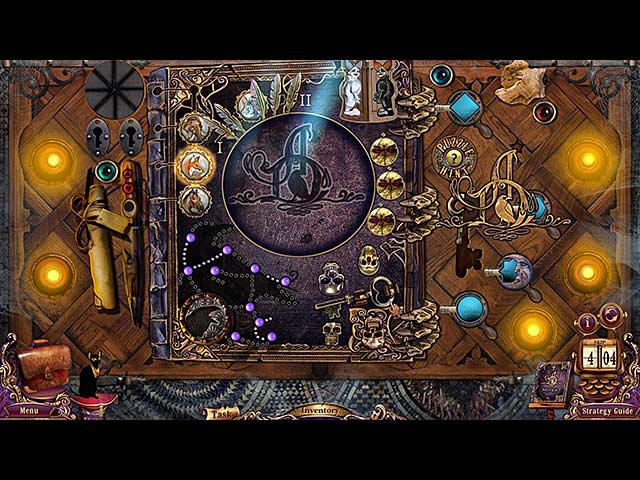 Friendly Fox Studios offers you to play ReDrawn: The Painted Tower, a remake of a classic that will be released on November 12th, 2021. This is a Hidden Object Puzzle Adventure game, which is a type of point-and-click adventure with a story. Players are tasked with finding a list of objects hidden within a specific […]
After waking up on a bright beach full with object seeking activities in this hidden object game, your memories will become hazy.Gather your wits and retrace your steps in the search and find hidden objects game as you travel around tropical Costa Rica, playing all of the games and remembering how you got there.DominiGames' Hidden […]
In these hidden object games, uncover a plot against the Vermillion Watch.Play these free hidden object games with a mystery theme! To become a hero, you must find all of the hidden objects required to win one of the top full item locating adventures packed with puzzles, brain teasers, and other entertaining mini-games.Domini Games has […]