INFO
Item Reviewed
Haunted Halls: Nightmare Dwellers Collector's Edition
November 24, 2013
RELEASE DATE
November 22, 2013
DEVELOPER
ERS Game Studios
FEATURES
Widescreen Support
Interactive Jump-Map
Voice Overs
3 Difficulties + Custom Mode
Diary
Secret Service Goggles
Hidden Objects Vs. Match-3
COLLECTORS EDITION
Exclusive Bonus Chapter
Integrated Strategy Guide
Wallpapers & Screensavers
Concept Art
Soundtracks & Cutscenes
Achievement & Collectibles
Replayable HOs & Puzzles
Zoo & Hamster
FOR iOS

For iPad

For iPhone
Remember the first two Haunted Halls games? When Haunted Halls used to involve the elements of fear and horror. There were some dark aspects in the third game although it got less scary. In Nightmare Dwellers, Haunted Halls is no longer 'haunted', that does not seem to be the big problem, but 'cuteness', really?!!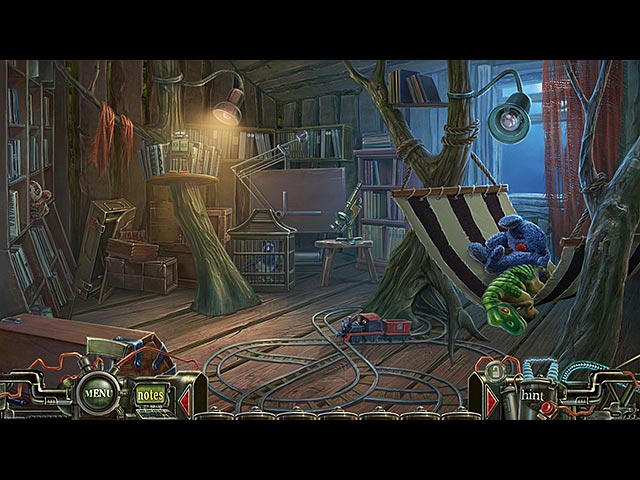 The nightmare begins when a mysterious skull with paranormal abilities has gone missing from Dr. Gauss's collection; set off to the 5 Cuckoo Street and sort out this case! The story still features our villain, Dr. Blackmore and his gruesome tentacles as well as a couple more new characters. We would not say that the story is really captivating, it is good and the paranormal aspects of the game are well done but it is not terribly original.
The theme of this fourth game is much much lighter than the previous installments, in fact, all the spooky and dark elements are all gone. Haunted Halls has now completely turned into a multi-worlds fantasy adventure with weird buildings, random objects and cute animals. We still appreciate the humour and other-worldly aspects this game included but sometimes they get a little cheesy.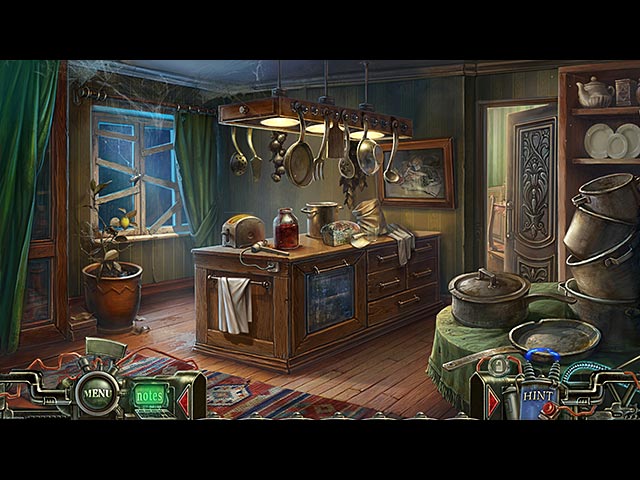 The graphics in Haunted Halls 4 are nice and some scenes are colorful but definitely not the best from ERS-G. A lot of scenes are not very imaginative, pretty flat and unoriginal – and as usual, ERS's art style is completely predictable. The voice overs are good and the music is fine, nothing more than that.
Another main concern about Nightmare Dwellers is the easy, linear gameplay. It seems like the gameplay just gets easier and easier in the recent games, both from ERS and other developers. Haunted Halls 4 has well-crafted but simple Hidden Object scenes and the puzzles are not very exciting, most of them are easy and some are not really fun to play. The game includes a device called Secret Service Goggle which basically can be used to unlock illusions by playing mini-games, these mini-games are repeated, the first two or three times are pretty entertaining but after that, we just simply waited for the skip button to filled. The length of Haunted Halls: Nightmare Dwellers is longer than the average though, and the Bonus Chapter is fairly amusing as well.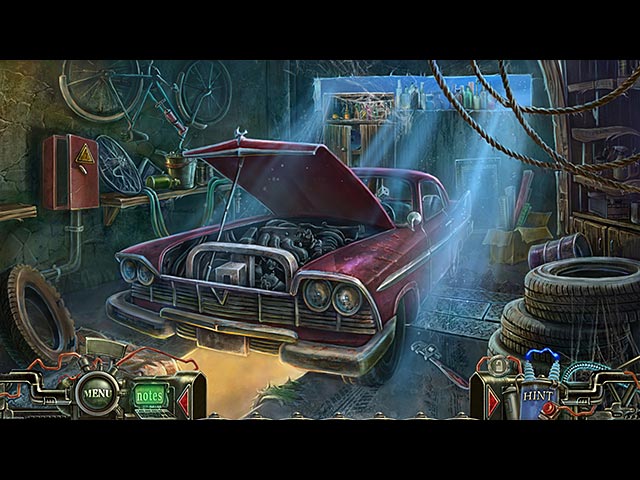 Grim Facade takes us back to Venice with this new installment, The Red Cat. Recently, a series of murders has been going on in town, with the killer announcing its victim by putting a Red Cat on the victim's front door. The Mayor has asked for your expertise when his son appears to be the […]
Marjory called for your help when her fiancé has been kidnapped by hooded figures in plague masks. As you dive deeper into the case, you discover something far sinister lies behind. PuppetShow has now come to the ninth installment, with little progress. First off, there is simply nothing innovative about the story in PuppetShow: Her Cruel Collection. […]
Here comes another Dark Tales game in this long-running series from ERS Game Studios. In this ninth installment, you are asked to travel to Hungary to solve another gloomy case, based on the famous Allan Poe's short story Metzengerstein. Despite Metzengerstein being one of our personal favorite Allan Poe's works, we found this installment […]