INFO
Item Reviewed
Royal Envoy: Campaign for the Crown Collector's Edition
September 10, 2013
RELEASE DATE
September 8, 2013
FEATURES
Widescreen Support
Voice Overs
Expert Mode
Chain-Tasks Assignment
COLLECTORS EDITION
30 Exclusive Levels
Integrated Strategy Guide
Wallpapers
Concept Art & Soundtracks
Achievements
FOR iOS

For iPad

For iPhone
Once upon a time, in a kingdom far away; an evil man in black hood demanded to be the king. He went around the city and destroyed all the towns and raised the taxes in the name of the king. You, stood firmly by the king's side have to fix up all the mess to gain back the king's reputation and win the people's hearts over in the upcoming election.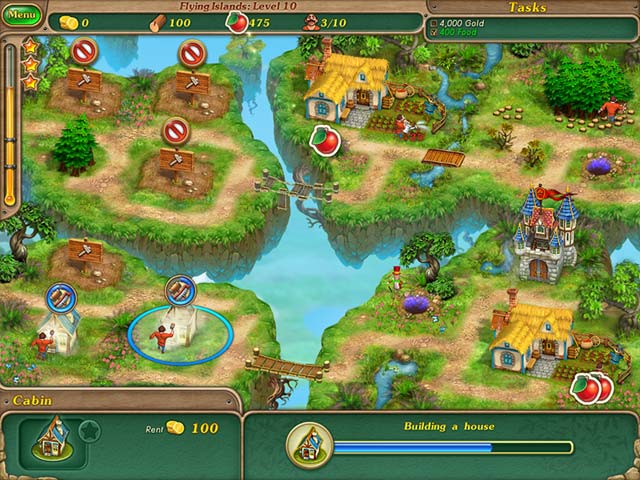 It is a very tough job for Playrix to create this third Royal Envoy game looking back on what a fantastic job the previous installments have done. In this third game, Playrix took on a very interesting, rather original storyline. Once you completed each level, the percentage of citizens on each of the election's contestants side will change according to how well you did. However, the road to the crown is not always smooth as the storyline also includes some unexpected twists which sometimes turn the election upside down. Your old friend, Cedric still has a lot of appearance in this sequel and he does an amazing job delivering some humorous speeches and cutscenes accompanied by professional voice overs.
The first few levels of Campaign for the Crown are tutorial-like which could bothered some of the players who already know the genre very well but it is a great way to start for the beginners. The level does get more difficult as the game progresses although most of them are not overly challenging as we expected they could have been. Moreover, the gameplay of Royal envoy 3 is pretty much the same with new environments and a few new buildings. Despite that, there are some improvements made for example collecting income and food no longer required clicking, hovering over them will automatically do the job.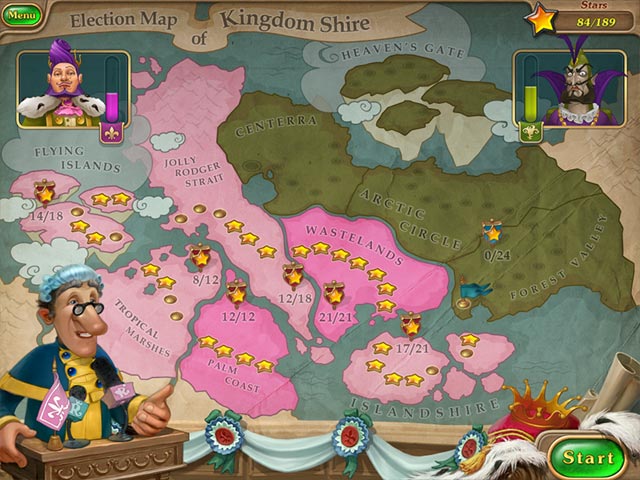 On the presentation aspects, Royal Envoy never failed to impressed. The graphics are bright and cheerful and the quality is top-notch. All the actions are smooth and the character designs are weirdly spot-on. The music is charming and fairy tale-like while not being too annoying or repetitive.
If you are wondering whether Royal Envoy 3 is going to be a short game, there is nothing to worry about that as the length of the game is considerably very long. The main game includes 63 adventure levels while you can also unlock 63 more expert levels if you are able to achieve three stars on all of the adventure levels. It is a slight pity that the game does not offer us Untimed or Relaxed mode but as mentioned before, the main levels might not be as hard as you imagine.
For Collector's Edition, a useful Strategy Guide is included to provide you with cool tips and tricks, Wallpapers, Soundtracks and Cutscenes are also part of the extras. Furthermore, there are over 30 King's Challenge levels included, and they are real challenge!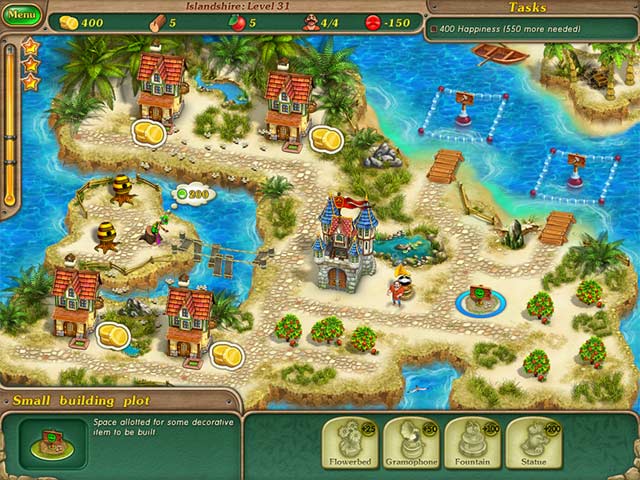 In this fifth installment of the fan-favorite Campgrounds series, Addie is in need of a vacation, but how could she leave her campgrounds lonely? She enlisted her trusted friend Tom to help lo over the campsites while she's away, but as a newbie, is Tom up to the task? all the previous games in […]
Whether it's fairy tale fantasy or medieval or Vikings or crime, the Time Management genre has gone through a wide range of themes – but very few have actually been set in a futuristic world. Faraway Planets takes you to the future when civilization is possible on another planet, when technology is so advanced and […]
General Flavius of Britons is up for a dangerous new journey! After ridding the land of Britons of the Filth in the first chapter, Flavius realized that he still needs to clear the source of the evil. Enter the Shadow Lands – the underworld for the dead souls of the Celts where the Filth has […]