INFO
Item Reviewed
Grim Tales: Bloody Mary Collector's Edition
August 3, 2013
RELEASE DATE
August 2, 2013
FEATURES
Widescreen Support
Interactive Jump-Map
Voice Overs
Hidden Objects Vs. Bubble-Shooter
Three Difficulty Modes
Diary
Pet Helper
COLLECTORS EDITION
Exclusive Bonus Chapter
Integrated Strategy Guide
Wallpapers & Screensavers
Soundtracks & Concept Art
Achievements & Collectibles
Hall of Memories
We always wonder why developers have not used the theme of Bloody Mary in a HOPA before since it sure can helps create a very creepy, spooky HOPA. So here it goes, Grim Tales: Bloody Mary!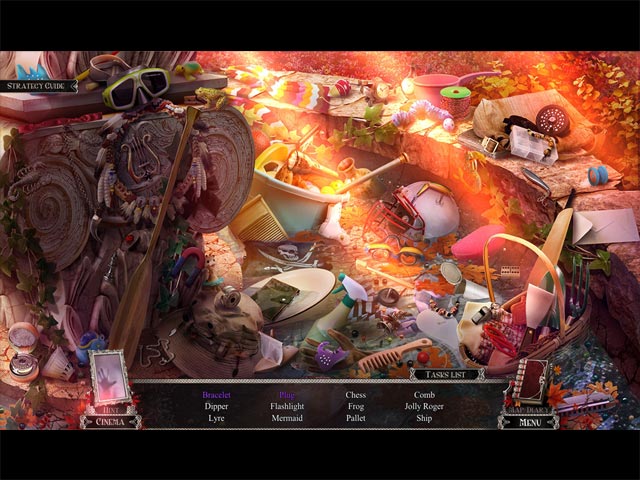 As stated in the name, this fifth Grim Tales game is based on the folklore of Bloody Mary. While the first three games of Grim Tales are all connected, this fifth game serves well as a standalone game. The story is no doubt very spooky; however, it could have been much more original as the game is still mainly based on the 'rescue the children' theme. You will discover many notes, sit through many cutscenes and collect figurines which will tell the background story in more detailed.
Grim Tales: Bloody Mary might be the creepiest Grim Tales yet or even the creepiest game from Elephant Games. The environment featured some spooky, swollen eyes dolls, objects that being moved by invisible hands and some perfect uses of shadows. Also, thanks to the game's gorgeous music and sound effects which helped created some jump scares that actually worked.
We all know Elephant Games creates games with top quality graphics. Grim Tales 5 is no exception, all the scenes, the characters and the effects are simply fantastic. All scenes are crisp and some are very beautiful.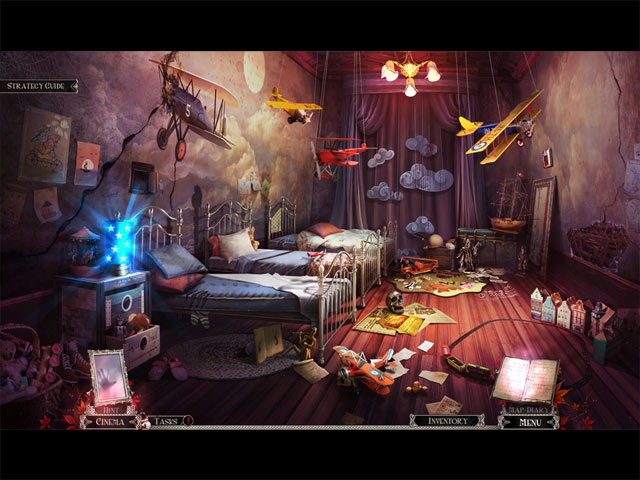 Grim Tales: Bloody Mary is a very busy game, you will be collecting many objects and completing many tasks. This can be very frustrating at times if you cannot remember where to use the object. There is an interactive jump-map offered but the sign that supposed to mark locations with objectives basically appear on every single locations with uncompleted objective; whether you can perform that now or now, so that is not very helpful. Luckily, the hint system works very well.
There is only one type of Hidden Object scenes in this fifth installment of Grim Tales but all the scenes are very well made, objects are easy to find and you have to visit each scene only once. The puzzles are on the easy side and most of them can be completed without tapping the Skip button. There are a few of them which we really liked since they are creative and not only they are fun to play, they tell the story through the puzzles.
The main game should lasts around 3 and a half to 4 hours for advanced players. The Bonus Chapter is not really necessary, the story is rather weak but it does have some twists – most of the locations are the ones in the main game presented in a slightly different way but those that are new are worth visiting. Other extras includes Strategy Guide, Achievements, Wallpapers, Soundtracks, Concept Art, Screensavers and Hall of Memories which is basically an innovative way to replay Puzzles and Hidden Object scenes.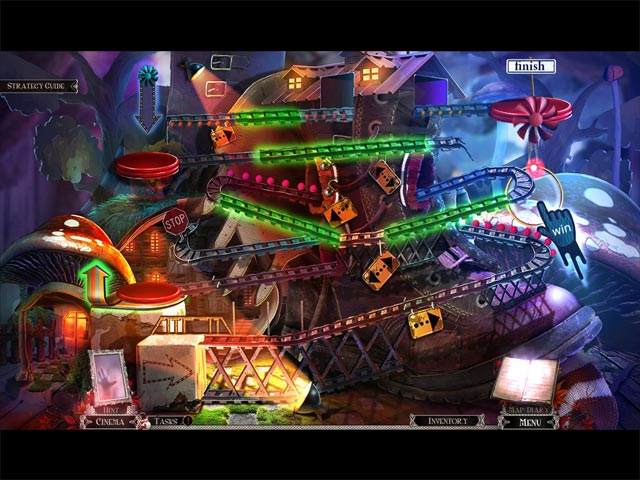 Pro Tip: Experience the better GPU acceleration for your all-time favorite games by loading/accessing them in the cloud with virtual PCs by www.CloudDesktopOnline.com with 24*7 excellent tech-support from one of the best provider of DaaS – Apps4Rent.
Christmas Stories- The Christmas Tree Forest will engage you in the unforgettable world of Haunted Hotel and put your skills to the test in thrilling hidden-object puzzles, fascinating locations, and uncovering the hotel's mystery that is robbing people of their years of life before it's too late. Will you be able to solve the puzzles […]
Solve challenging riddles, travel to odd locations, and uncover the secrets of the magical Halloween animals. Will you be able to solve Halloween Stories: The Neglected Dead's puzzles? You have a fantastic opportunity to learn about the surprises that the three world locations have in store for you. Neglected, a great puzzle adventure game from […]
In this detective adventure game from Elephant Games LLC, which was released on March 4, 2021, you can hunt for hidden things and solve puzzles and brain teasers.Your mission is to find unusual stuff in order to halt the murder. Can you solve the "Strange Investigations: Becoming" criminal case? Explore crime scenes, stop the perpetrator, […]