INFO
Item Reviewed
Fearful Tales: Hansel and Gretel Collector's Edition
August 28, 2013
RELEASE DATE
August 25, 2013
DEVELOPER
Eipix Entertainment
FEATURES
Widescreen Support
Interactive Jump-Map
Voice Overs
Three Difficulty Modes
Diary
COLLECTORS EDITION
Exclusive Bonus Chapter
Integrated Strategy Guide
Wallpapers & Concept Art
Soundtracks & Cutscenes
Achievements & Collectibles
Replayable HOs & Puzzles
Making Of
Fearful Tales: Hansel and Gretel is the latest Hidden Object Adventure game from Eipix Entertainment. We all know that Eipix developed top-notch games, each of their game has its own uniqueness and Fearful Tales is nothing like the others.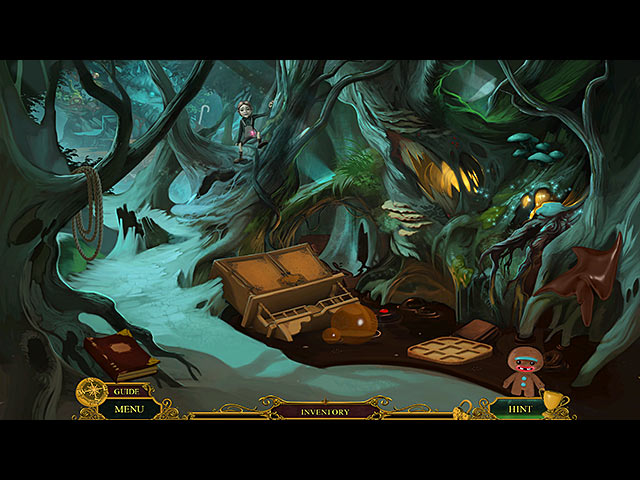 Fearful Tales takes on a new, dark twists based loosely on the classic story of Hansel and Gretel. You are a mother of your two children, Hansel and Gretel living in a peaceful village. One day, your children did not return home and the only clue you found is a little gingerbread man who promised to help you. Take a trip to the witch's lair and rescue your children! The plot in Fearful Tales is very intriguing as well as hooking. The story is very well told through notes, cutscenes and the gingerbread's sights and as the backstory develops, the game gets more exciting.
In many cutscenes, instead of normal narrator's dialouges – there are poems. Well, we have seen the use of poem failed once in Reveries where it makes the game very cheesy. However, the poem fuses seamlessly into this game and even enhances the experience  of the game.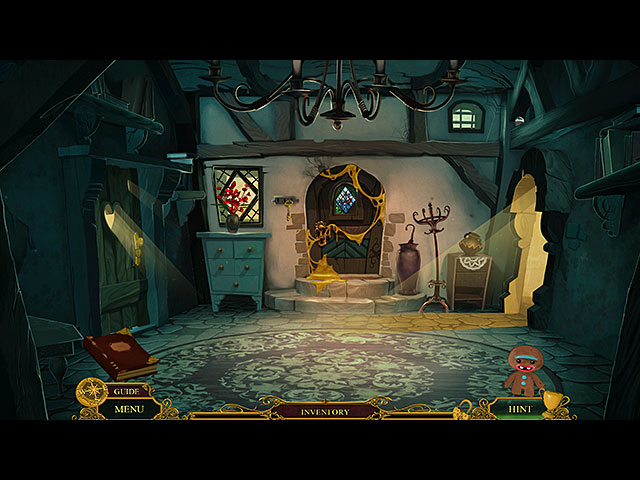 The graphics in Fearful Tales are splendid, they are definitely whimsical with a lot of sharp edges and dark-tone colors but they look very creative and beautiful on the screen. The visuals kind of remind us of the graphics in the legendary Drawn series but in a little more childish style. The characters look very nicely weird and their voice overs are certainly great. The music is very charming and magical and does not annoy us in any way.
The gameplay in Fearful Tales might be on the easy side but it is still very entertaining. The locations are imaginative and there are some smart interactions of items. The Hidden Object scenes are beautiful and objects are not too cluttered. Mini Games are not extremely original or challenging, but the twists included are satisfying. There are also Cupcakes to collect as Collectibles, they are fun to find as they are not too obvious in the scene.
One big complain though, about Fearful Tales is that the length of the main game is very short – advanced players should be able to complete the game in about 2 and a half hour. Anyway, the Bonus Chapter is really solid and has a standard Bonus Chapter length.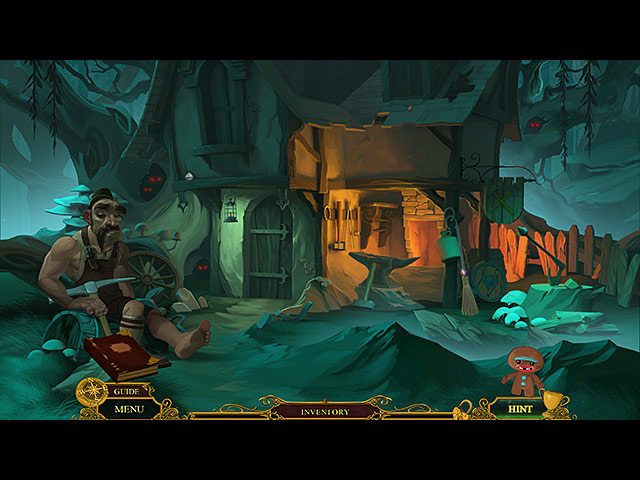 Happy Thanksgiving and get ready for another epic Mystery Case Files adventure! In this twentieth installment of the iconic Hidden Object series from Big Fish Games and Eipix Entertainment, you are tasked to investigate an urgent call from the infamous Manchester Asylum for the mentally insane. A mysterious patient from room 11 suddenly begins drawing a […]
Dreadful Tales: The Space Between was a revelation earlier this year and so, I had high expectations going into this new creepy Hidden Object sequel. In Dreadful Tales: The Fire Within, the legend has it that unnatural, ghostly things happened in the eerily quiet Coldfell Forest. Jill Weaver witnessed this firsthand when her family-bonding time […]
When an inmate at the Manchester Asylum draws a huge crown covering the walls of her cell, you're sent to learn what, if anything, it has to do with your past. But when the inmates escape, there's only one way for you to regain control — find the Black Crown before they do. You'll need […]